"Excerpt Scene"
from
Carl Kirshner's
Bonnie and Clyde
Screenplay
-copyrighted work - reproduced with permission-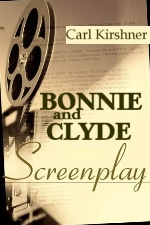 The Hideout has had the opportunity and privilege to review Mr. Kirshner's screenplay
this past year. I was highly impressed with what I read, and in reading it, I felt as though
I was right there next to Bonnie, Clyde and the gang, For the purpose of secrecy at this
point and time, I cannot reveal all of the hidden treasures contained in his works, but I
was able to obtain permission from the screenwriter to post an excerpt of my choosing to
share with visitors to the Hideout. I truly hope that this screenplay gets the recognition
it deserves, and that this script is eventually made into a movie. I would like to take this
time to thank Mr. Kirshner for his excerpt contribution and will hopefully see this
screenplay become the next Bonnie and Clyde movie - that we've all been waiting for.
The scene excerpt I have chosen below, follows the scene where Raymond Hamilton had just snapped
a photo of Bonnie Parker, who jokingly posed with her foot on the car's bumper, a cigar in her mouth.
A flash bulb BURSTS. The frame fades to the classic "Gangster Moll" B&W photo of the scene.
Clyde walks into frame.
CLYDE:
Take this and point it at me, like I'm under arrest or something.
He hands Bonnie a shotgun and raises his hands above his head.
She places it firmly against his gut.
BONNIE:
Got ya!
RAY HAMILTON:
Makes you look weak. Put your hands to the side, like it ain't no big deal.
He drops his hands.
CLYDE:
How's that?
A flash bulb BURSTS. the frame fades to the classic "Clyde Captured" B&W photo of the scene.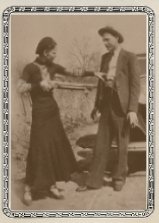 RAY HAMILTON:
What you want these for anyway?
CLYDE:
Grandchildren.
RAY HAMILTON:
Whose grandchildren?
CLYDE:
Whose do you think? When the kin ask 'bout our adventures, what the hell we got to show 'em?
RAY HAMILTON:
You planning on living that long?
Clyde picks up a Browning Automatic.
Buddy, there ain't a man alive...
He flicks the safety catch.
CLYDE (CON'T):
...can catch the Barrow Gang.
He opens fire into an adjacent field, devastating the sea of corn cobs before him.
BONNIE:
See that, Hamilton? He could shoot the balls off a piss ant.
Barrow approaches.
CLYDE:
By my reckoning, the only thing gonna' trap Bonnie or me, is a turncoat.
Only treachery can destroy, true love.
Hamilton locks eyes with Clyde.
CLYDE (CON'T):
Now this little lady here? I can trust with my life. And she, likewise.
But can we say the same 'bout anyone else 'round here?
Barrow points his Remington straight at his nervous accomplice.
CLYDE (CON'T):
You owe me two of my toes, boy.
Hamilton steps back.
RAY HAMILTON:
NO!
CLICK!
Clyde and Bonnie roar with laughter.
BONNIE:
You got him good, Barrow. He's gone filled his pants.
CLYDE:
I had ya, didn't I?...Didn't I?
Hamilton wipes his brow, sighs and shakes his head.
RAY HAMILTON:
Shit.
BACK TO TATTLER