THE
BONNIE & CLYDE
SIGNATURES
Clyde's signature within The Bonnie and Clyde Signatures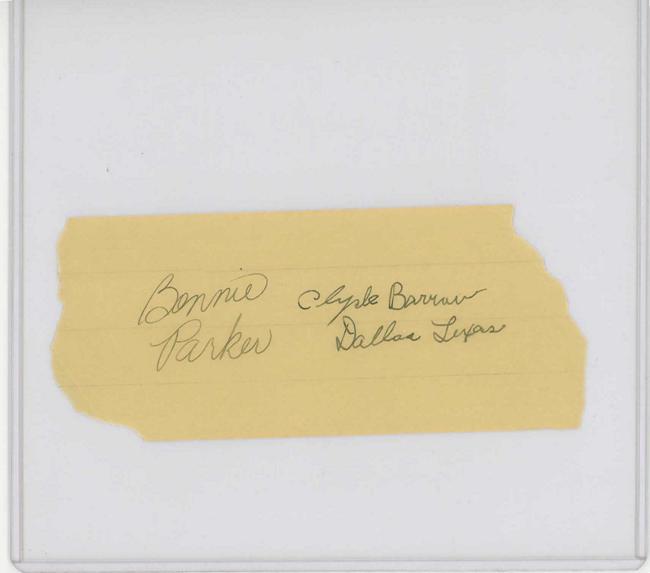 The "Deciding" Factor




Clyde's postcard to Cumie Barrow in anticipation

of a clandestine meeting with Bonnie & Clyde


Originally, with the signatures looming for sale, and with pundits seemingly caught up in a skeptical but friendly banter over their story, I set out to learn all I could about this possible artifact. In addition to locating historical accounts, telling of how Bonnie and Clyde were "adept" at sneaking out of Oak Cliff in West Dallas...I also was able to find samples of known Bonnie & Clyde signatures and handwriting, with which to compare to the scripts being offered. The "deciding" factor, which prompted me to take the chance, and purchase The Bonnie and Clyde Signatures, was in viewing the image of a rare postcard, written by Clyde to his Mother, meant to arrange a clandestine family meeting with Bonnie & Clyde. Within the signatures I was considering, for some reason...Clyde had completed his signature by inscribing "Dallas, Texas" beneath his name.

The unique letter formations within this addendum, and in particular the formation of Clyde's Capital T, which looks much like a Capital L as one would form today...caught my attention. This caused me to initiate a search for any other handwriting sample, in which Clyde Barrow had written the words "Dallas, Texas".

I "found" the match I was looking for, on the postcard Clyde addressed to Cumie Barrow. The striking cursive characteristics, common to both Clyde Barrow sample writings of Dallas, Texas were just "too much" for me to ignore. It was at "that" moment, and with a distinct chill of excitement passing through me.. I first believed The Bonnie and Clyde Signatures could be real.

Special thanks to Frank Ballinger & his Bonnie & Clyde's Hideout website for posting this rare image.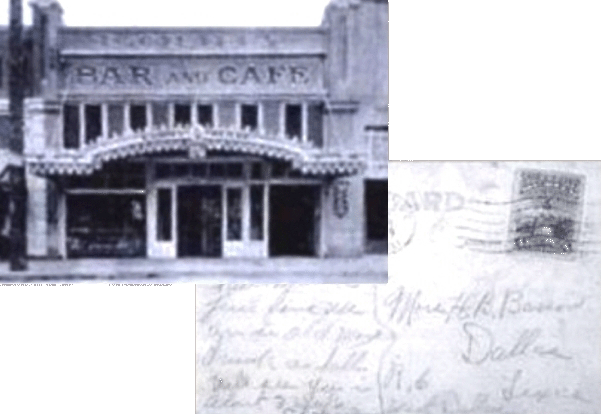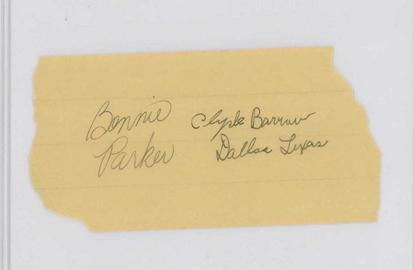 The Best Match...Was Left For Last


Although forensic scrutiny revealed a number of Clyde's signatures & handwriting characteristics, to be remarkably similar to his signature within the dual Bonnie and Clyde signatures...it's Clyde's Nov 18th, 1931 letter from Eastham Prison Farm which seems to have provided the best match. Of importance & interest...to our knowledge, this rare letter wasn't revealed to the public prior to 2006. The late entry of Clyde's letter to mass viewing & this inquiry...provides assurance of it's "unavailability" as a comparative source for possible forgery of The Bonnie & Clyde Signatures.

This letter's provenance states it came from Marie Barrow. Based on our queries, the Nov 18th letter appears to have been held back from Marie's Butterfield auction held in 1997. A Butterfield auction record, only lists Clyde's Nov 12th, 1931 Eastham letter as having sold within the auction lots offered. Without doubt, Clyde's Nov 18th, letter appeared for sale at California's Profiles in History in 2006, and its' existence was reported in Autograph Collector Magazine. The letter then re-surfaced in 2006, when it was offered for auction at Dallas' Heritage Auction Galleries.

Within our investigation we learned only 2 individuals were known to have helped Marie Barrow with her auction of Barrow family artifacts prior to her passing. We believe we may know who offered Clyde's Nov 18th Eastham Prison letter for sale this past year. Whomever was responsible for its release, we offer our sincere "thanks" for the availability of Clyde's letter, both for history's sake, & for this inquiry.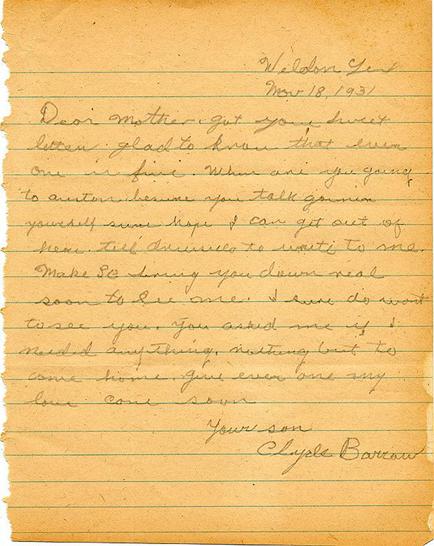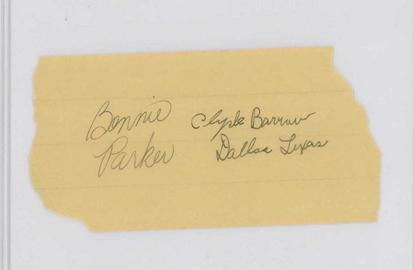 Bonnie Parker's Signature

Almost "Impossibly" Rare!!


With 6 known examples, William Shakespere's signature is generally considered the world's rarest script. However based on our queries, we've found Bonnie's signature to be almost non-existent...and therefore feel, her elusive script may be one of the "scarcest" signatures "ever" sought. When we began our inquiry, there were just 3 known examples of Bonnie's handwritten name

The famous Bonnie (at age 13) "school girl" signature..although this script is most often believed written by Bonnie's teacher or other unidentified school official..

The Bonnie Parker "Highway Patrol" fingerprint card signature.. and a little known Bonnie signature, reportedly signed on a 1930s photo, and documented to have sold at auction some years ago..

Note: Numerous letters were exchanged between Bonnie and Clyde while Clyde was jailed prior to 1932. Excerpts from these family held letters were published in Fugitives. Despite a recent approach to the families hoping to reveal samples of Bonnie & Clyde signatures and handwriting for this inquiry,unfortunately we were told the whereabouts of these Bonnie & Clyde love letters...are now unknown.



The Bonnie Parker "School Girl" Signature


Emily J. Will, CDE may have finally debunked Bonnie's 7th grade "school girl" signature, by adding her expert analysis to the opinion others have proposed.. that "all" the children's names listed within the school roll, appear to have been written by the same individual...possibly Miss Triplett. This determination, removed this known Bonnie script from consideration, as a useful signature for forensic comparison.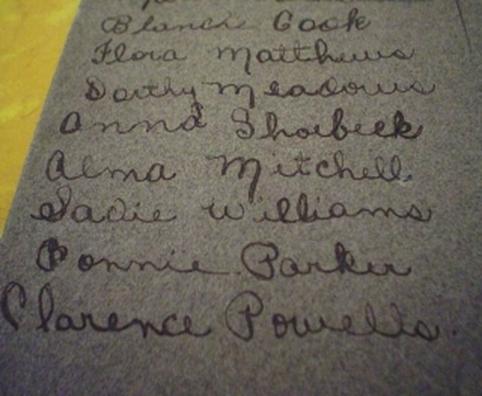 The Bonnie Parker "Highway Patrol" Fingerprint Card.. Fact or Fiction??


We think fiction!! We traced Bonnie's "Highway Patrol" fingerprint card, & discovered this curious document to be a "Missouri" Highway Patrol Museum exhibit. It's been written this fingerprint card was requested by Joplin Chief of Detectives Ed Portley, after the Joplin Raid. However this account has been deemed questionable...as this blank card possesses "none" of the expected police dept. identifiers or fingerprint classification codes, which should be present on a valid police record. Interviews with Kemp, Texas and Kaufman County police, historians and administrators, has yielded no evidence remaining, to support this mysterious fingerprint card having any basis in fact...from Bonnie's only known arrest in April 1932.

Stories have circulated for years regarding the source of this supposed fingerprint record. Since we weren't sure which "Highway Patrol" was being described within the artifact's title, we needed to discover whether in 1932, the newly formed Texas Highway Patrol, could have played a role in Bonnie Parker's arrest or confinement. Interviews with Kaufman County historian Dr. Horace P. Flatt as well as Kemp Texas officials, revealed the Texas Highway Patrol likely had no involvement in Bonnie's arrest or transport.

Having eliminated what would be the only "true" source of a Bonnie fingerprint card, we found this dubious record to have been provided by the "Missouri" Highway Patrol. Of course as is known, Bonnie was never arrested in Mo. Capt. Christian Ricks of the Mo. Highway Patrol Museum, was gracious...in providing a copy of Bonnie's fingerprint card, along with a card for Clyde as well.

Although Clyde's card seems more complete, again..."no" police identifiers are present "which should be". Unfortunately, what are said to be Bonnie's left fingerprints are faint on the Mo. Highway Patrol card, and "only" her left prints are useable from her Bienville Parish death fingerprint card...as her right hand was so badly damaged from the ambush. Regardless, Bonnie's signature from this card bears little resemblance, to her signatures found from a family source. Emma Parker cast further doubt on this purported artifact, when in Fugitives, she said Bonnie was fingerprinted only once...upon death.




The Bonnie Parker "Missouri" Highway Patrol Fingerprint Card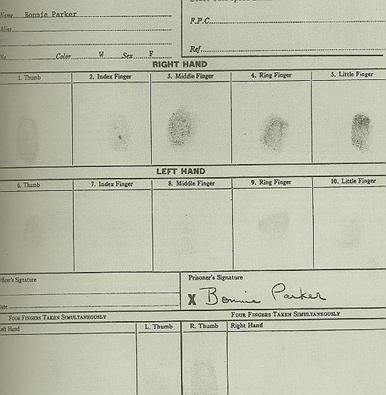 CONTINUED HERE
PREVIOUS PAGE