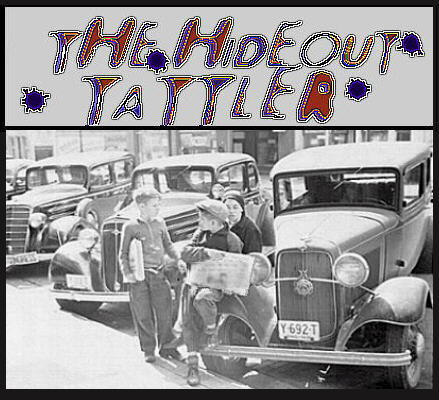 "A newsboy once said to his buddy
I wish old Clyde would get jumped
In these awful hard times
we'd make a few dimes
if five or six cops would get bumped"
~Bonnie Parker~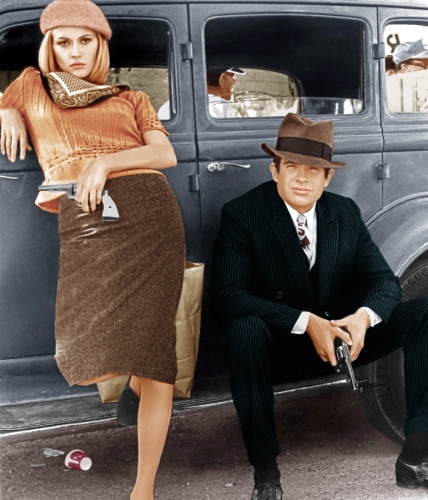 Your Hideout place - for news, credits & info
A Look Back
IT HAPPENED JULY 1915
BARROW GANG'S OUTING AT DEXFIELD PARK WAS 18 YEARS LATER!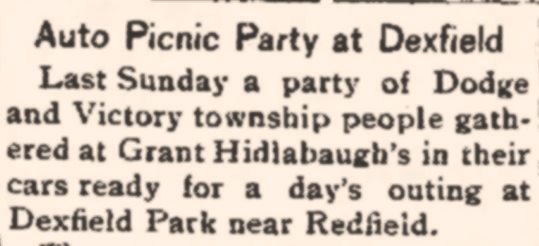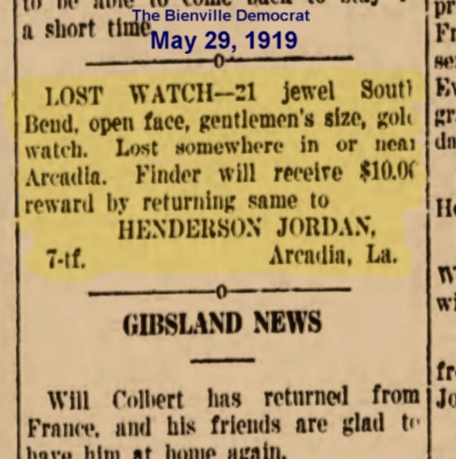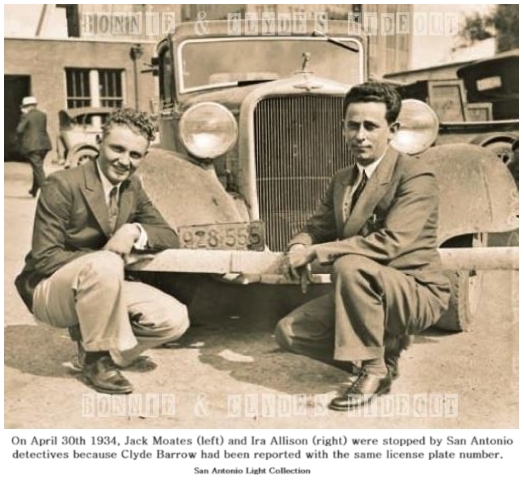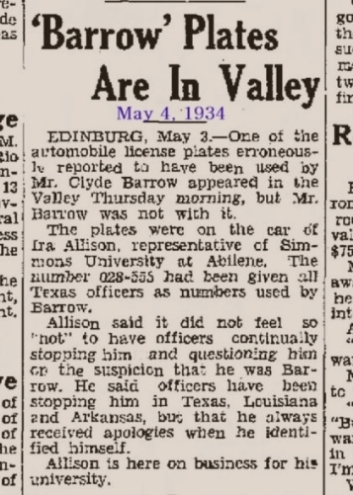 APRIL 1968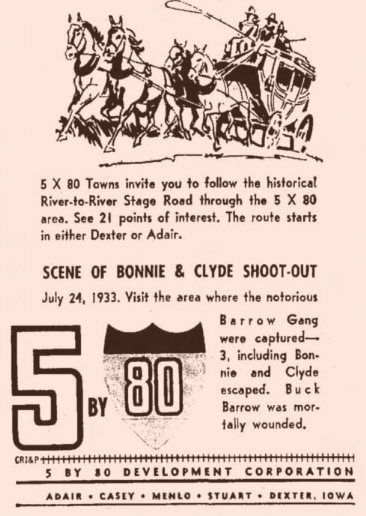 OCTOBER 1933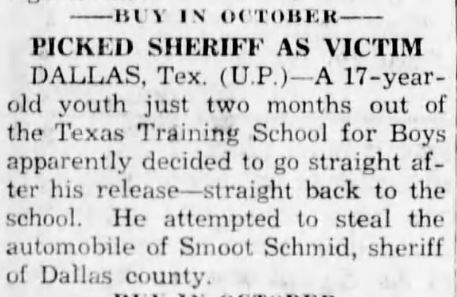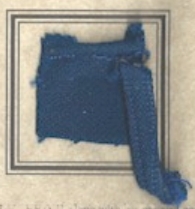 BARROW'S DEATH PANTS BELT LOOP!
Recent auction item goes for $467.99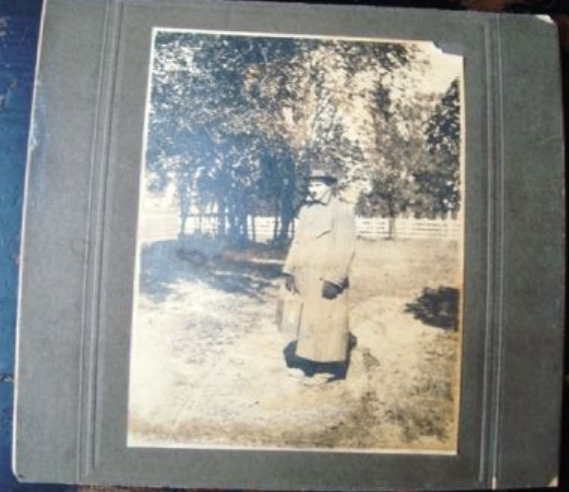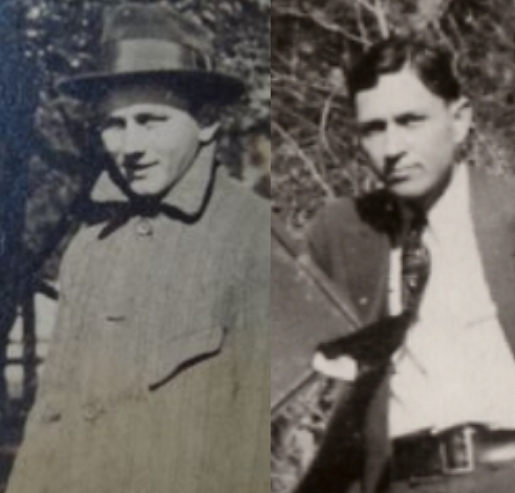 Description
This is from my father's antique business in Hot Springs, Arkansas. He found it in a very old family
photo album. It is inscribed "Clyde Barrow back home" very lightly, in what appears to be in pencil.
He assumes that it is Clyde Barrow from the Bonnie and Clyde duo. Measures 3.5" x 4.5"
(END)
Hot Springs, Arkansas was not only a safe haven for the bad elements of the Depression Era, but it's said
that Clyde had brought Bonnie to Hot Springs for the healing waters there following her being burned.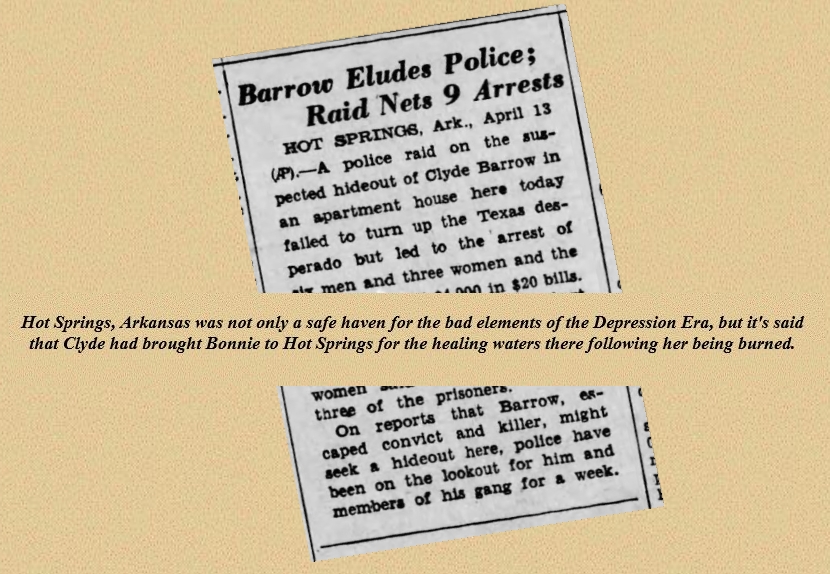 Perhaps "Clyde Barrow back home" was correct!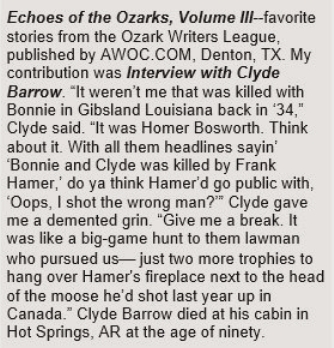 Paranormal Researchers
"Friends of Dusana"
contact the spirits
of
Bonnie and Clyde
The Spirits Of Highway 154

DEDICATION TO A BONNIE AND CLYDE MAINSTAY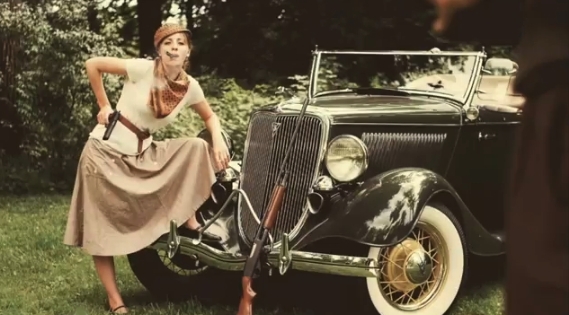 Bonnie and Clyde Remix
Bonnie & Clyde
Serge Gainsbourg & Brigitte Bardot
YouTube
"The Story of Bonnie and Clyde"
Sung by Locomotive Engineer Paul Davis
YouTube
"The Coyote And The Bumble Bee"
by Ronny McClure
YouTube
Bonnie and Clyde as farmers???!!!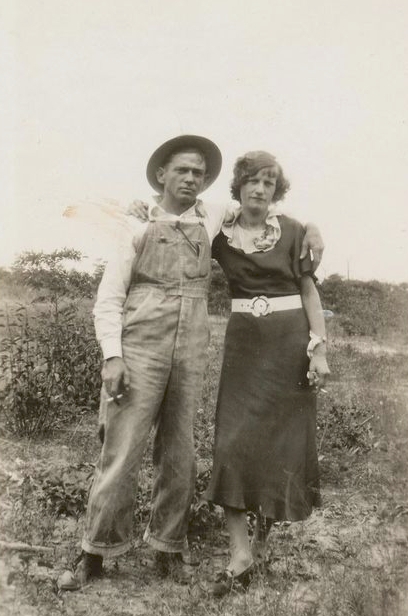 RARE CLYDE BARROW SNAPSHOT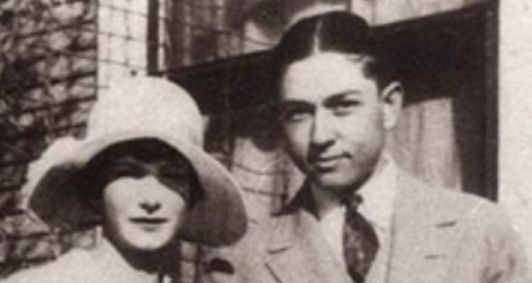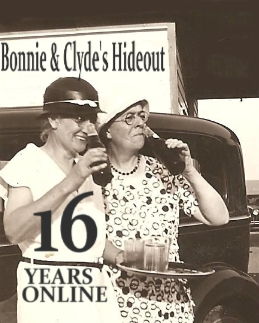 POSSIBLE BARROW "SAFEHOUSE"?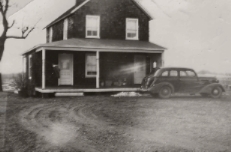 Be sure to visit Hideout friend Charles Flynn's Blogspot
Chuck is a diehard Bonnie and Clyde FANatic, who incorporates his artistic skills
in an interesting site that he put together in presenting Bonnie and Clyde to you.

BLANCHE BARROW: A VOICE FROM THE PAST
CD AVAILABLE NOW FOR PURCHASE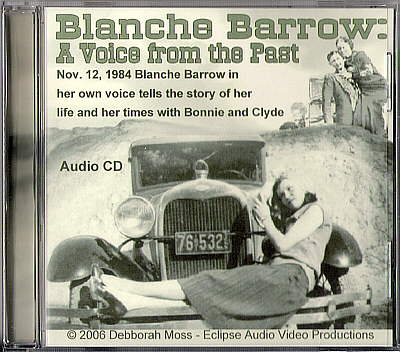 There's nothing like getting the stories, as being told by the gang members themselves!
"Blanche Barrow: A Voice from the Past" is something I've found fascinating.
Here you have three of the family members, all on one recording.
Frank R. Ballinger - Bonnie & Clyde's Hideout Website
BE SURE TO ALSO VISIT...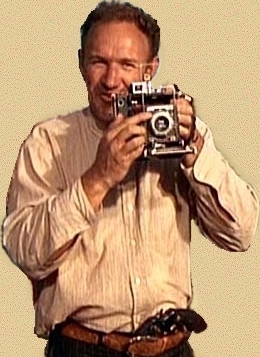 BLANCHE CALDWELL BARROW FAMILY'S ONLINE WEBSITE
Is "The Barrow Gang" alive?
Movie Trailer added September 3, 2008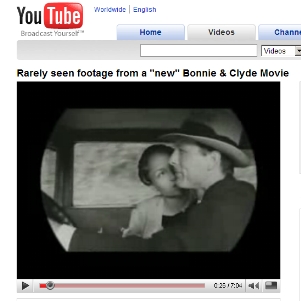 New Section added November 27, 2008
"The Barrow Gang" Actors

Actress Rose McGowan looking every bit the gun moll here!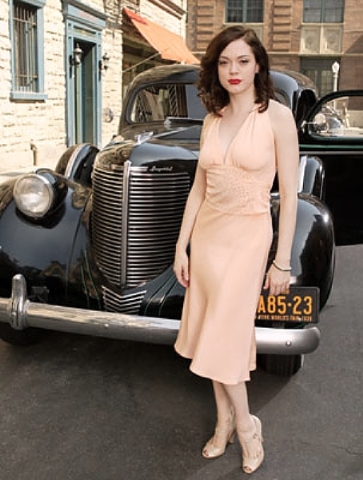 And she looks like she can handle a weapon too!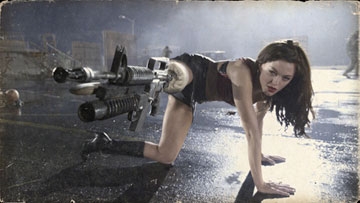 still from the Rodriguez and Tarantino movie "Grindhouse"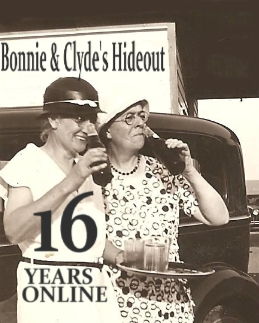 OVER 40 MILLION HITS SINCE 1997
Listen to 1920s & 1930s Popular Music & Jazz online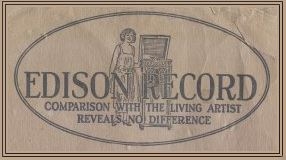 Remington that did Bonnie and Clyde in fetches $69,000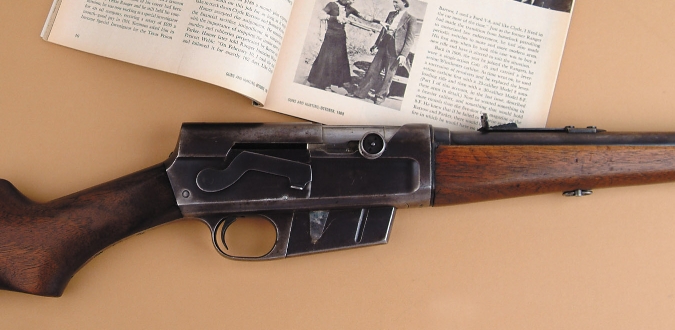 Remington's image above, and info presented here below are courtesy of James D. Julia, Inc., Fairfield, Maine
James D. Julia, Inc. - Auctioneers and Appraisers
Along with an affidavit by Reves Jordan, brother of Sheriff Henderson Jordan,
who was in charge of the ambush. Jordan states that this is the gun that was used
by Prentiss Oakley in the shootout. This notarized document was executed
Sept. 21, 1980. Another notarized document, executed Dec. 18, 1967, is
signed by HN Davis, Sheriff of Bienville Parish following the retirement
of Prentiss Oakley, attesting that this is the gun by which they were killed.
Reves Jordan's notarized statement also tells of Deputy Oakley borrowing the
rifle from Dr. Shehee and a notarized letter also from Reves Jordan identifying
this rifle by model & serial number as the one owned by Dr. Shehee and used
by Deputy Oakley when Bonnie & Clyde were killed. There is another identical
statement by someone named Williams, who was the brother-in-law of Dr. Shehee.
The Haunting Tale Behind The Deadly Remington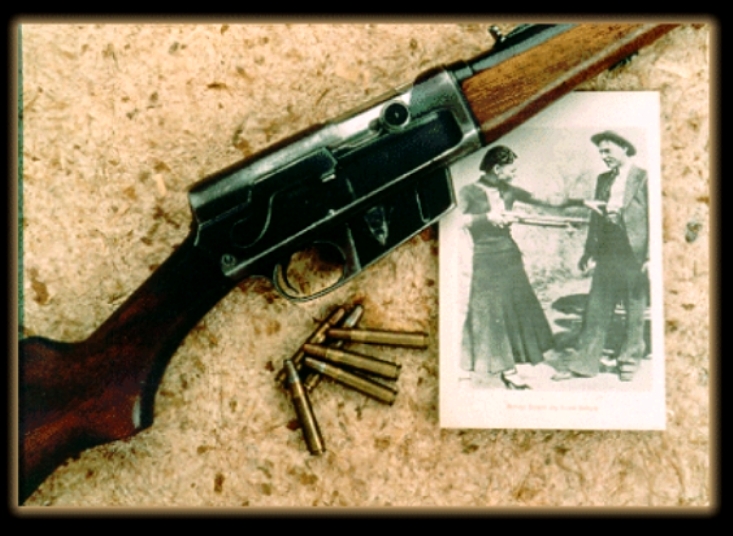 From the collection of Dolph McCleish of Monroe, Louisiana who has been a lifelong passionate collector of
firearms with particular interest in Remington. His historic Remington Model 8 rifle had been used by Deputy
Prentiss Oakley in the ambush of Bonnie Parker and Clyde Barrow. Oakley, a superb marksman, used this rifle
to shoot Clyde Barrow, and it is believed he also shot Bonnie Parker. The gun had carried a presale estimate
of $50,000-150,000 and sold for $69,000. When consigning the gun, Dolph had related that an old and great
personal friend of his had passed away many years ago and in his will left the gun to him, knowing that he
had admired it so much. The widow, in presenting the gun had explained to Dolph that the gun was "haunted"
and would shoot by itself. Dolph is an ardent shooter, and shortly after getting the gun, one day decided to
take it out and shoot. After loading it, the gun automatically fired by itself and scared him enough so that
he put it in his gun room and vowed never to shoot it again. Within a week or so, a relative of his recently
departed friend showed up at the door demanding that the rifle should have been given to him, and Dolph, not
wishing hard feelings, simply gave the gun up, but two weeks later the relative came back and decided that
Dolph should have the gun. Dolph always suspected that the relative had experienced the same mysterious
automatic firing of the gun that Dolph had. Nonetheless, Dolph went back to the widow and paid what he felt
was a fair price for the gun to avoid any further complications. The gun was one of Dolph's earlier acquisitions,
and it had always been a great source of pride for him and was the subject of numerous magazine articles.
THE LOOK A LIKES
CONTINUE READING TATTLER HERE