CLYDE BARROW'S WALLET
In Woodville, Texas, is an old time attraction called "Heritage Village".
Originally run by Clyde E. Gray, it consisted basically of old turn-of-the-century
junk he had collected over the years, around which he built a life-size western town.
By 1978, the place was in shambles, but still in operation. And by 1988, it was being
run by a young couple, (as Mr. Gray had died). Clyde Gray had, what he claimed to be,
the wallet that outlaw Clyde Barrow had been carrying when he was ambushed. In the
wallet, was a bloody note that Clyde Barrow was planning to mail to his mother. Nobody
knows what happened to the wallet after Gray's death, nor if it was authentic, but as
of July 1988, one could buy copies of the note, in the Heritage Village gift shop.
"click here" Heritage Village Website
---
BONNIE PARKER'S PURSE?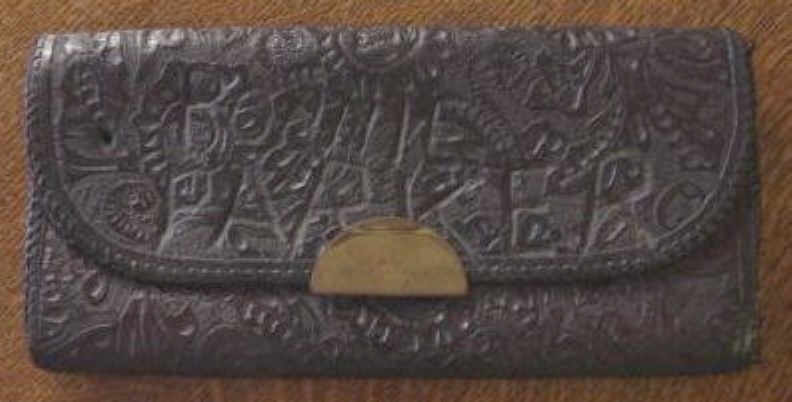 This purse, complete with thru & thru "bullethole" and the name "Bonnie Parker"
carved in it, is an auction item. It was supposedly recovered from the death car.
There is no proof of authenticity, yet the starting bid is $25,000 (with a reserve).
HIDEOUT NOTE
The Hideout posts these items for your interest, but doesn't necessarily support any
claims made. I can't imagine Bonnie Parker flashing her name around (in public) in 1934...
"click here" BACK TO POSTCARD PAGE