DEXTER, IOWA
JULY 20, 1933
THE BARROW GANG VISITS
AN ABANDONED AMUSEMENT PARK
Entering Dexter, Iowa...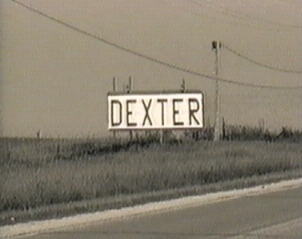 vintage scene - approaching Dexter city limits
Dexter's Main Street
Dexter's Main Street...
as Bonnie and Clyde would have seen it.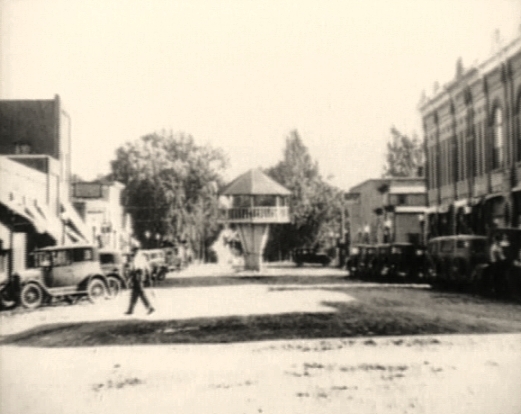 Dexter's main street, looking south
There was the "Dexfield Amusement Park" at one time,
and it was located between Dexter... and Redfield Iowa.
1915 AD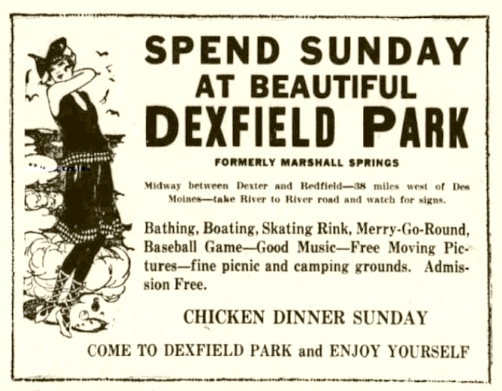 1919 NEWSPAPER CLIPPINGS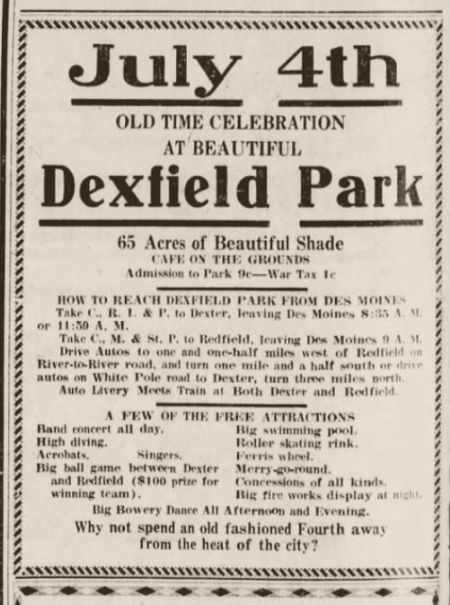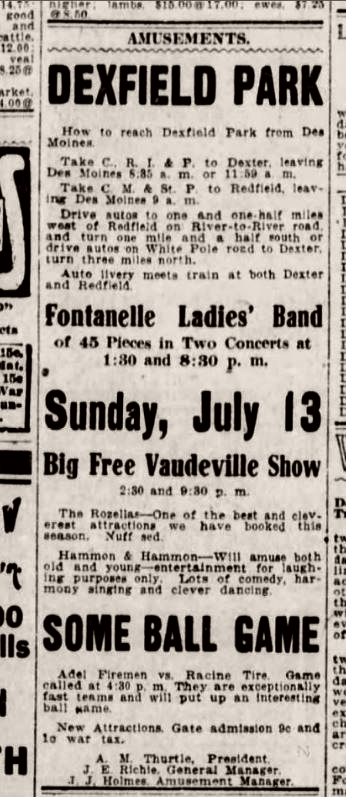 Earlier vintage scene of the old Dexfield Amusement Park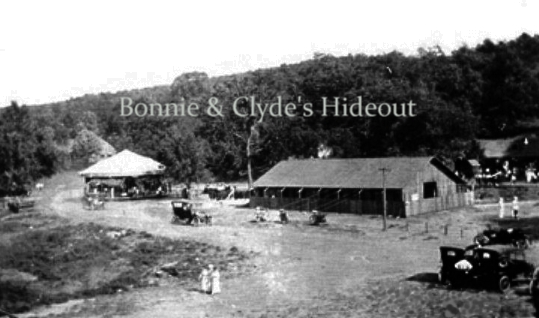 1920 NEWSPAPER CLIPPING
In June of 1920, The De Moines Register carried out ads requesting a Merry-Go-Round and organ for the Park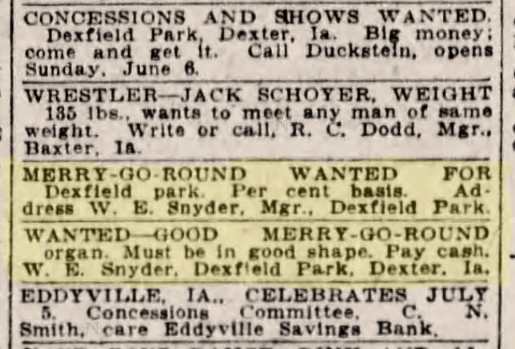 Possibly a circa 1920 Allan Herschell "Three Row Carousel"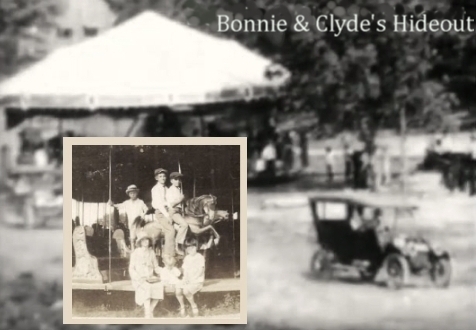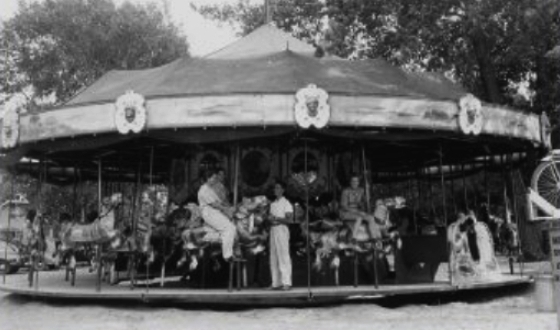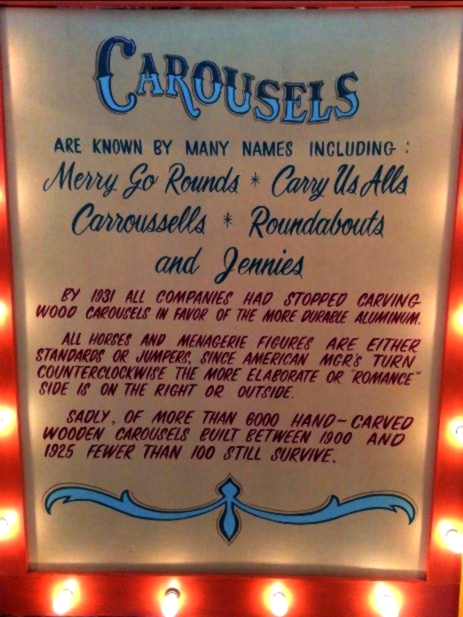 GAMES AND PRIZES
You could throw balls at "punk dolls" and win a prize for knocking them down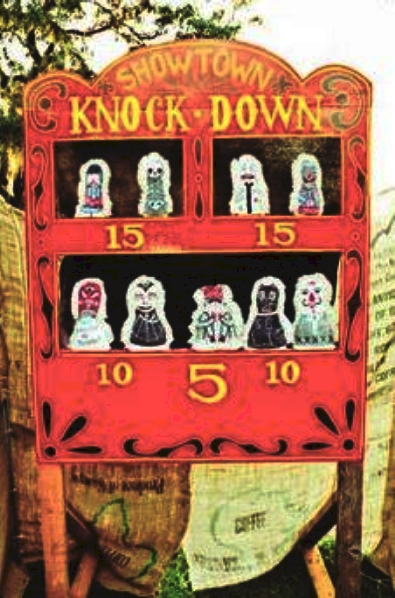 Carnival glass is moulded or pressed glass, always with a pattern and always with a shiny, metallic, 'iridescent' surface shimmer. Carnival glass has
been known by many other names in the past: aurora glass, dope glass, rainbow glass, taffeta glass, and disparagingly as 'poor man's Tiffany'.
Its current name was adopted by collectors in the 1950s from the fact that it was sometimes given as prizes at carnivals, fetes & fairgrounds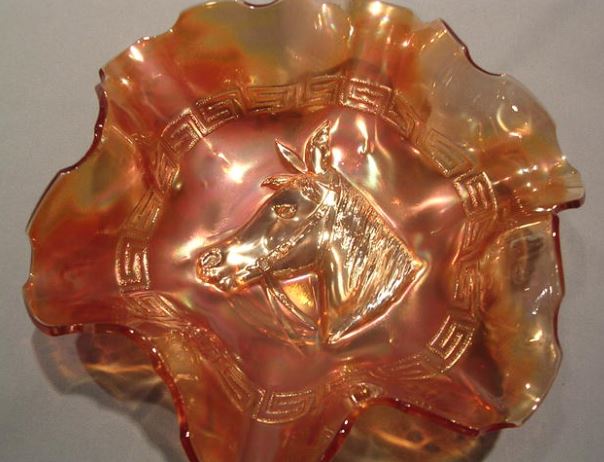 "Carnival chalk" refers to chalkware figures given out as carnival game prizes during the first half of the 20th century. Chalkware is a mainly American
term for popular figurines either made of molded plaster of Paris (usually) or sculpted gypsum, and painted, typically with oils or watercolors.
Kewpie is a brand of dolls and figurines that were initially conceived as comic strip characters by artist and writer Rose O'Neill. The Kewpie dolls were initially
made out of bisque exclusively, but composition versions were introduced in the 1920s and celluloid versions were manufactured in the following decades.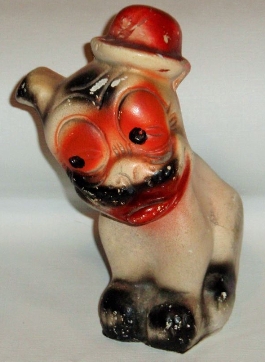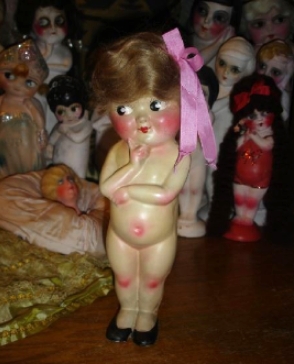 Autos had taken up much of the area surrounding the park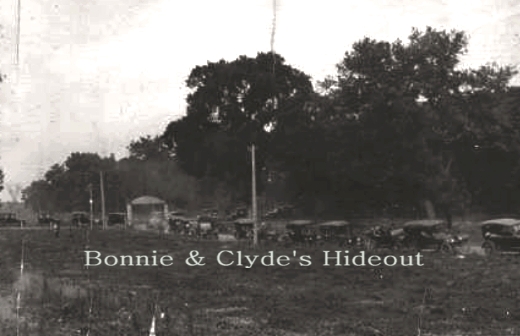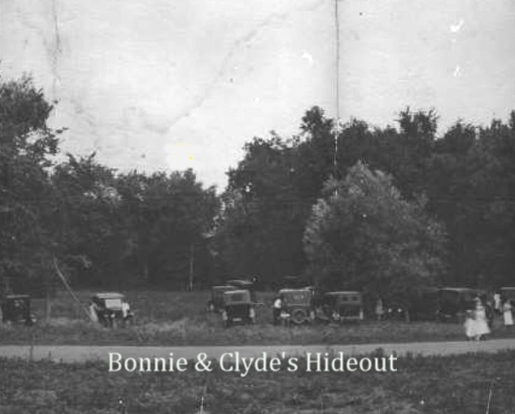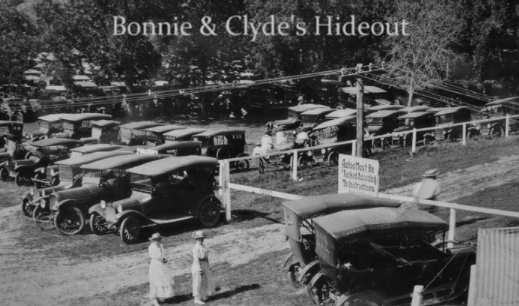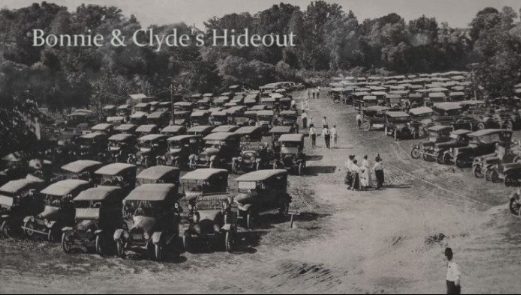 GRAND DANCE PAVILLIAN

SWIMMING POOL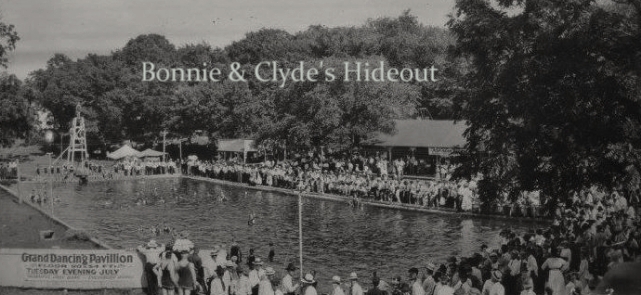 BASEBALL FIELD
In a desperate attempt to escape the posse, Blanche and her critically wounded husband ventured about a quarter
of a mile from the campsite, struggling through the brushy hills and rocky cliffs. Blanche tells in her memoirs
of then coming to a clearing (which was actually the old park's baseball field shown in the picture below.) At the
edge of the clearing, she had wondered to herself how she would possibly make it across such an open space and up
the next rise. At that point, she spotted a downed tree next to a large stump. They decided to take cover there.

TREE STUMP HIDING PLACE
Following the gun battle at their Dexfield Park campsite, the wounded Clyde, Bonnie and W.D. Jones eventually
made their way to the Feller family farm. Blanche and Buck was left to fend for themselves. The posse members
then congregated at the Barrow gang's makeshift campsite, where W.D. was earlier preparing a breakfast of weiners
over a small fire. The posse decided to spread out and try to locate what was sure to be bodies of the dead outlaws
lying about in the underbrush. A group of the searchers led by Kirt Piper followed sets of heel marks left in the
moist soil in the hillside. They were drawn to a downed tree besides a large stump. This is where Piper thought
would be a good hiding place. It was, and that's where they found Blanche and Buck and captured them.
KIRT PIPER IN LATER YEARS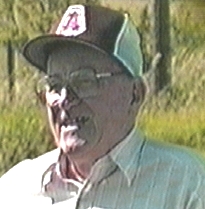 Dr. Keller (left) along with posse member James Young. They spotted the outlaws hiding behind the downed tree.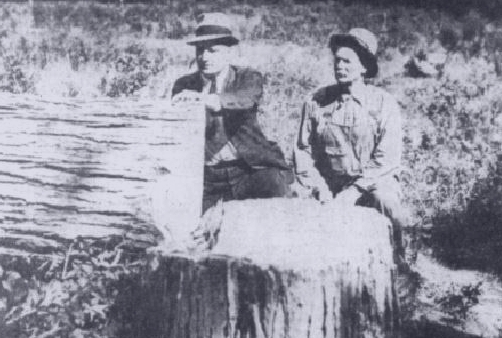 POSSE MEMBERS POSE AT CAMPSITE AFTER SHOOTOUT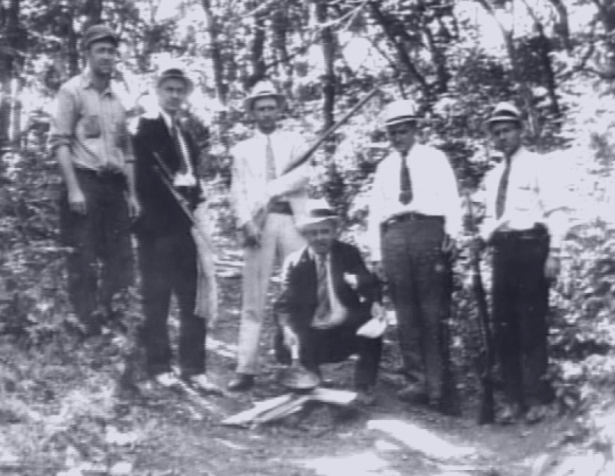 BURIED CAMPSITE TREASURE?...OR SOMETHING WORSE!
There are always those rumored stories of the Barrow gang burying their loot, here and there! It's widely
excepted that somewhere at Dexfield Park and even the backyard of the Joplin apartment hold their stash.
While holed up at the Dexfield campsite, Clyde believed that his brother Buck wouldn't survive his grievous
head wound. He and W.D. Jones went off to prepare a grave for him there, but he did live longer then expected.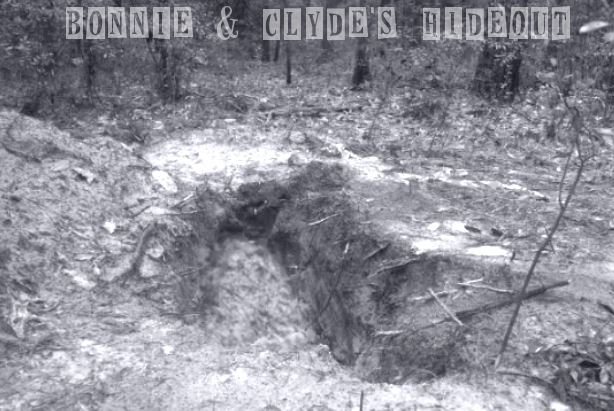 (suggested Hideout image)
Click on camera for snapshots of Dexfield Park in it's heyday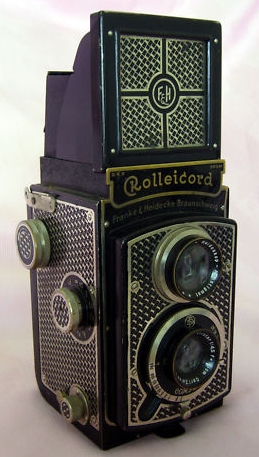 Outside Link
REMEMBERING DEXFIELD PARK
"Diggers" Season 2 Episode 3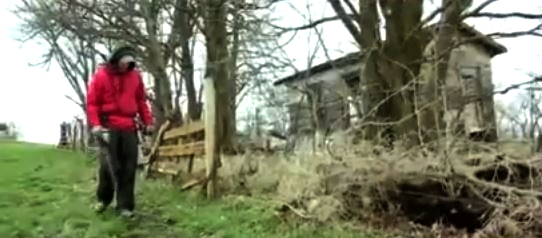 still from natgeotv.com
In one "Diggers" episode, the diggers put their metal detectors to use, in search of relics associated with
the 1933 shoot-out at the Dexfield site. They located various bullets, a cardboard shotgun shell and even
an old shirt button that may have come off of one of the gang's clothing. I'm sure the place is a treasure
trove of relics just waiting to be discovered. Even items related to the masses that attended the park earlier.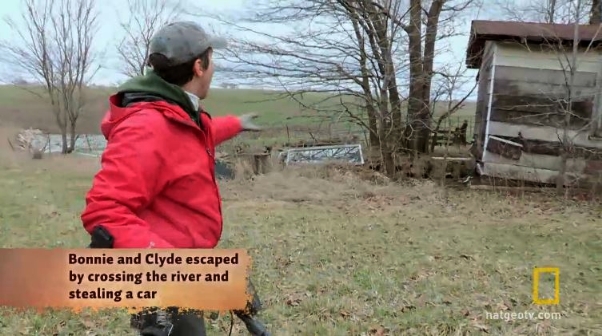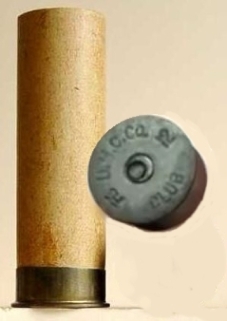 (left) still from natgeotv.com ------- (right) cardboard shotgun shell of the type used in that era - recovered piece (inset)
The recovered piece of the shotgun shell was a "United States Cartridge Company" brand. One known to have been used by Clyde.
The diggers also unearthed a .45-70 cartridge (below left) that wasn't fired, and a mushroomed .45 caliber bullet that hit it's target.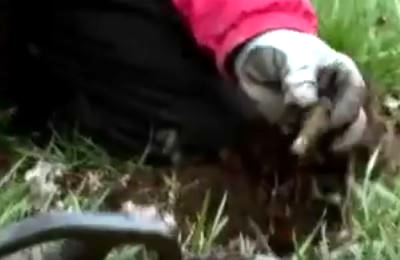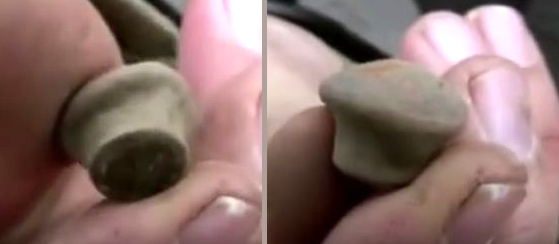 Another .45-70 Government cartridge found

New old stock .45-70 Government ammo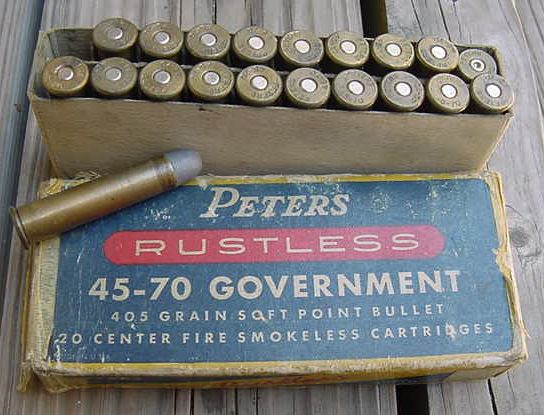 In 1933, the Park was all but abandoned!
FIND OUT WHAT HAPPENED THERE...
Click on the ticket