1967 Warner Bros. Movie
DALLAS, TEXAS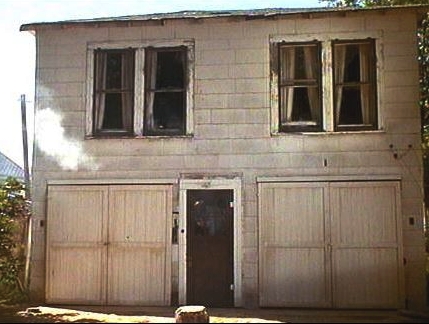 The "Joplin" apartment shootout had been filmed at 1717 Caddo Street in Dallas, Tx.
The driveway (below right) served as the entrance to the garage apartment building.
Unfortunately the garage apartment no longer exists. It stood just beyond the carport
seen in the image below right. The two buildings had belonged to Mrs. Lilean Burns.
Movie company remodeled the home after filming, due to damages done to the structures.
Movie scenes above & below are stills from Warner Bros. "Bonnie and Clyde"
Entrance to apartment shown in Warner Bros. movie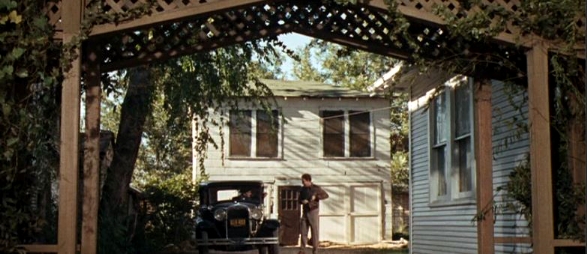 Below is how it looks in 2021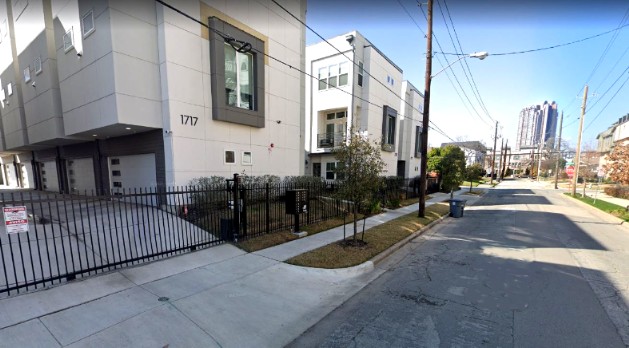 In the movie, you see a red brick building across the street from the Barrow gang apartment.
The white building with the screened -in porch is gone now, and a fence has replaced the hedges.
In my movie "Bloopers" section, I point out an air conditioner that's shown during filming. It was
of course a slip up, because you shouldn't see window air conditioners in windows in the mid 1930s.

As the police car is pushed out of the way and rolls across the street, you see another building.
It's the building seen just behind the cop who's squatting down and firing at the fleeing bandits.
That building, seen on the right in photos, later housed the Oriential Rug Cleaning business.

Below is how it looks in 2021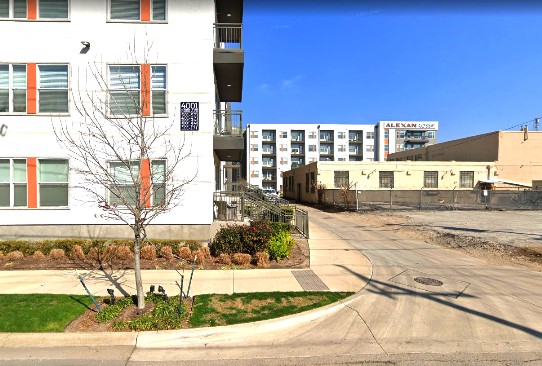 Fleeing Barrows swerve around police car towards white building with red roof. The house is no longer there. However
you can still see the telephone pole and silver fire hydrant on the corner of Caddo St. & Roseland Ave.
The tall building you see in the background (bottom image) is the "Tower at Cityplace," located at 2711 North Haskell Ave.
in Dallas, Texas. It was erected some twenty years after the filming had taken place on Caddo Street in 1966.
Image here


Red brick apartment building directly across the street still stands.


Close-up of Fire Hydrant
Then & Now

The three houses behind the cops, firing at the fleeing Barrows. The house at 1717 Caddo Street is on the left, by red tree.
The two neighboring houses, middle and right in photos. The white house with the tan shingles is now a different color.

After driving past the white house with red roof, they pick up Blanche. The white house, with
the brown roof you see, just in front of the fleeing bandits' car, now has a silver shingled top today.

Movie scenes are stills from Warner Bros. "Bonnie and Clyde"
RETURN TO MOVIE LOCATIONS
CLICK ON POPCORN