HENRY AND CUMIE BARROW
CIRCA 1939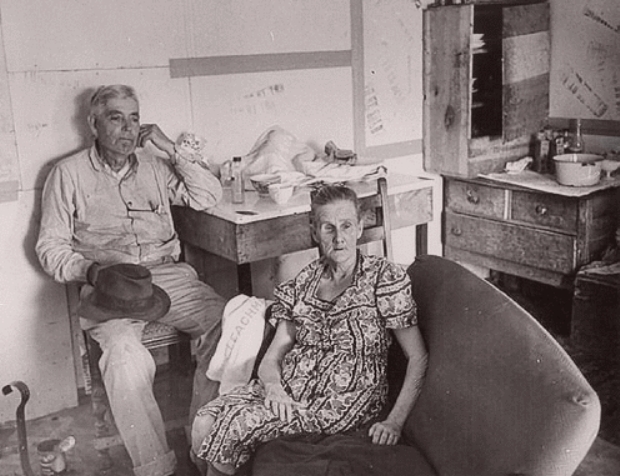 The photo above is of Henry and Cumie Barrow. It was taken in about 1939
in the back room of the family filling station. During an altercation which
had taken place there, Cumie was shot in the eye, which is evident in the photo.
The family home was also the target of several fire-bombings which had caused a
fire there. The fire had damaged many of the original photographs they had there
of Bonnie and Clyde. Behind Henry, you can see the drywall renovation of the
home that was being done there at the time the photo was taken.
---
GROVE'S CHILL TONIC
"No Cure, No Pay"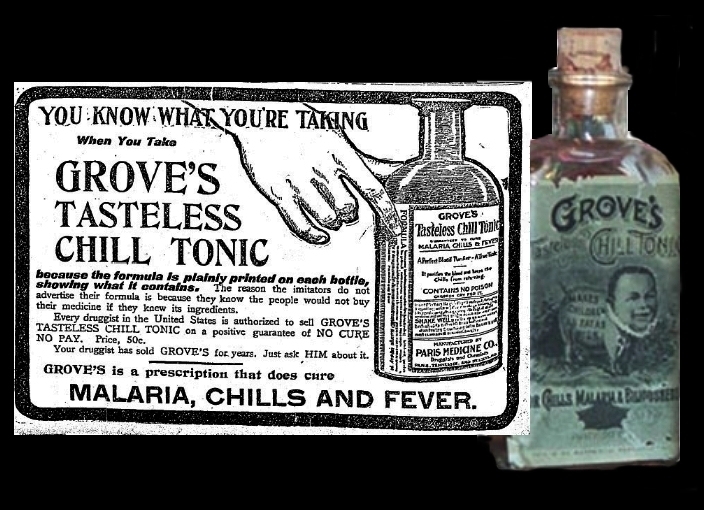 Shortly after setting up camp, following their move from the farm, Henry
Clyde and his little sister, Marie, had all come down with Typhoid fever.
Living in "The Bog" as West Dallas was called, was a rough life for anyone.
Mostly makeshift houses and tents made up the neighborhood. The streets were
unpaved and many times muddy because of the flooding in that area. No indoor
plumbing and open sewers were the norm. Garbage was everywhere and sickness
caused the deaths of many who lived in "The Devil's Back Porch", as it was also
referred to. Swarming insects also plagued the area. For the poor, hospitals
and medical expenses were unaffordable. Cumie was said to have had a "cure-all"
for the Barrow kids! This "cure-all" was what Clyde and Marie were given in times
of sickness. It was good ol' Groves Chill Tonic, administered by nurse Cumie!
---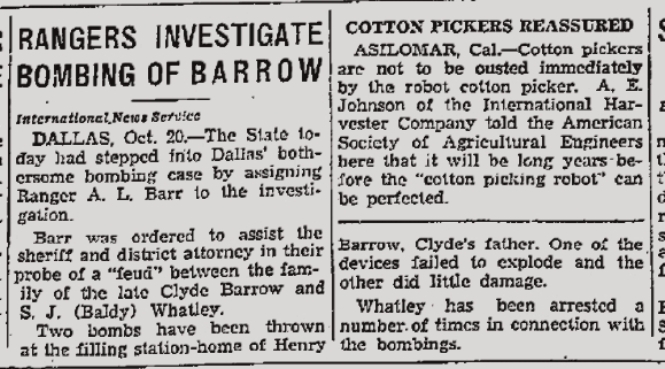 Photos below, show evidence of fire damage when the Barrow home was firebombed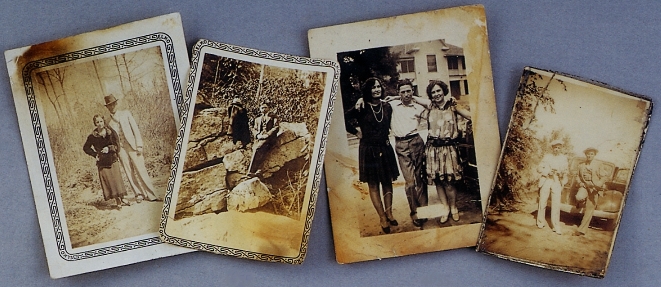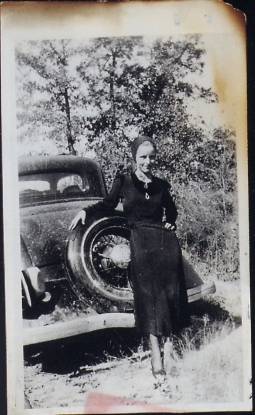 ---
CUMIE ATTENDS TRIAL OF S.J. "BALDY" WHATLEY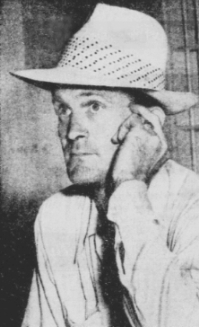 S. J. "Baldy" Whatley seen above in 1951 photo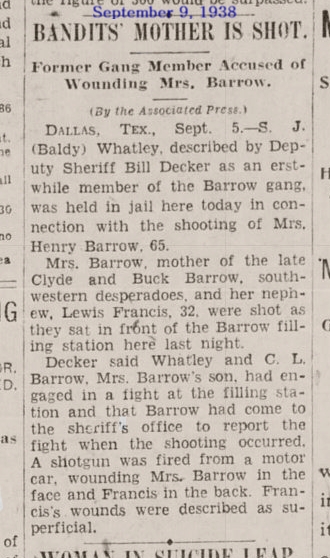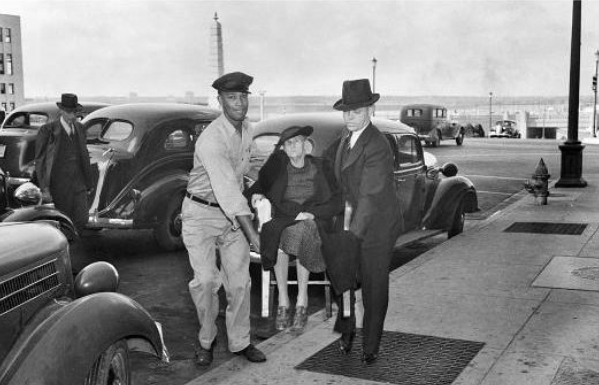 Just days following LC Barrow's release from jail on Harboring charges, there was an altercation
between LC and S J "Baldy" Whatley. Whatley later approached the Barrow family filling station/home
armed with a shotgun aiming to gun down LC Barrow. Cumie had become the unintended victim of Whatley's
shotgun blasts and was struck in the face area nearly blinding her. The photo above shows the elderly
and frail Cumie Barrow arriving at the courthouse to attend the trial of S. J. "Baldy" Whatley for that incident.
---
CUMIE BARROW MANUSCRIPT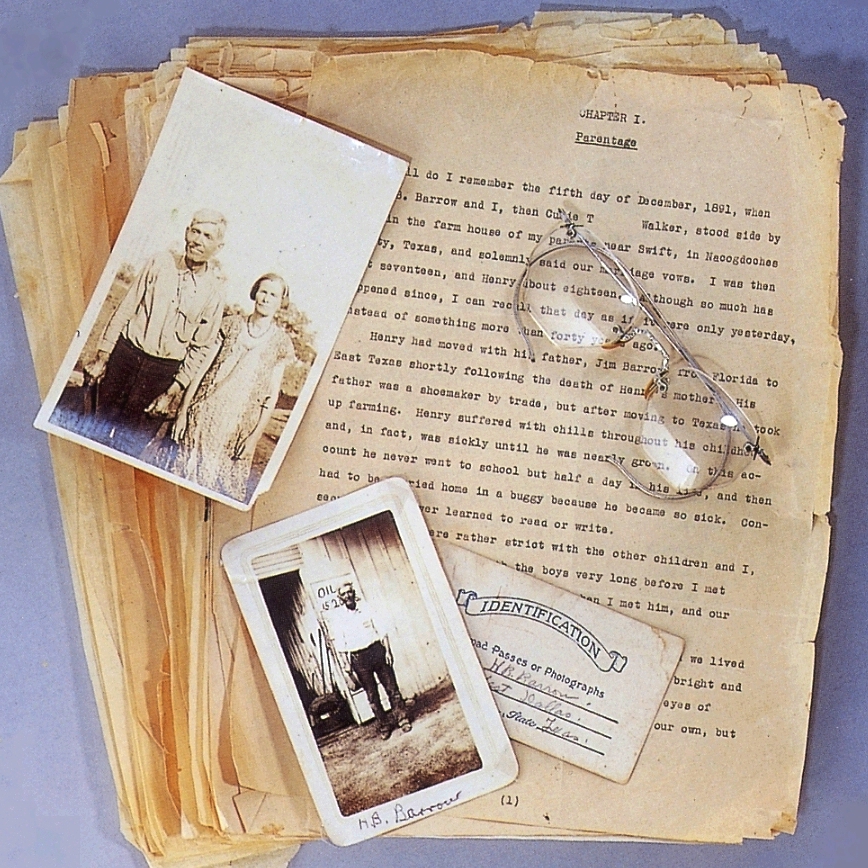 Private collection
Forty page manuscript, typed by Mrs. Barrow, details Clyde's boyhood, focusing on the period of 1929 to his death in 1934.
CLOSE-UP OF CUMIE'S GLASSES
BACK TO POSTCARD PAGE