BONNIE & CLYDE'S HIDEAWAYS
THE DABBS RAILROAD HOTEL

This is the last-standing railroad hotel on the Llano River
It began operation in 1907, and was a home-away-from-home for
railroad crewmen, who stayed there overnight and returned to
Austin the next day.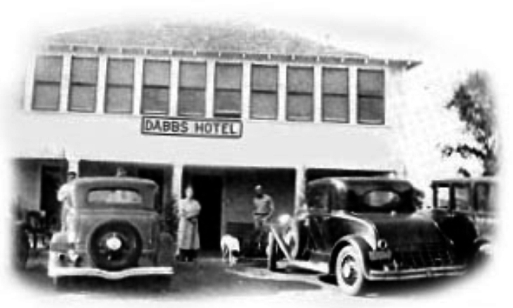 Clyde Barrow, (reputedly obscured) standing behind new Ford V8,
in front of one of their favorite hideaways - Dabb's Railroad Hotel.


Dabbs Railroad Hotel
112 E. Burnet St.
Llano, Texas 78643

---
OTHER HAUNTS OF BONNIE & CLYDE
---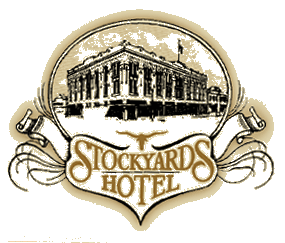 In the heart of the historic Stockyard District, originally constructed
in 1907, as The Stockyard Club, where wealthy cattlemen stayed when in
Fort Worth. Reputedly another favorite haunt of Bonnie and Clyde.

It was in 1933, while hiding out from the laws, that Bonnie and Clyde
had checked into Room 305. Here, they had a perfect view of E. Exchange
and N. Main, an excellent lookout for approaching lawmen. A gun belonging
to Bonnie was left there. This hotel, with it's 52 rooms, has been restored
and furnished in Old West decor. It's bar, with saddles for barstools, is
an attraction in itself.

STOCKYARDS HOTEL

109 E. Exchange Avenue
Fort Worth, Texas 76106

---
THE ROCKY OUTCROPPING LOCATION REVEALED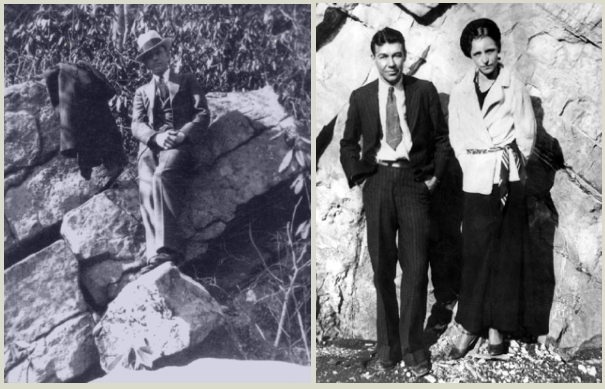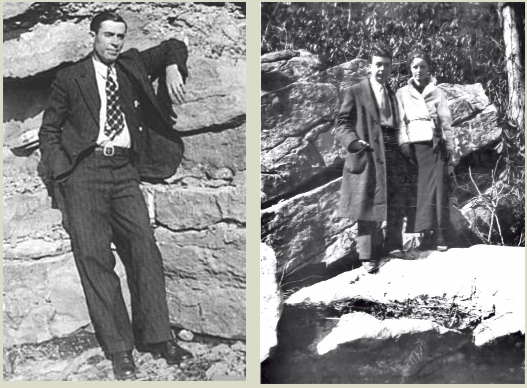 Recently discovered Department of Justice files detailing an interview of W.D. Jones,
has Jones giving the location of the rocky outcropping background as being in North Carolina.
Still, a geologist friend of the Hideout claims that the rocky outcropping in the B&C photos are
surely located in the Arbuckle Mountains of Oklahoma. Adding, "there aren't any roadcut rock
formations in the country that look like the Arbuckle Mountains of southwest Oklahoma".
Further stating "after the oil companies - the biggest employer of geologists in the country is
the FBI. Specialists in mineralogy - scrape the soil off your shoe and tell you where you been".
W.D. was known for lying. He also claimed that Clyde bought the camera that they had used,
yet Blanche Barrow, in her memoirs, said that she had loaned Bonnie and Clyde her own camera.
The Arbuckle Mountains area was known by the Barrow gang. On Pages 242 and 243 of John Neal Phillips book on
Ralph Fults, it states that Raymond Hamilton and Ralph Fults switched license plates there after stealing another car.

Could it have been at such a location as seen below, in the Arbuckle Mountains of Oklahoma?
I've inserted images of Clyde, W.D. and Bonnie to compare with fault breccia in the Arbuckle Group.
Arbuckle Mountain photo location?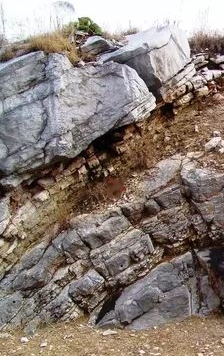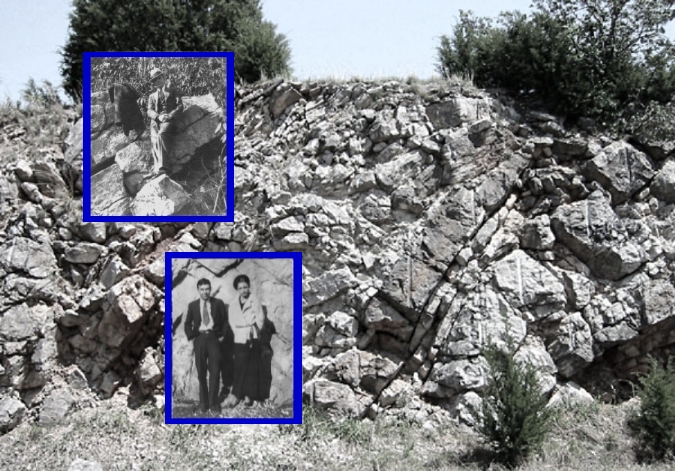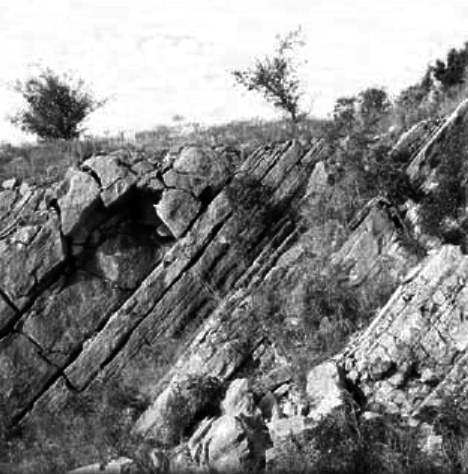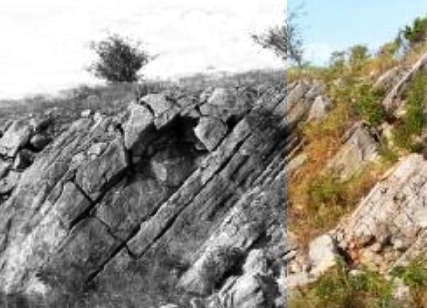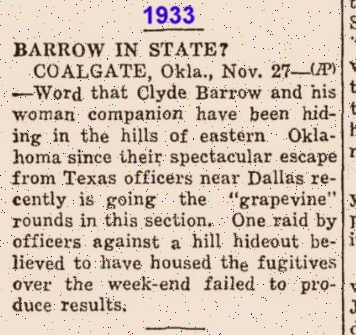 I would assume that the photos (by car) below, were taken at the same location, considering Bonnie's attire.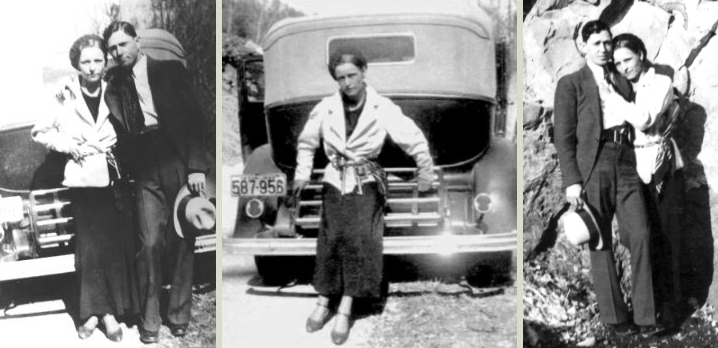 Notice the "necktie belt" around her cardigan jacket. That would seem like an on the spot thought.
Bonnie is seen wearing the same "necktie belt" in the photos taken by the car.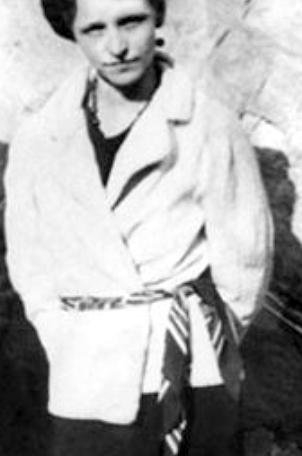 ---
Brownie No. 2 Folding Autographic Camera
This particular camera is reputed to be the type camera Blanche loaned
to Bonnie and Clyde for their famous picture taking adventures.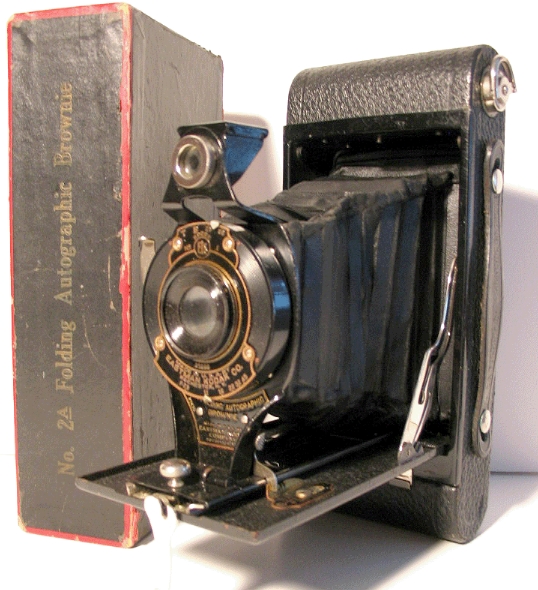 Kodak No. 2 Beau Brownie "Old Rose" in color
Blanche's camera was later replaced by this model camera,
which she had used in prison during her incarceration there.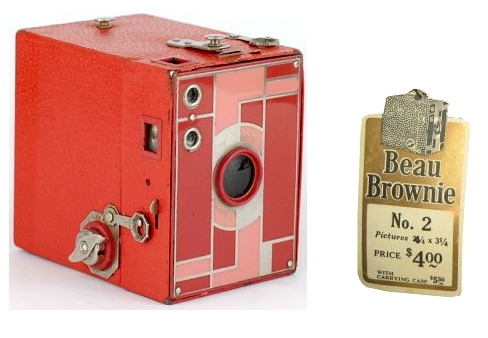 ---
CLYDE'S LAST HAIRCUT
Shute's Drug Store
Opelousas, Louisiana
Opelousas, the third oldest city in Louisiana is the parish seat of St. Landry Parish. It is
located at the juncture of Interstate 49 and U.S. Highway 190. It was in the now defunct
Star Barber Shop, located in Shute's Drug Store on the corner of Court and Landry Streets
that barber Otis Welch gave Clyde Barrow his last haircut & shave. Two days later Clyde
was killed. Otis Welch is the same barber seen in the foreground in the photo below.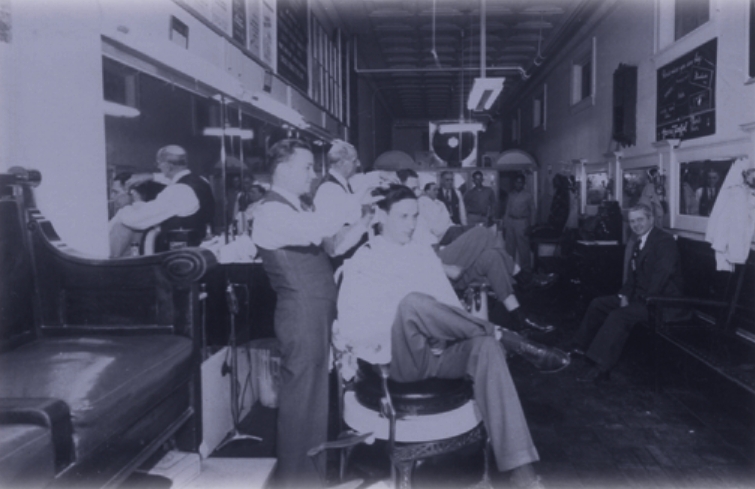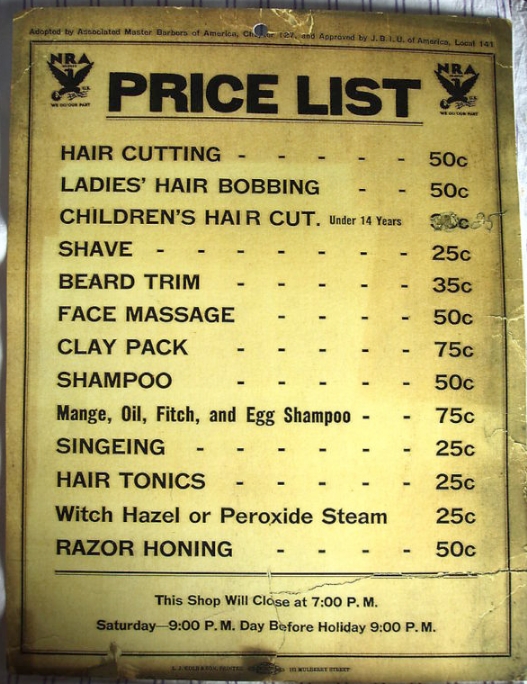 MORE BONNIE & CLYDE HIDEAWAYS
SEE WHERE THEY HAD WORKED