KATIE JENKINS......and KATIE JENKINS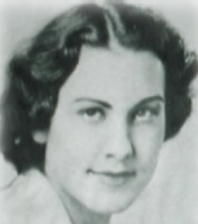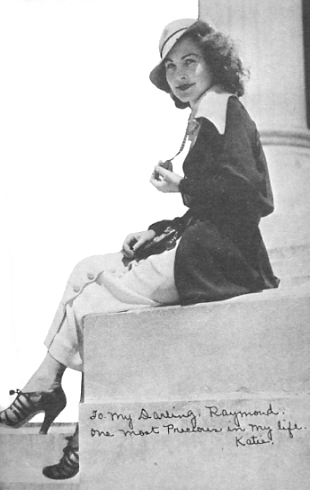 Who was Katie Jenkins? The love interest of Raymond Hamilton of course!
Katie had worked in a candy store with Hamilton's sister. Older brother Floyd had
introduced Katie to young Raymond and there was an instant attraction between them.
"Yes, I love Katie Jenkins," "I love her more than anyone else in the world, except my mother" - Raymond Hamilton
Bad Company
1934 article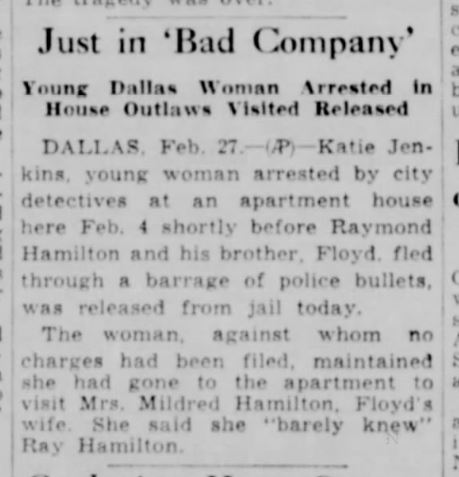 Raymond Hamilton talks about Katie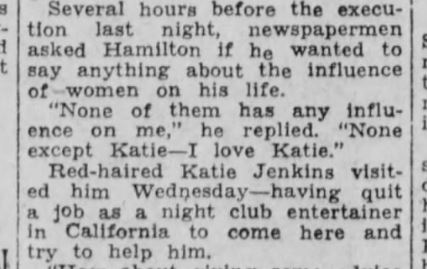 The Hideout wishes to thank Mr. Jack Major for being a Special Contributor to this section!
This Katie Jenkins section, is the result of joint research and communications, between a Hideout friend and myself.
The question is, to whether or not the two gals mentioned here, are one and the same. Let's begin by taking a look at
Raymond Hamilton's ex girlfriend, Katie Jenkins (circa 1935) and Katie Jenkins, the latter of which was the wife
(and manager) of lightweight boxer, Lew Jenkins. Both of these gals were attractive, petite redheads - the same age,
figure and appearance. Both of whom lived in Dallas, Texas at the same time and both of which were involved in
entertainment. Raymond's gal's name was Katie Lucille Jenkins and Lew married Katie Lucille Jenkins in Durant,
Okla. in 1938, following Hamilton's 1935 execution . The question might arise, as to Raymond's girlfriend having the
last name as boxer, Lew Jenkins - if she was single at the time she was seeing Raymond. The mystery could be solved in
knowing that Katie's birthname was Jenkins and that oddly enough, she married a man in the late 1930s with the same
last name (no relation). Katie, who was married to Lew Jenkins, also managed his boxing career. She was known as a
tough gal who had taken up midget car racing and did the rodeo circuit too! Not to mention also taking flying lessons!
The consensus is, that they are one and the same!
Katie Jenkins, tripping the light fantastic with Hubby Lew
Katie and Lew Jenkins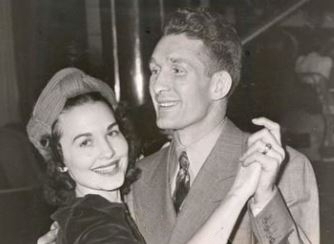 Life after Raymond Hamilton...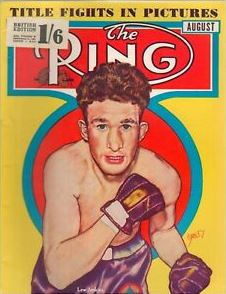 Below write-up is from Travis Monday's book
Best of Museum Musings, Volume 1
1939 article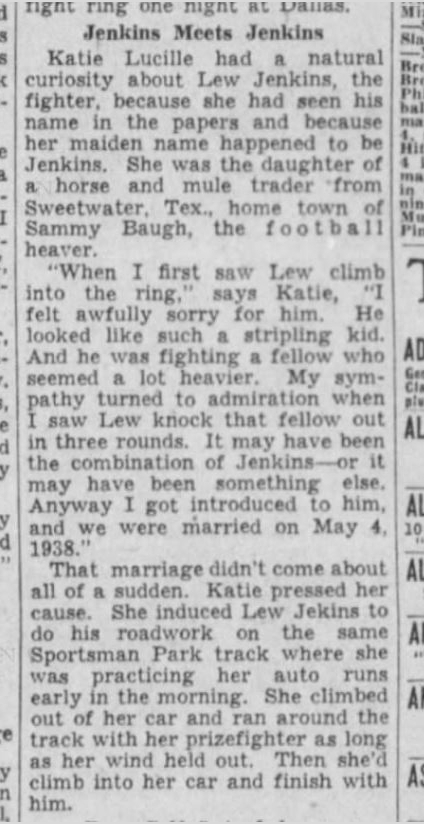 Sammy Baugh 1938
Sammy Baugh was born on a farm near Temple, Texas, to James Baugh, a worker on the Santa Fe Railroad,
and Lucy Baugh. His parents later divorced. When he was 16, the family then moved to Sweetwater, Texas.
Texas Gal clipping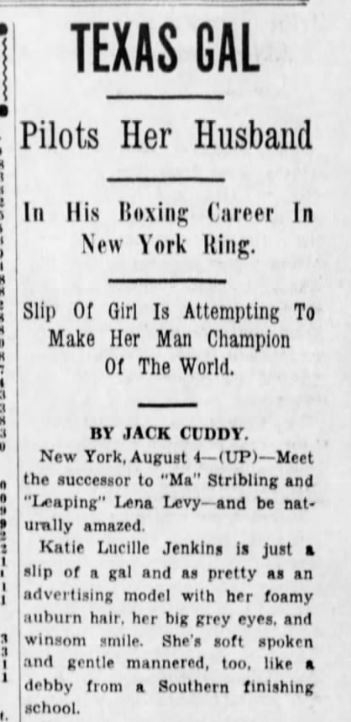 Mr. and Mrs. Jenkins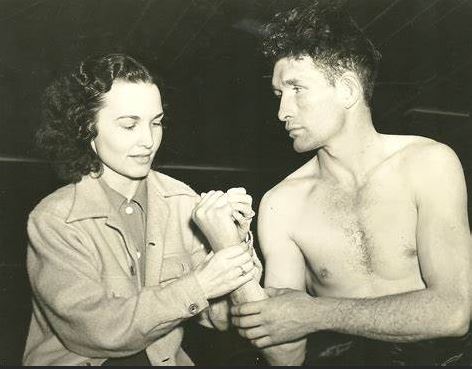 Beautiful Side Of 1940 Sports
1940 article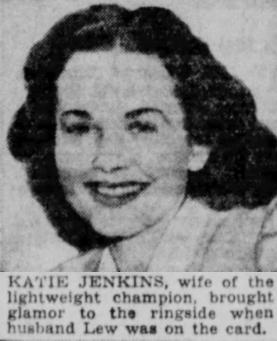 "The Sweetwater Swatter"
1941 article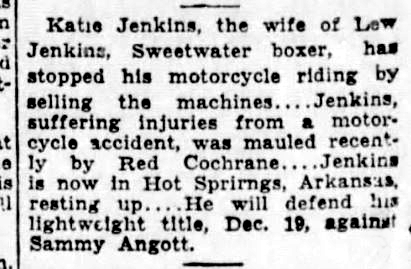 She trained him to fight in the ring, not in the bedroom!
1942 article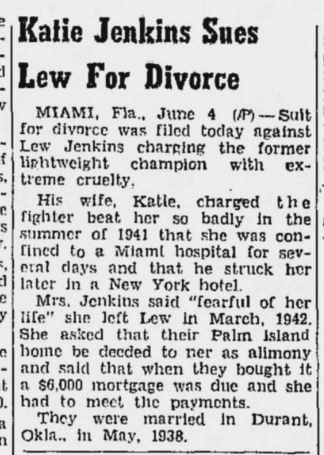 Katie Jenkins, shown here, signed as manager to lightweight boxer
Carmen Fatta in 1944, following her 1942 divorce from Lew Jenkins.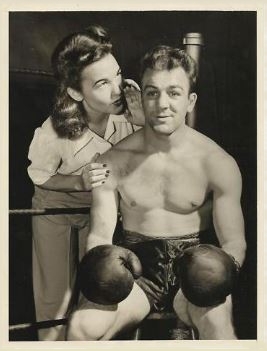 Katie at work!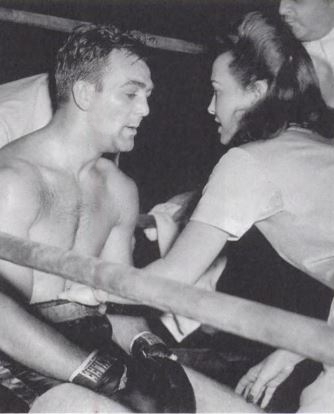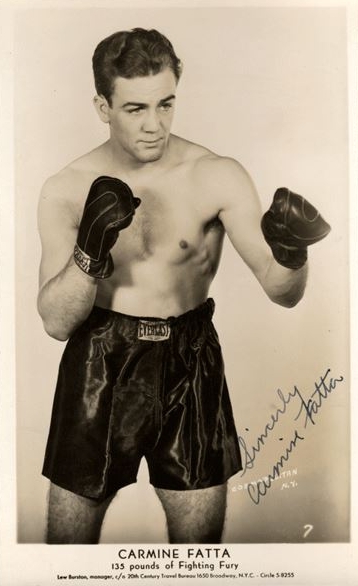 Hymie Caplin went on to manage Lew Jenkins. Caplin later faced card sharp fraud charges.
Lew Jenkins (below left) and Hymie Caplin (below right)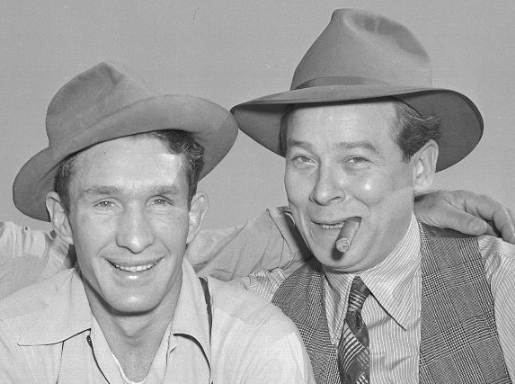 Perhaps Lew (below right) reminded Katie of old beau Raymond?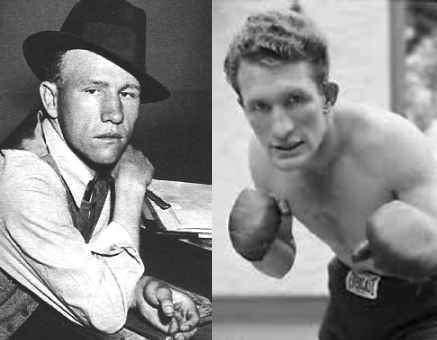 Fair Katie 1944 article
BACK TO RAYMOND HAMILTON PAGE