DEATHCAR MODEL PROJECT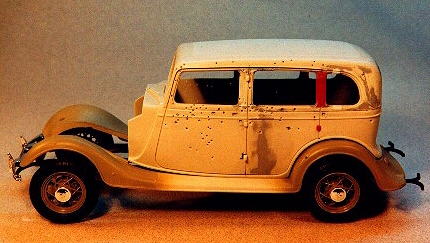 Mario Desrosiers is modifying from a 1/25 scale model kit,
a Bonnie & Clyde "death car". He has modified a two door to
a four door to make it a "Fordor" model. He has also scratch
built a rear trunk, the interior, the broken glass and most
of all Bonnie & Clyde in the same position in which they were
killed.  He is entering a model contest in August and is
hoping to finish his "DeathCar" project by then. 

UPDATE

The contest is over, and as expected,
Mario did well! CONGRATULATIONS


First in class Miscellaneous (5"x7" plate)

Best interior                (9"x12" plate)

Best details                 (9"x12"plate)

Modelers choice              (9"x12"plate)

Peoples Choice               (9"x12"plate)

"BEST IN SHOW"            22" tall trophy

AWARDS DISPLAY
Model on Display
Mario's Trophy
Mario's Plaque Awards

MARIO'S B-400 BONNIE & CLYDE "GETAWAY CAR" PROJECT
(IS NOW INCLUDED ON LAST PAGE OF THIS SECTION)!


Mario entered another contest with his model deathcar on Oct.
29th in Salem, New Hampshire. It was his first appearance in
the USA.

Here's the results of Mario's second Deathcar model contest
which was held in Salem, New Hamshire 29th of October 2000.
He won first in class Miscellaneous which earned him a 14
inch trophy, and The Peoples choice which earned him a 24
inch trophy. He entered eight other models in the contest
and won a total of 12 trophies.

First and third place in Rod class for a '37 Ford speedwagon
and a '32 Ford speedwagon.

First place in the Miscellaneous class for his Deathcar.
First place in Large Scale for his '34 Ford coupe.
First and second place in Light commercial for his '37 Ford 
hearse and his '37 rust pickup
First place in Competition non-drag '59 Camino nascar.
Second place in Competition drag for his '66 Nova.

Best finish for his '34 Ford coupe (24 in.)
Best interior for '37 Ford hearse (24 in.)
People choice for his Deathcar (24 in.)
Best in show for his '59 Camino nascar (19 in. large cup)

He and his three friends had won a total of 23 trophys!

Mario's deathcar trophies (second contest)
---
(Model photos courtesy of Mario Desrosiers)


TWO VIEWS SHOWING PRECISE BULLET PATTERN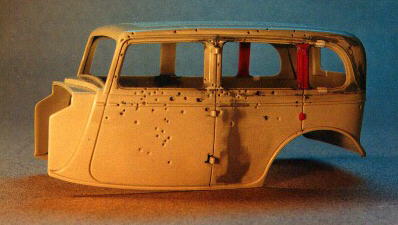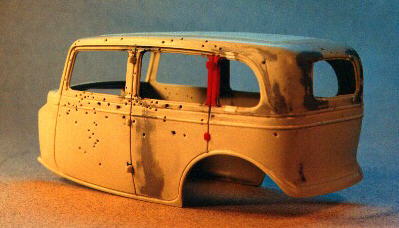 ---
THIS MODELER'S DETAILS MAKE HIM A SURE WINNER!
Looking great so far Mario!
MORE MODEL PHOTOS