BONNIE'S NIECE
"Bonnie Ray Parker" (Linder)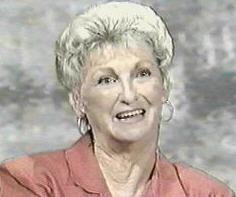 Bonnie's brother, Hubert Parker was employed in Gladewater, Texas, working for Rusty Cook, a plumber and pipe fitter. Rusty's wife was Ada Cook, formerly
Mrs. Dick Clay. Hubert was married to Ada's daughter, Edith Clay. Five months after the ambush of Bonnie and Clyde, Bonnie's brother, Hubert "Buster" Parker
and his wife Edith had a daughter who they named "Bonnie Ray Parker". After they divorced, Edith died. Bonnie Ray was just four years old when she went to live with
her maternal grandparents for a time, but then went to an orphanage in Houston. After a three year search, Billie Jean Parker located her young niece at the orphanage
one week before Bonnie's seventh birthday and adopted and raised her as her own. Billie Jean was living in Gladewater, Texas at the time, as was Bonnie Parker's brother,
Hubert. Having the name "Bonnie Parker" had caused the young girl a lot of misery at school. Jean got married and they moved to Stevens, Arkansas. Bonnie's name was
changed to "Rhea Leen", (seeing as Billie was already calling her by her middle name "Ray" for some time.) Rhea Leen kept her family association a secret until recently
when she found that she would no longer be looked down on, being the niece of the infamous Bonnie Parker. She then went on to market Bonnie and Clyde merchandise.
---
Hubert "Buster" Parker's wife - Edith Parker
(maiden name - Edith Ray Clay)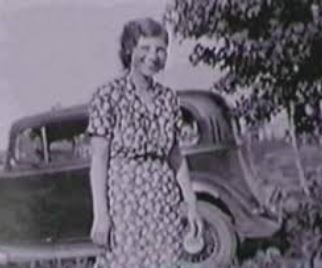 Edith was the sister of Clarence Clay, who was a friend of Clyde Barrow.
It was at the Clay's home that Clyde and Bonnie were first acquainted.
APPLICATION FOR MARRIAGE LICENCE
Bonnie Ray as a child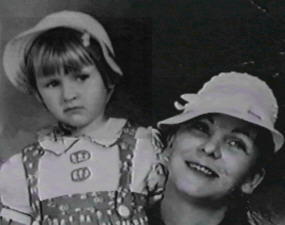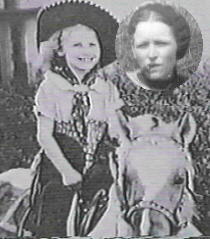 Photo above right, is a young Bonnie Ray Parker, as compared with aunt Bonnie (inset)
---
Bonnie Ray and Billie Jean

Photos above, show a young Bonnie Ray Parker with aunt Billie Jean
---
Bonnie Ray relates a funny story about the later years
Blanche and Billie Jean were little old grey haired ladies at the time and went into a
Green Stamp place. While waiting in line at the check-out counter, another old lady needed
to leave the line for a bit and left her big old purse sitting there, wide open and asked
them to please hold her place in line until she returned. One, either Blanche or Jean,
looked to the other and said "boy...if she only knew who we were"! Bonnie Ray said that she
laughed at that a hundred times - thinking about these two little old ladies, "notorious women".
Remember these?
S&H Green Stamps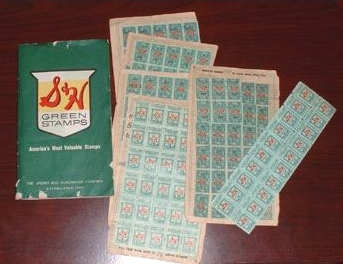 In 1896 Thomas Sperry and Shelly Hutchinson's founded the first independent
trading stamp firm in which trading stamps would give customers discounts
on small purchases, S&H Green Stamps was a customer-loyalty program.
---

Billie Jean as she appeared in 1968
---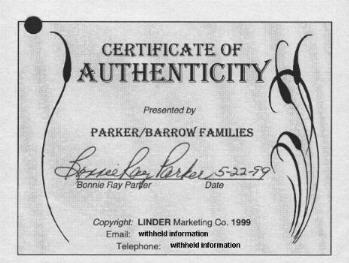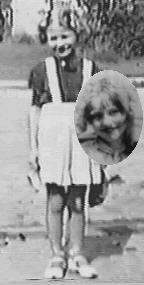 Photo above, is a young Bonnie Ray Parker, as compared with aunt Bonnie (inset)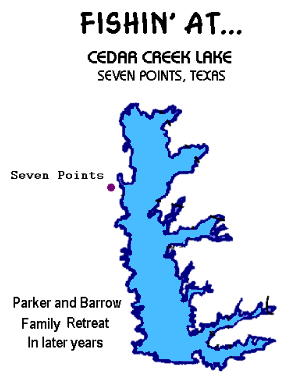 ---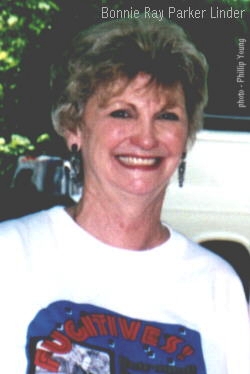 BACK TO POSTCARD TO HOME