THE POSSE
POSSE OF SIX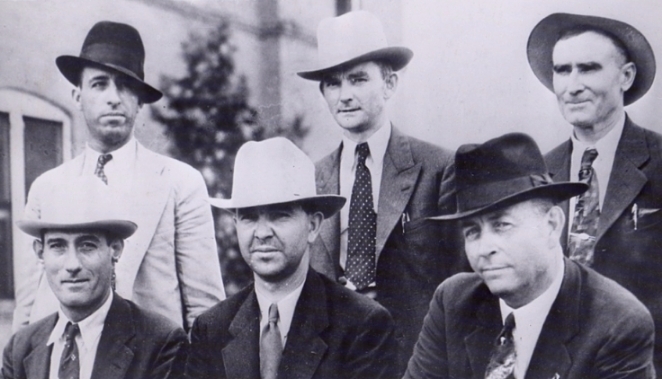 LEFT TO RIGHT, STANDING: Ted Hinton, Prentiss Oakley and B.M. "Maney" Gault
SITTING: Bob Alcorn, Henderson Jordan and Frank Hamer
---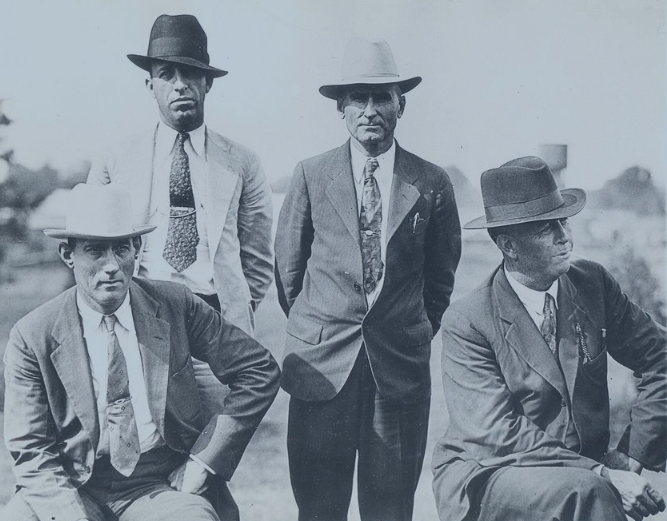 LEFT TO RIGHT, STANDING: Ted Hinton & B.M. "Maney" Gault
SITTING: Bob Alcorn & Frank Hamer
---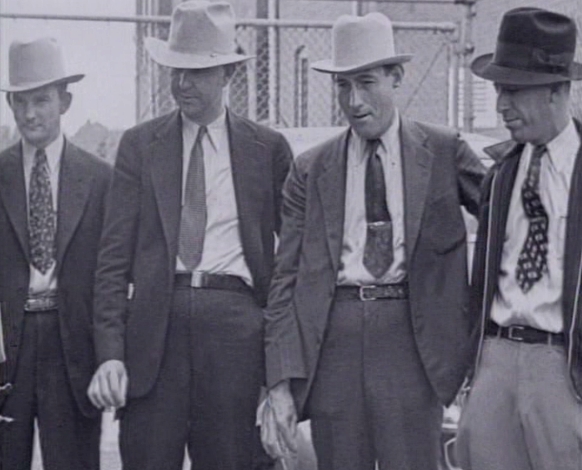 LEFT TO RIGHT: Prentiss Oakley, Henderson Jordan, Bob Alcorn & Ted Hinton
---
REMINGTON RIFLE USED IN AMBUSH

Remington Model 8 semi-automatic rifle
was used by Deputy Prentiss Oakley
to gun down Bonnie and Clyde




---

Remington "Police Special"
Used by Frank Hamer in 
the ambush of Bonnie & Clyde



Frank Hamer had special ordered the magazine
from the Peace Officers Equipment Company
in St. Joseph's Missouri.

He had the standard 5 shot magazine and replaced
it with a larger 20 round magazine. He had gotten
this weapon for one purpose only, to use in
the hunt for Clyde Barrow and Bonnie Parker.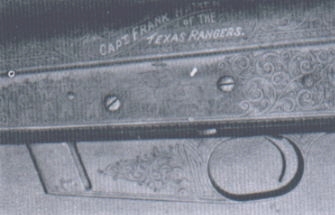 Hamer's own "engraved" Remington Model 8

---
Items removed from Barrow death car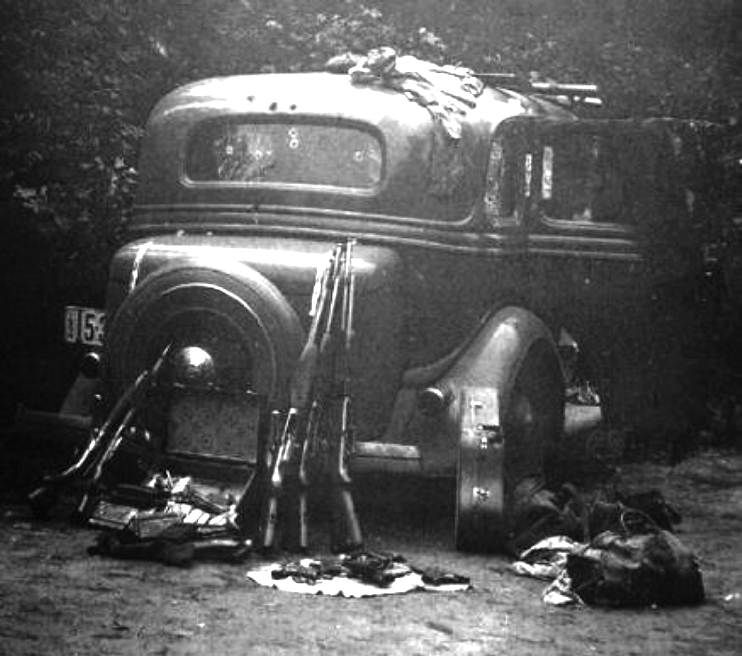 Among the items found in the Barrow death car was Clyde Barrow's
saxophone which was returned to Cumie Barrow along with her son's
other personal possessions and it ended up belonging to Nell Barrow
Cowan who held on to it for many years before it was discarded.
---
"ARSENAL ON WHEELS"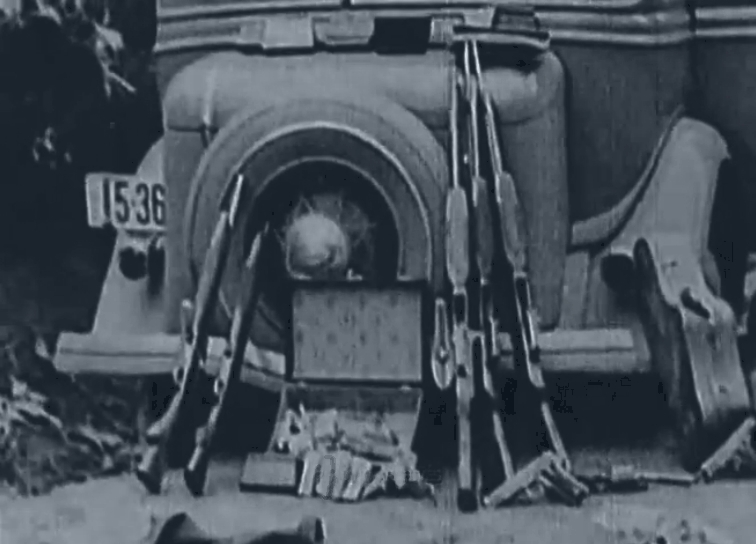 Part of the arsenal discovered in the "death car" on May 23, 1934
DISPLAYED HERE
"THE INVENTORY"




Three .30 cal. Browning automatic rifles
One 20 gauge "sawed-off" shotgun
One 10 gauge "sawed-off" shotgun
One .32 caliber Colt automatic pistol
One .380 caliber Colt automatic pistol
One .45 cal. Colt "double action" revolver
Seven .45 caliber automatic pistols
One-hundred rounds of machinegun clips
Three-thousands rounds of ammunitions

Also a suitcase full of money had vanished. Barrow relatives believe that the
contents were later used by Henderson Jordan to purchase some land and a barn.
B.M. "Maney" Gault and Frank Hamer examine some of Clyde's boom sticks!
LOADS OF TAGS TOO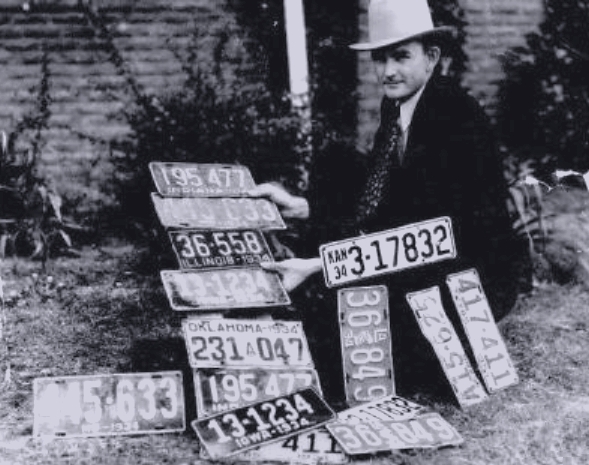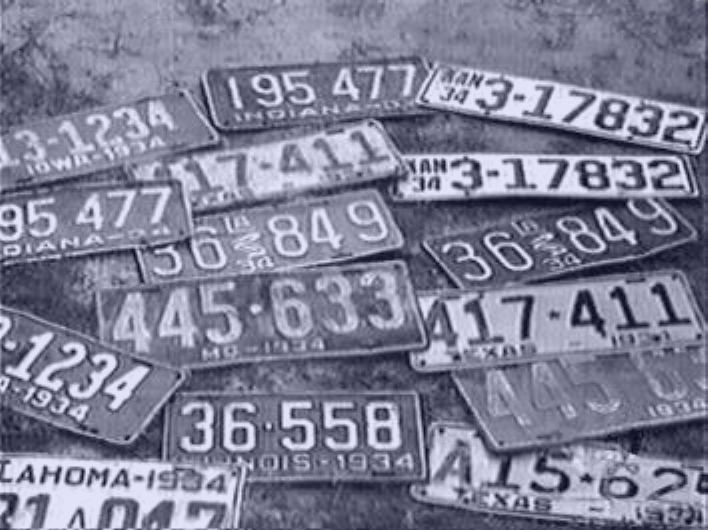 CUMIE BARROW'S LETTER TO FRANK HAMER

Mr. Hamer,
I am writing you again for Mr & Mrs Barrow,
as we never got no answer from the other letter
we wrote to you. Mr. Hamer,we have been told
here by Sheriff Smoot Schmid in Dallas that you
have in your possession some guns that were in
the car at the time you and the other officers
killed my boy Clyde. Now Mr. Hamer, I do hope
you will be kindly enough to give me those guns
as you know you have no right to try and keep
those guns. I feel you should think you have caused
me enough grief and hardships without trying
to cause me more trouble now. I have been told
you got out of the car three pistols and one
sawed off shotgun. Now I do know that my boy did
buy most of the guns he had so I don't see why
you should not return the ones you have to me.
You don't never want to forget my boy was never
tried in no court for murder and no one is
guilty until proven guilty by some court so I
hope you will answer this letter and also
return the guns I am asking for.
Mrs.C.H.Barrow
(Carl) Leon Hale
1225 So. Lamar
Dallas, Tx

---
EMMA PARKER'S LETTER TO FRANK HAMER
---
"DEATH CAR INSPECTION"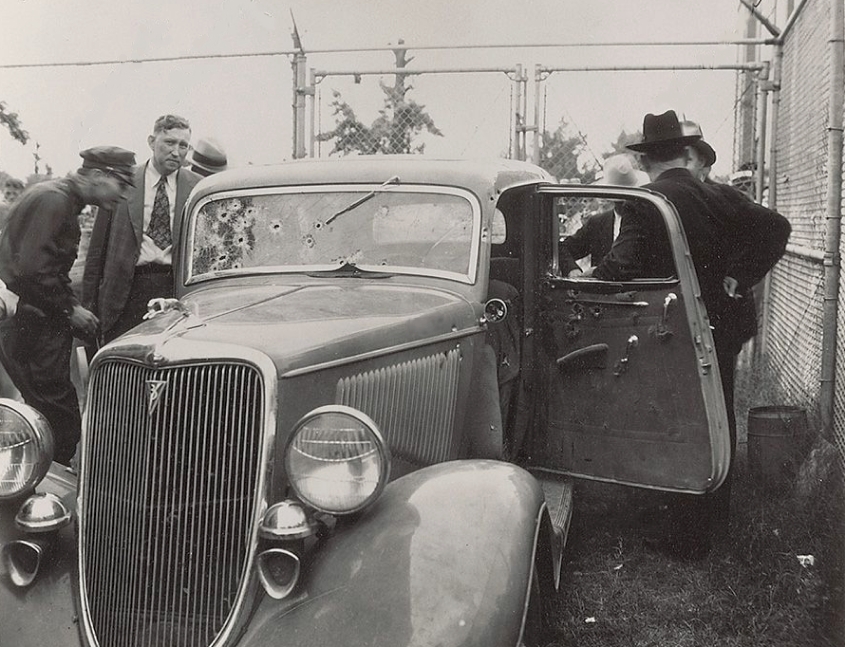 Highway Patrolman on left beside Sheriff
Smoot Schmid,inspects the Barrow "death car"
while Frank Hamer (on the right, with his back
to the camera) talks with other officials.

DRIVER'S SIDE DAMAGE
---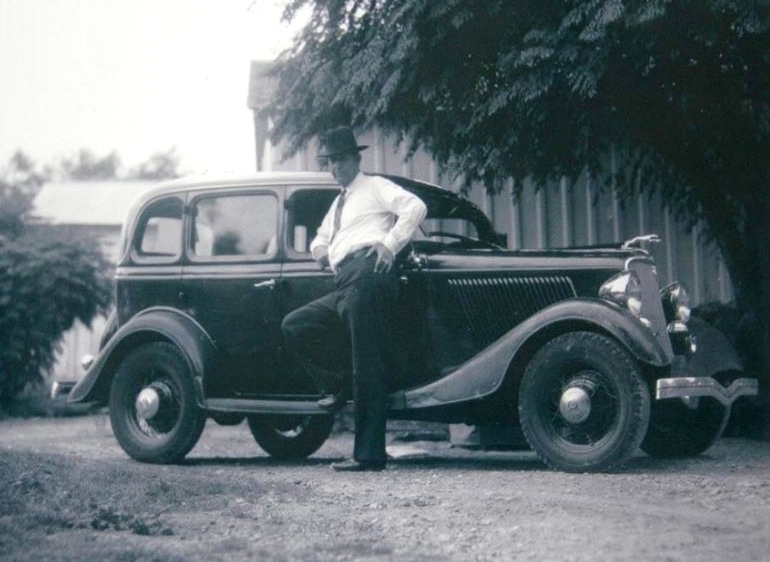 "On February 10, I took the trail and followed it for exactly 102 days."
"Like Clyde Barrow I used a Ford V8, and like Clyde I lived in the car most of the time" - Frank Hamer

---

The Remington .35 with a 15 round capacity magazine
---
Still from Hinton film footage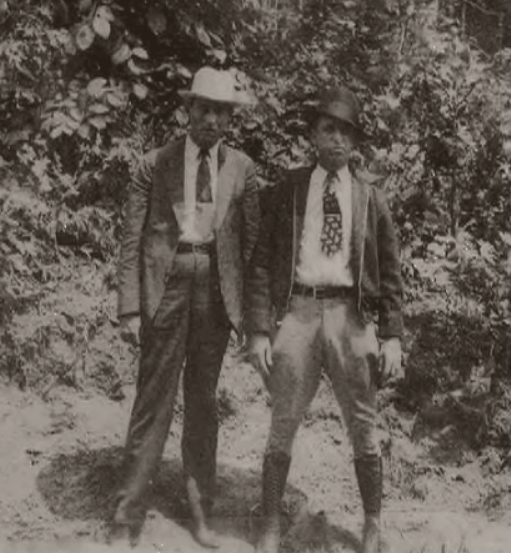 Bob Alcorn (left) and Ted Hinton (right) in photo above
Still from 1934 ambush reenactment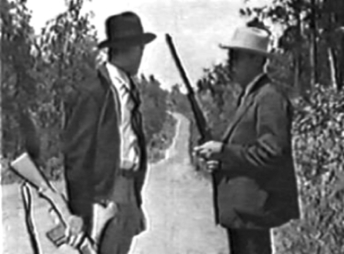 Ted Hinton (left) and Bob Alcorn (right) in photo above
Ambush reenactment goes on...even today!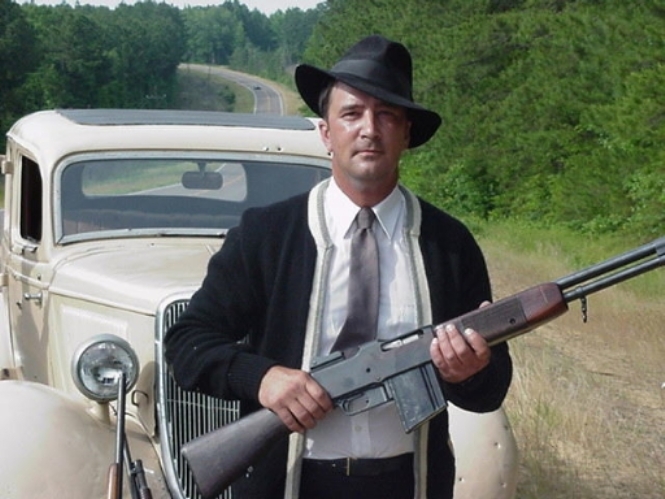 photo courtesy of reenactor Jimmy Gillman
---
It seems that Hamer an associates weren't the first choice in an attempt to end the careers of
Bonnie and Clyde. In 1935, Ft. Worth Capt. Fred McDaniel had confided in Ralph Fults that
he and Texas Rangers Thomas Hickman and Manuel Gonzuales had been asked to perform
that task and they said "No thanks, we don't ambush people and we don't shoot women.
---
TED HINTON'S MOTOR LODGE 1960s
click on postcard to view back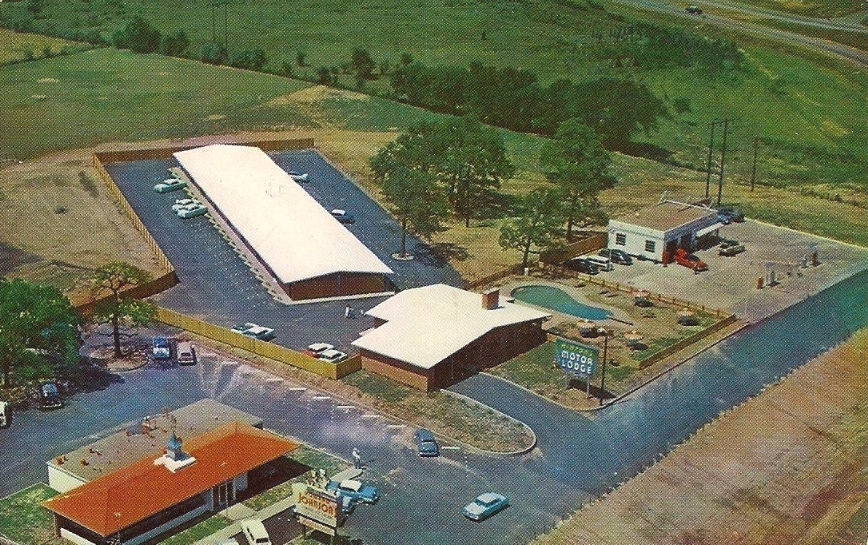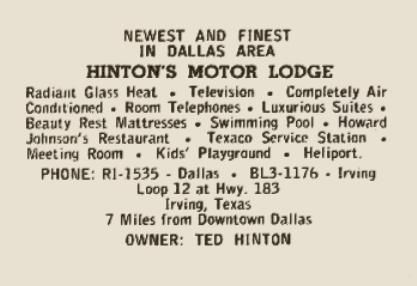 Irving's Newest Center for Food, Rest and Service
Sept. 20, 1956 Newspaper Snippet
---
TED HINTON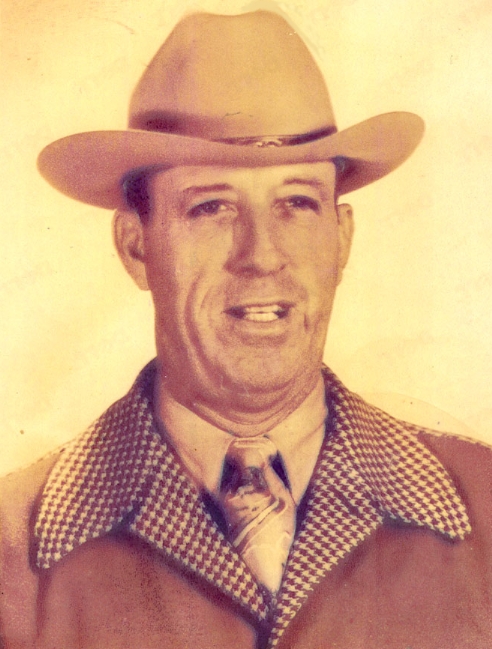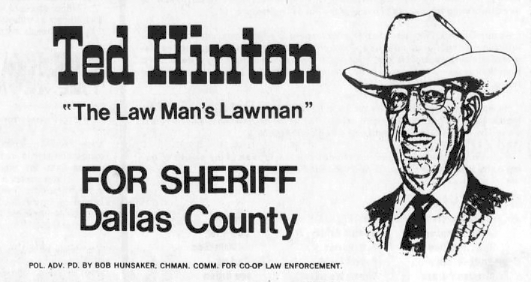 TED HINTON FOR SHERIFF MATCHES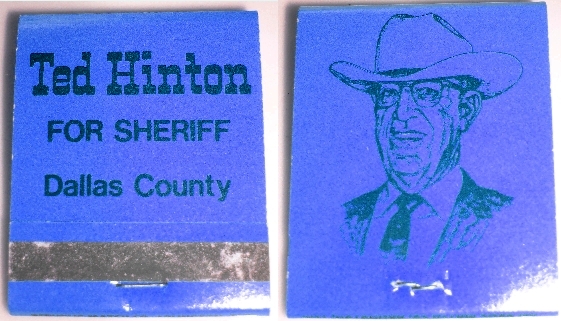 ---
TED HINTON (LEFT) IN LATER YEARS WITH DEATH CAR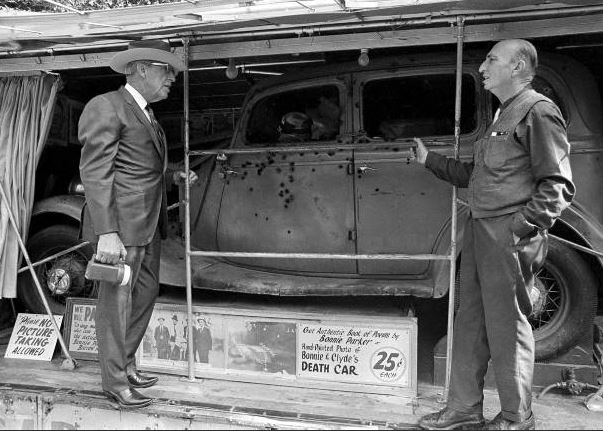 ---
Auctioned Frank Hamer document
Letter written by Frank Hamer to Houston Texas police captain Roy Rogers
and J. F. Dillard giving them exclusive rights to negotiate his life experiences.
The letter was written and signed on November 4, 1941.
---
Frank Hamer's Account of Expenses
Hamer's "expense" account - while tracking down Bonnie and Clyde
---
Hamer writes of Bonnie's "delicate condition"
---

More Musings here!
---
Frank Hamer's Personal Fingerprinting Kit
---
Frank Hamer Commemorative Belt Buckle
---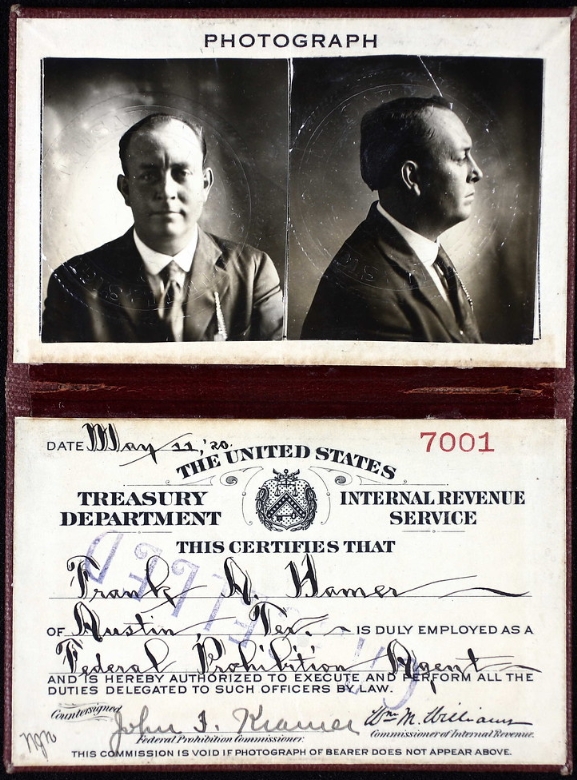 ---