U-SMILE TOURIST CAMP
1 mile east of Kansas City, MO on U.S. 40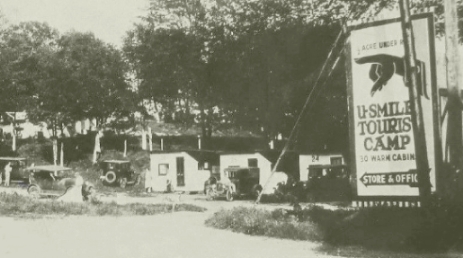 The Hideout thought that a little background into "Tourist Camp" living in the Bonnie and Clyde Era might prove interesting.
I chose to spotlight the "U-Smile" Camp here, as it was just a stone's throw from the Red Crown Tavern campsite.
Aerial views shown below, taken in later years of both camp sites, though different locations, are strangely similar
The U-Smile Tourist Court was demolished with the planned construction of I-435

At the U-Smile Cabin Camp in Kansas City, MO., arriving guests signed the registry and then paid their money. A cabin
without a mattress, rented for one dollar; a mattress for two people cost an extra twenty-five cents, and blankets, sheets,
and pillows another fifty cents. Each guest was given a bucket of water from an outside hydrant, along with a scuttle
of firewood in the winter. Many cabin camps were combined with gasoline stations, cafes, and other businesses.
Credit and acknowledgement for above text - "Motel in America" a book by John A. Jakle, Keith A. Schulle and Jefferson S. Rogers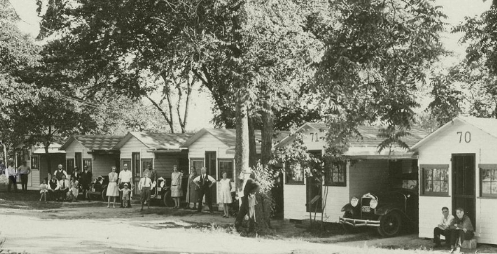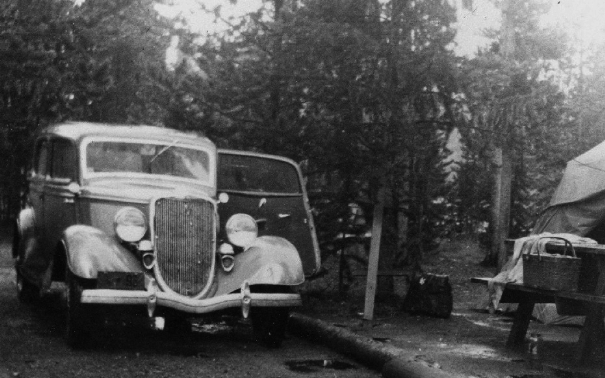 BACK TO ROADS PAGE