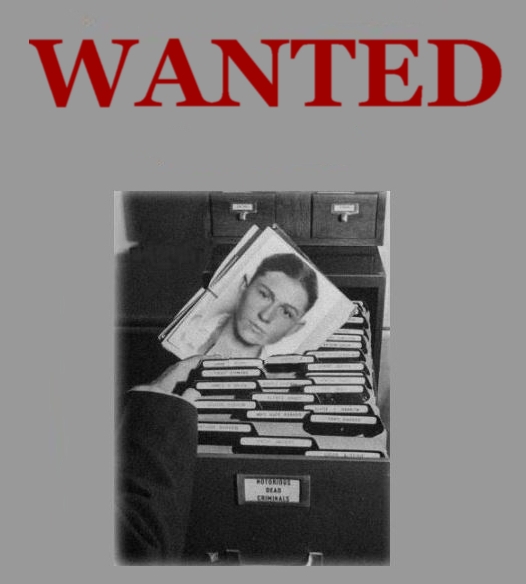 First Identification Order
The first Identification Order (Wanted Poster) ever issued by The U.S. Department of Justice, was on
December 15, 1919. It's subject was William N. Bishop, a soldier who had escaped the army stockade
at Camp A.A. Humphrys in northern Virginia. Bishop was apprehended less than five months later.
BONNIE PARKER AND CLYDE BARROW
Click on poster to enlarge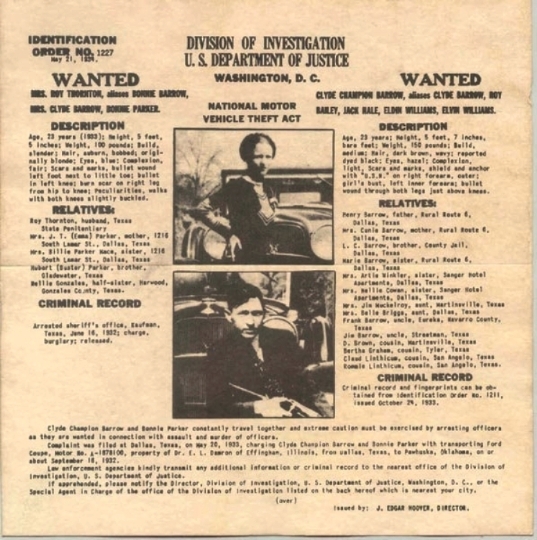 CLYDE BARROW IDENTIFICATION ORDER
CLYDE BARROW NUMBER 6048
CLYDE BARROW MUGSHOT CLOSEUP
CLYDE BARROW CRIMINAL RECORD
BONNIE PARKER FINGERPRINT RECORD
Missouri State Highway Patrol
BONNIE PARKER (AFTER DEATH) FINGERPRINTS
CLYDE BARROW FINGERPRINT RECORD
CLYDE BARROW MUG & FINGERPRINT RECORD
CLYDE BARROW FT. WORTH FINGERPRINT RECORD
GENE O'DARE FINGERPRINT RECORD
HENRY METHVIN 1935 OKLAHOMA CARD
RARE BILLIE PARKER MUGSHOT
JOE BILL FRANCIS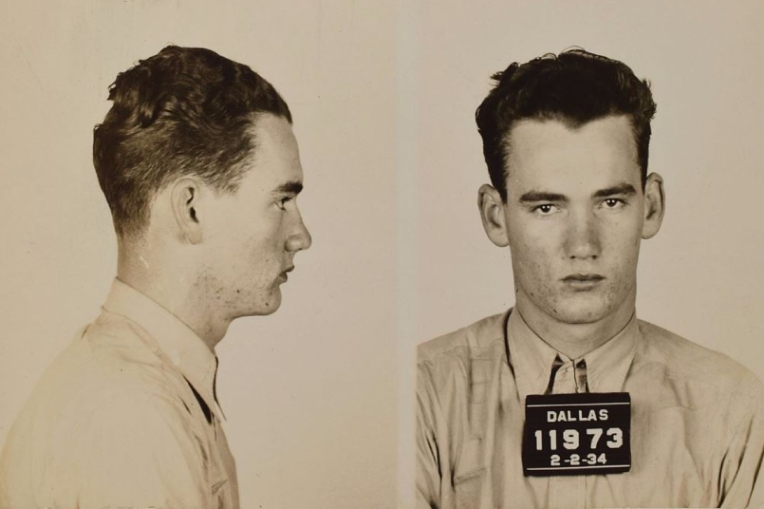 Joe Bill Francis was married to Clyde's sister, Marie shortly before the deadly ambush. Joe Bill
was also suspected of putting Bonnie and Clyde on the spot during a family gathering at Sowers.
MARIE BARROW FRANCIS
1938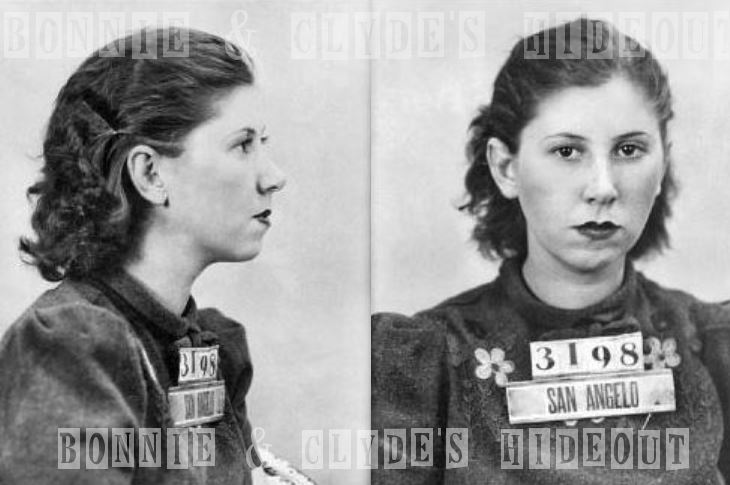 Katie Jenkins
Raymond Hamilton's girlfriend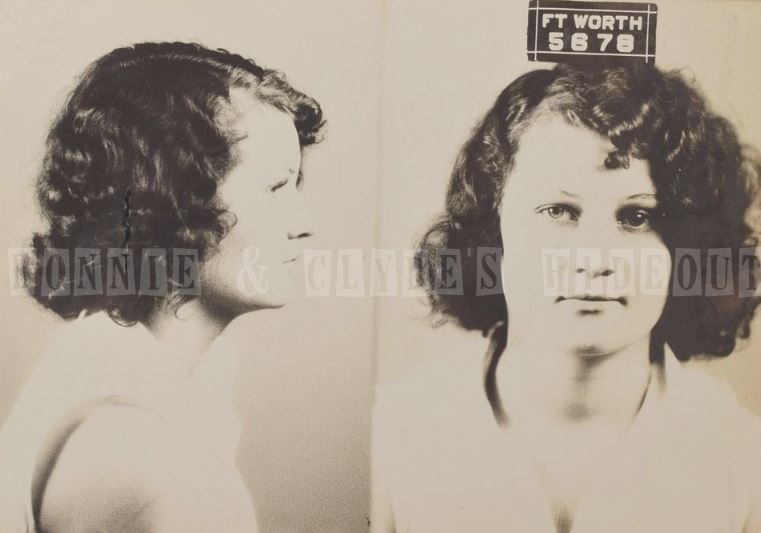 Mary O'Dare
Raymond Hamilton's girlfriend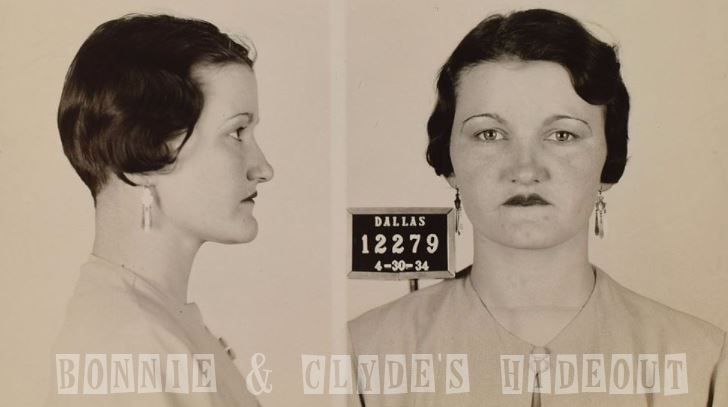 DOROTHY AND ESTELLE DAVIS
After robbing a bank in Prentiss, Mississippi, Raymond Hamilton and fellow bandit Ralph

Fults made a speedy getaway, resulting in a gun battle, hostage taking and car heists.

Three women were arrested in connection with the bank robbery, one of which had

accompanied the two men in the bank robbery. The three women, were Virgie Johnson,

Dorothy Davis and Estelle Davis, two sisters. Below are rare mugshots of the two.

RARE DAVIS GIRLS MUGSHOTS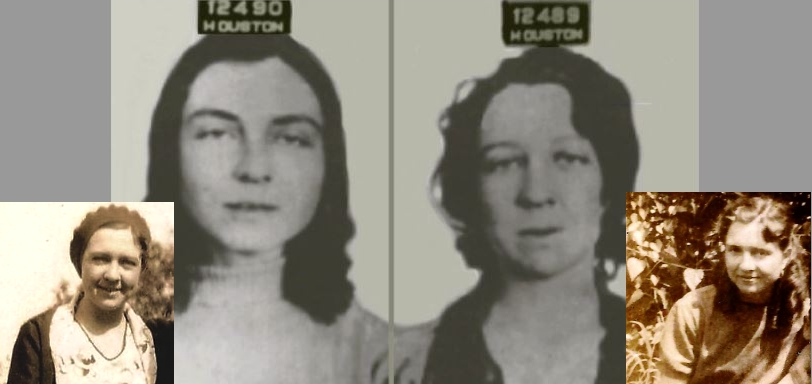 above inset photos by Gean Kearns
Davis Mugshots back
Newspaper article
Old Blountville Bank
CLYDE BARROW - FRANK CLAUSE POSTER
CLYDE BARROW CLOSE-UP
The murder of Charles H. "Buster" Gouge in July of 1929
According to two waitresses at a root beer stand, Marion Stanley and "Dapper Dan"
Black said that 17 year old Jimmie Arnold had made a trade for a .25 caliber automatic
pistol a short time before the shooting occurred. Witness Rose Cermack told Sheriff
Binford that the trade for the pistol had preceeded the shooting by about two hours.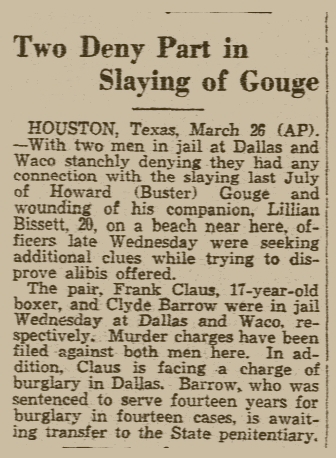 Three members of the Root Square Gang.
Derill "Dapper Dan" Black being the leader.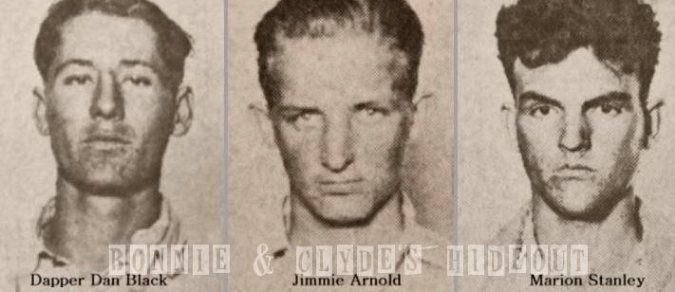 Guns booked into evidence in the Gouge killing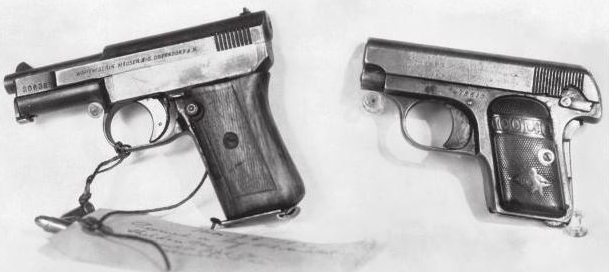 Gouge was slain and his companion, Miss Lillian Bissett, 20 was seriously wounded.
Stanley admitted that he and Arnold were "prowling" cars at the beach on the night of
the shooting. Both Stanley and Black testified that the gun that was carried by Arnold
on the night of the shooting, was obtained in a trade at a root beer stand about two
hours before Gouge was killed. It was expected that the charges against Clyde Barrow
and Frank Clause, both named in the murder, would be dropped. Barrow and Clause
were willing to return to Houston to prove their innocence of the murder by establishing
that they were not in Morgan's Point at the time of the slaying. Investigator Jimmy Wyatt
had visited them in their cells and had quoted them as saying that they knew each other,
but were in seperate parts of the State on the night of July 2, 1929 when Gouge was shot
to death by two men and when Miss Bissett was seriously wounded by a bullet which struck
her in the right side of the back. Gouge had been killed with a .25 caliber automatic pistol.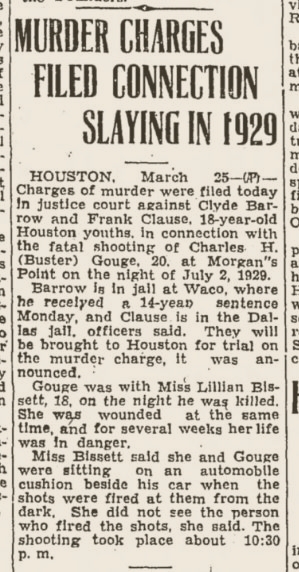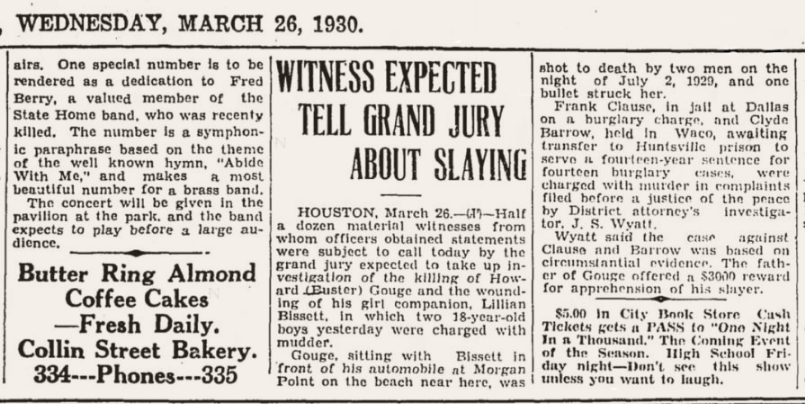 Heat kills Jimmie Arnold just one year later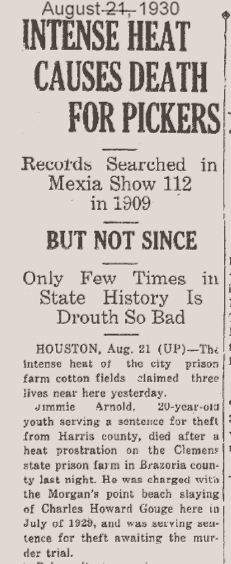 CLYDE BARROW FT. WORTH MUGSHOT
HOLLIS HALE MUGSHOT
Hollis Hale was an associate of Clyde Barrow's in the early 1930's
HOLLIS HALE ARTICLE
STACY BAINBRIDGE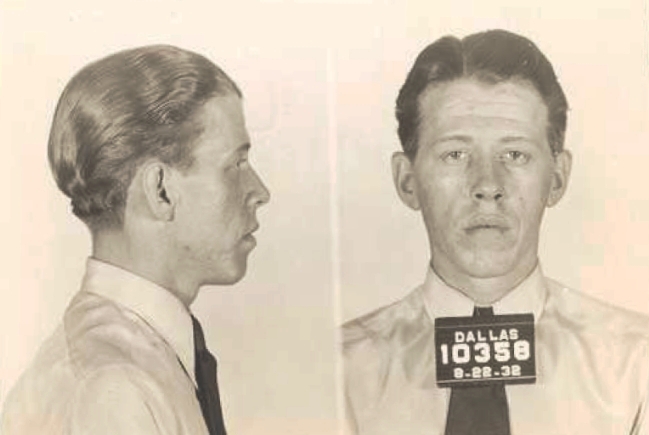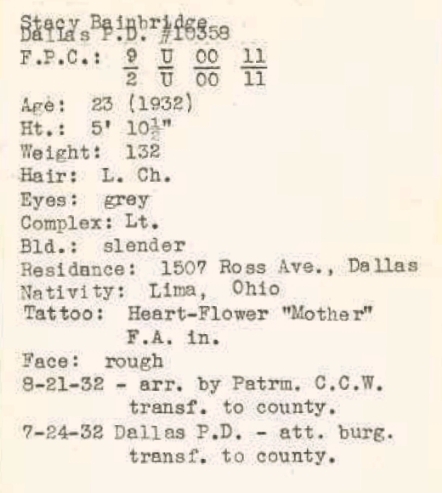 Stacy Bainbridge (alias Jack Snyder) was another associate of Clyde Barrow's in the early 1930's
S.J. "Baldy" Whatley
shown here in the Dallas Jail in 1938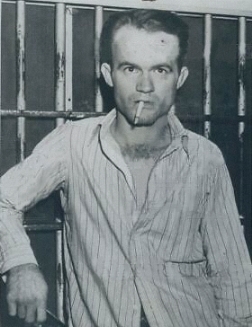 On September 4, 1938, Floyd Hamilton associate "Baldy" Whatley had gotten into a barroom brawl with Clyde Barrow's younger brother L.C. Clyde's sister, Marie was also
there when this went down. Later that evening while armed with a shotgun, Whatley went to the Barrow filling station home and had observed Marie and her husband Joe Bill
Francis getting out of their car. He had shot several times at Joe Bill, mistaking him for L.C. After being asked to stop, he stated that "he was going to kill every damn one
over there." Clyde's mother, Cumie was hit in the side of her face during this altercation. Whatley then drove off. Cumie survived but ended up losing one of her eyes.
JAMES MULLEN
Barrow/Hamilton cohort James Mullen
CLYDE BARROW - FRANK HARDY NEWS ARTICLE
HUBERT BLEIGH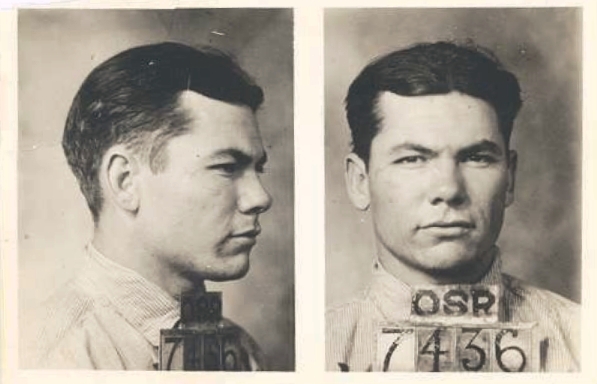 After capture, Blanche Barrow named Oklahoma Badman Hubert Bleigh as the "third man"
in the gang, instead of W.D. Jones. Bleigh was then arrested in Oklahoma as a Barrow
associate. "Hubert Bleigh" was also an alias used by W.D. Jones. When shown a photograph
of Hubert Bleigh, witnesses "fingered" him, when it was actually Jones they had seen.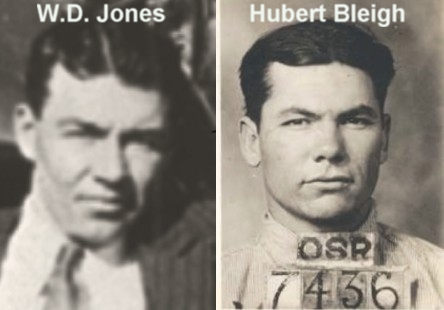 BLEIGH'S CRIMINAL RECORD
BLANCHE BARROW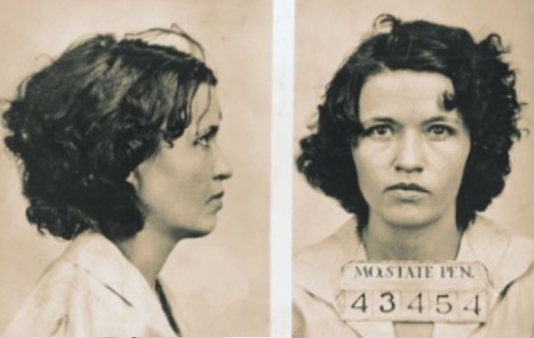 HENRY MASSINGILL
After the capture of Buck and Blanche in 1933, two Texas Prison escapees, Henry Massingill
and Dock Potter came into the Barrow gang for a short spell. Here's the story behind the capture
of Massingill as found in the Old Meade County Kansas website, complete with photographs.
Dep. Sheriff (left) with Massingill in cuffs.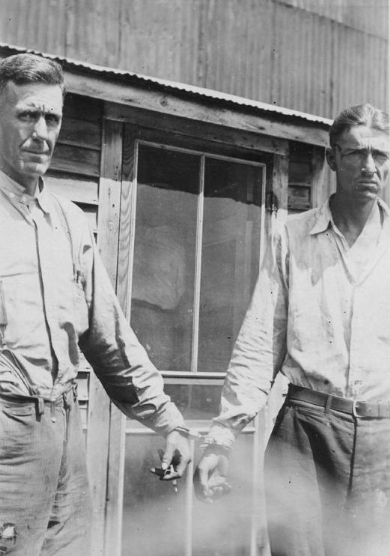 Photo credit to Malcolm Clay

OLD MEADE COUNTY WEBSITE HERE
HENRY METHVIN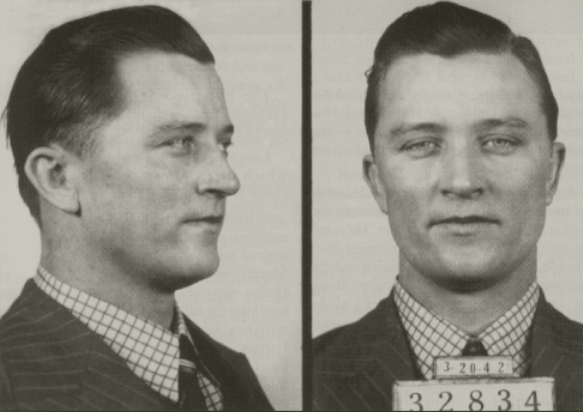 Oklahoma State Penitentiary 1935
FRANK HARDY MUGSHOT
Frank Hardy was an associate of Clyde Barrow's in the early 1930's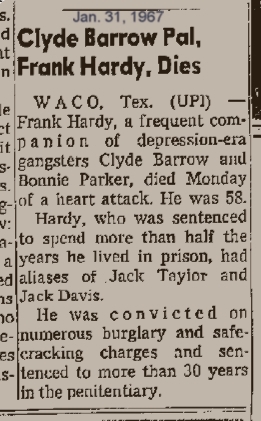 RAYMOND HAMILTON WANTED
RALPH FULTS IDENTIFICATION ORDER
TED WALTERS PRISON INDEX FILE CARD
TED WALTERS MUGSHOT (CLOSE-UP)
FLOYD GARLAND HAMILTON'S 1956 APPEALS FOLDER #620
FLOYD GARLAND HAMILTON'S 1938 CASE REPORT
FRANK HARDY NEWS ARTICLE
CLYDE BARROW LETTER ABOUT FRANK HARDY
Clyde's letter, denying he was associated with Frank Hardy (after 1930).
CLYDE/BUCK BARROW JOPLIN WANTED POSTER
CLYDE BARROW MUGSHOT USED IN JOPLIN WANTED POSTER
CLYDE BARROW NEW CASTLE, PA. 1929 BOLO
CLYDE BARROW MIDDLETOWN, OHIO MUGSHOT
Middletown, Ohio Police Department photo
CLYDE BARROW MIDDLETOWN, OHIO I.O.
CLYDE BARROW MIDDLETOWN, OHIO PRINTS
CLYDE BARROW and FRANK HARDY 1930 CALABOOSE REGISTER
Barrow and Hardy listed for burglary charges (Baylor University Libraries Collection)
BUCK BARROW DALLAS, TEXAS PRINTS
GOVERNOR'S TELEGRAM TO THE SHERIFF
WANTED POSTERS OF CLYDE AND BUCK
courtesy of Michael Webb