THE
BONNIE & CLYDE
SIGNATURES
An Historical Search For The Truth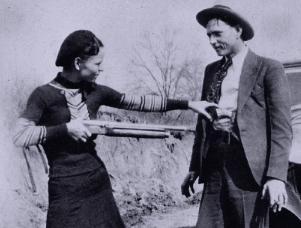 Investigative Summary





"ULTRA" RARE BONNIE & CLYDE

SIGNATURES UNVEILED IN DALLAS


On December 12th, 2007, The Dallas Historical Society sponsored the public release of The Henry Barrow Star filling station Bonnie & Clyde Signatures. This historic announcement was followed on December 15th, by a Bonnie & Clyde symposium, featuring the signatures...along with L.J. "Boots" Hinton...noted Bonnie & Clyde author John Neil Phillips, DHS Curator Alan Olson and Buddy Barrow Williams, one of the two remaining Parker & Barrow family members. Both events took place at the Texas Hall of State in Dallas. Believed held in private hands within Texas for more than 70 years, these dual handwritten signatures of Depression Age desperadoes Bonnie Parker & Clyde Barrow, were purchased in March 2006...by collector and historian A. Winston Woodward, from Irving Texas memorabilia dealer Michael Still. Concerned about the historic implications of this rare artifact, Winston has conducted a thorough and diligent search for the truth, which has spanned more than 2 years, in order to authenticate what may be the "only" dual signatures of Bonnie and Clyde ever known to exist. This inquiry is believed to be the first comprehensive look into the signatures of Bonnie & Clyde ever conducted. Winston has teamed with L. J. "Boots" Hinton, son of ambush posse member Ted Hinton...who has provided extraordinary assistance to this investigation.


Dallas Deputy Sheriff Ted Hinton


Dallas Deputy Sheriff Ted Hinton was a central figure in the unrelenting 17 month search for Bonnie and Clyde. Dallas Sheriff Smoot Schmid created the two man task force comprised of Hinton & Deputy Sheriff Bob Alcorn, for the express purpose of tracking & apprehending the outlaws. Uniquely, Ted Hinton was the only peace officer who knew Clyde Barrow personally and also knew Bonnie Parker as an acquaintance. After the end for Bonnie and Clyde, their families faced public retribution and violence. After having participated in the killing of Bonnie and Clyde, in a gallant gesture...Mr. Hinton appointed himself protector of both the Barrow & Parker families. He dutifully performed this most personal of tasks for more than 40 years.



Ted Hinton's keen knowledge of Clyde's habits, would end up

playing a key role in authenticating The Bonnie & Clyde Signatures.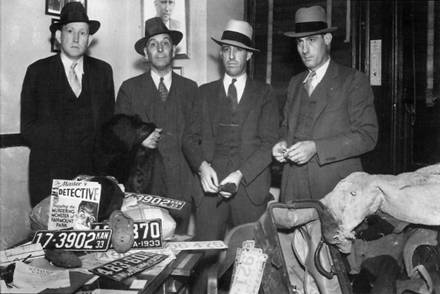 Dallas Deputy Sheriff Ted Hinton (3rd from left)...seen here
with Sheriff Smoot Schmid (dark suit), Deputies Ed Caster
and Bob Alcorn (far right), after the Sowers ambush attempt.
L. J. "Boots" Hinton
Based on his father's participation in Bonnie and Clyde history, L.J. "Boots" Hinton grew up knowing the Barrows & Parkers, and the lawmen
involved in Bonnie & Clyde's capture. Since Ted's passing, "Boots" has shielded the remaining family members, of which now just two remain.
L.J. "Boots" Hinton's first hand knowledge of Bonnie & Clyde related to him by his father, has been of great value to all interested in the
outlaws, and indispensable to this investigation. "Boot's" factual insights...have helped assure the accuracy and historical integrity of this inquiry.
Heartfelt "thanks" go out to L. J. "Boots" Hinton, for his tireless help throughout this historic investigation.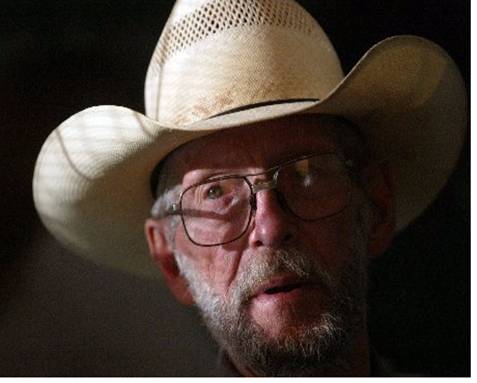 Former Dallas Deputy Sheriff L. J. "Boots" Hinton





In addition to Mr. Hinton, numerous experts & entities have graciously contributed their

time, talents and reputations to The Bonnie & Clyde Signatures inquiry...they include...


>Noted Forensic Document Examiner Emily J. Will, CDE >McCrone Associates Senior Microscopist Joseph G. Barabe >FBI Historian Dr. John F. Fox Jr. >Smithsonian Institution Curator of Mathematics Peggy Aldrich Kidwell >Museum of Business History & Technology Director Thomas A. Russo >Dallas City Archivist John H. Slate >Dallas Historical Society Curator Alan Olson >Dallas Police Museum Coordinator Jesus Lucio Jr. >Kaufman County Texas Historian Dr. Horace P. Flatt >Dorothea B. Hoover Museum Curator Christopher Wiseman >Missouri Highway Patrol Museum Coordinator Capt. Christian Ricks >The Officers and Staff of The Dallas Police Department >The Officers and Staff of The Dallas County Sheriff's Office >The Officers & Staff of The Kaufman County Sheriff's Office >Kemp Texas Chief of Police Richard Arnold >Joplin Missouri Chief of Police Kevin Lindsey >Former Joplin Missouri Police Commander Jim Hounschell >Kemp Texas City Administrator James Stroman >Texas Dept of Corrections Supervisor of Records Rachel Williams >Texas State Library Genealogy Archivist Matt Okaty >Dallas Public Library Assistant Manager Rachel Garrett Howell >Vintage Measuring and Surveying Device Expert Conrad Schure >Vintage Calculating Machine Expert Arthur Cheslock >Vintage Calculating Machine Expert Bob Titus >Vintage Calculating Machine Expert Ernie Jorgenson >Joplin Globe Investigative Reporter Max McCoy >Midwestern Criminals Author R. D. (Ron) Morgan >Dallas Deputy County Clerk Jennifer Weldon >Middletown Ohio Police Records Associate Terri Magill >Heritage Auction Galleries Representative Michael Riley >Renown Physician and Professor of Neurology Dr. Richard S. Rhee FAAC >Physical Therapist Robert N. Incitti, P.T. >Fameabilia Manager Bill McCarthy, Gallery Owners Bruce and Julie Baron and Staff >Museum framing by Dana Parisi of The Finicky Framer >Artifact presentation plate by Ray Veth, Beacon Awards and Signs

Most recent thanks go out to the staff of The Texas Hall of State and The Dallas Historical Society Museum, where the Bonnie & Clyde Signatures have been exhibited.
Also many thanks to Ken M. Holmes Jr. and The Bonnie & Clyde Ambush Museum, where the signatures will be going next...
Paul Burns of The National Museum of Crime & Punishment, where the signatures will be on display later in 2008
To Frank R. Ballinger and his Bonnie & Clyde's Hideout website.

My thanks as well...to the people of Dallas, Texas & Gibsland, Louisiana and surrounding towns during my recent visit, for their hospitality & grace, a southern specialty...which these days holds more value than ever.
-A. Winston Woodward




The Bonnie and Clyde Signatures

Aka...The Henry Barrow Star filling station Bonnie & Clyde Signatures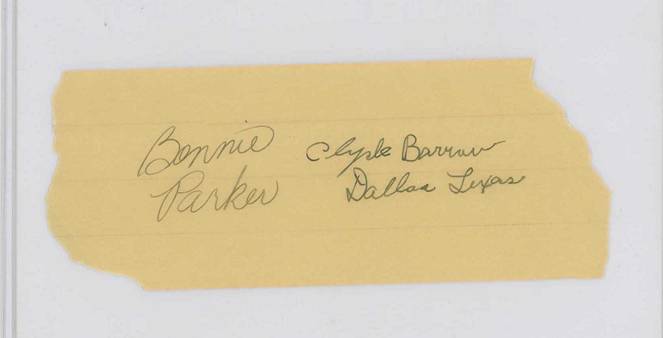 I sometimes refer to the signatures in this way both in recognition of the Barrow filling station's role in the signatures' provenance...and also
to honor Clyde's parents Henry & Cumie Barrow, who although known as good people, were forced to endure such tremendous personal pain.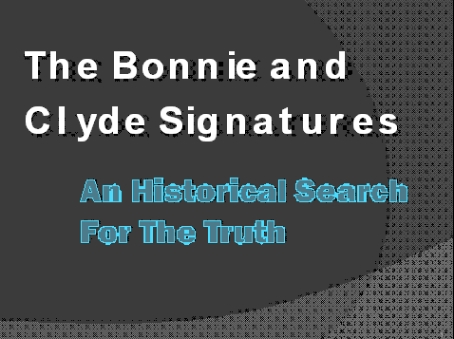 CONTINUED HERE
BACK TO TATTLER