BONNIE & CLYDE'S 60TH ANNIVERSARY
SOUVENIR AMBUSH COVER
Below is an interesting philatelic item designed by Richard T. Crowe, and perhaps the only philatelic item that commemorates
the anniversary of Bonnie & Clyde's death. Mr. Crowe collects wanted posters, postcards, postal history, and autographs etc.
on the classic gangsters. He's the owner of a two page letter with great content, written by Dillinger while on the run. He also
has some Bonnie & Clyde death car postcards in sepia, possibly made in the 1930's. I have one of these "Limited Edition"
covers, and believe that every Bonnie & Clyde enthusiast should have one of these in his or her Bonnie and Clyde collection.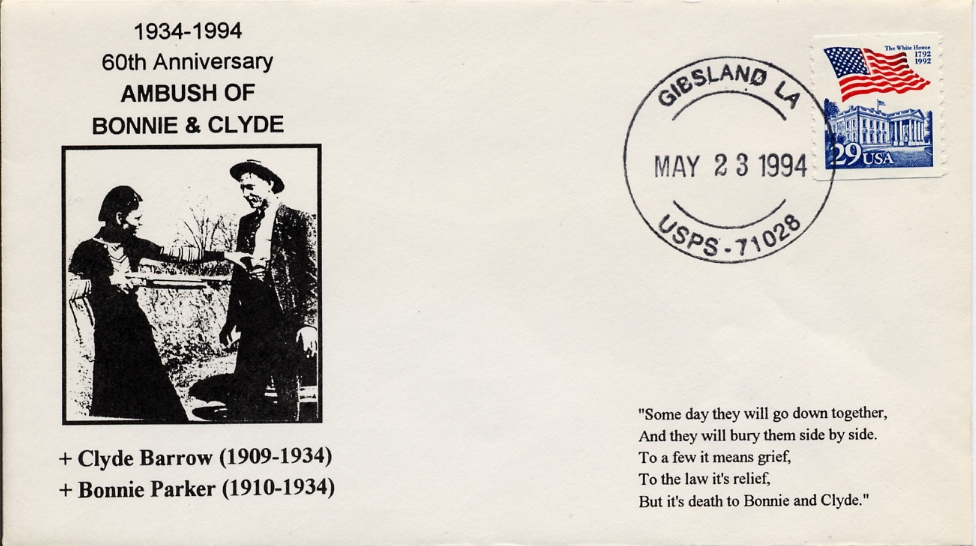 ~ORDERING INFORMATION~
Mr. Crowe prefers orders be made via snail mail, and he will buy or trade for the items he is looking for.
To order, send $4.00 in check or money order and a self-addressed stamped envelope to:
Richard T. Crowe
P.O. Box 557544
Chicago, IL 60655
rtc123@megsinet.net
NOTE: The S.A.S.E. should be large enough to accommodate the 4"x 7" souvenir cover.
LIST OF MORE GANGSTER COVERS
Tell him the Hideout sent ya!
BACK TO TATTLER