Going, going GONE!
Houston, we have a problem!
A tornado wiped out the R. P. Henry Bank in Lancaster, Texas. Another one came close to destroying the noted Barrow
apartment hideout in Joplin. Most of the area was leveled, but thankfully the landmark apartment building survived.
There's no stopping nature, but measures can always be taken to avoid the destruction, by man, of these last standing
structures. 85 years ago, it was here, at the Schauer Filling Station, on the corner of Oxford & 14th St. in the Heights,
where one would go to fill up the Model A Ford and have their oil checked. Maybe the radiator boiled over, or one of
the tires needed air. One might have stopped in the office area on a hot July afternoon to down a cold Coke, stretch
his legs, and maybe exchange stories with Fred, the attendant there. After discussing the weather or such, you would
pay your $1.52 bill, thank Fred and be on your way. All the evidence of that day that remains now, is the empty lot
and maybe the entranceway leading from the street. For after the permits were obtained and the wrecking crew arrived,
the historical structure began to crumble under the force of the bulldozer hammering away at it. Not long ago, Bonnie's
aunt's homestead in New Mexico, where the gang once found refuge, suffered the same fate. Let's cross our fingers, hope
and pray that the old Barrow filling station continues to stand the test of time. They're all going away, as fast as a
new MacDonalds is needed, or a parking lot is desired for the growing new businesses springing up around our towns.
Top three photos shown below are courtesy of Swamplot
On the National Register of Historic Places since 1983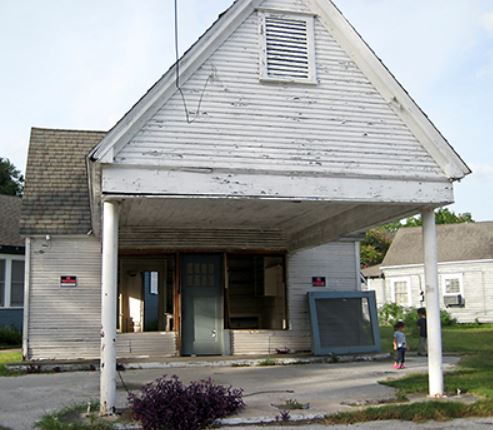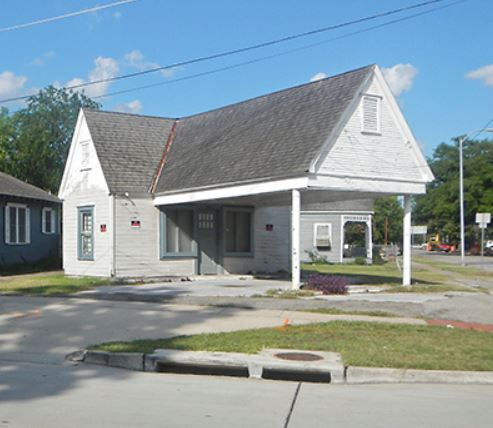 Home wrecker at work!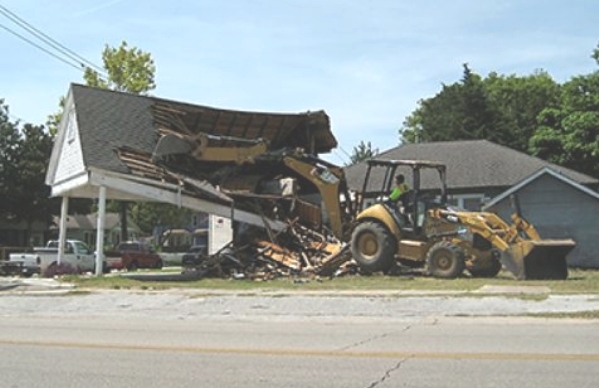 Empty lot....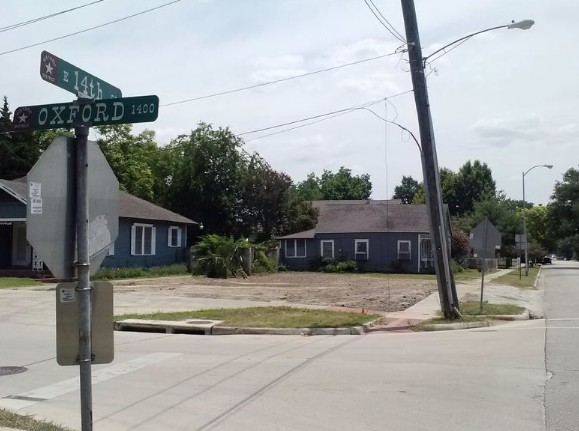 Photo by Tyler Rudick
Aerial views of Schauer Station (left) and Barrow Star Station (right)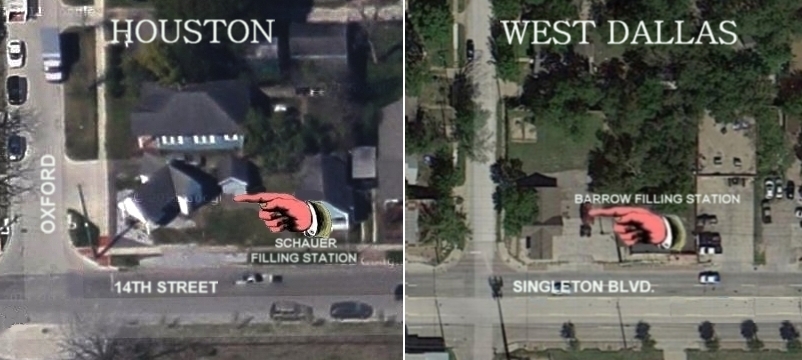 W.D. Jones Houston home (green dot) Schauer Station (red dot)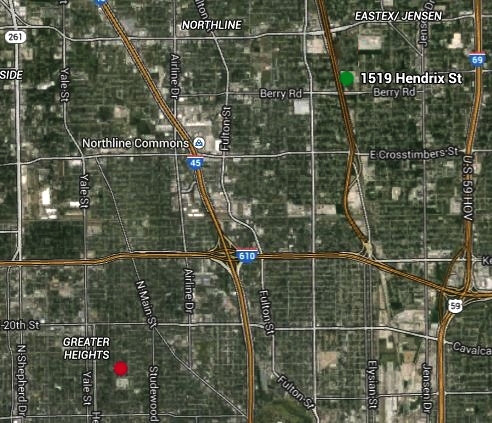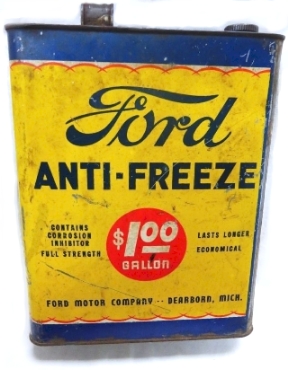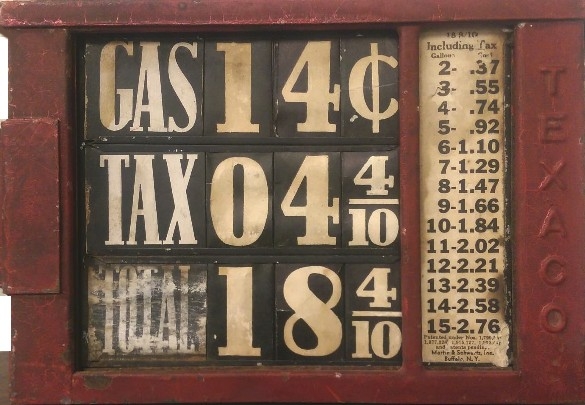 1957 receipt salvaged from the building before it went down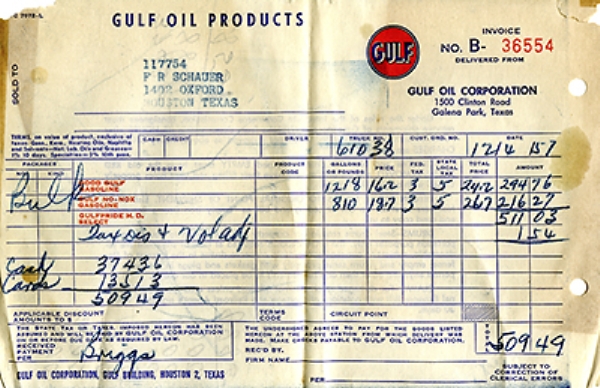 swamplot
Okay, so what's next to take it's place???

A Look Back Elsewhere
The R.P. Henry Bank - (Town Square) Lancaster, Texas
Wiped out after the 1994 Tornado that struck there.
The tile flooring from the bank's entrance still remains at the site.
Below shows the spot where the bank once stood. (actual tile inset)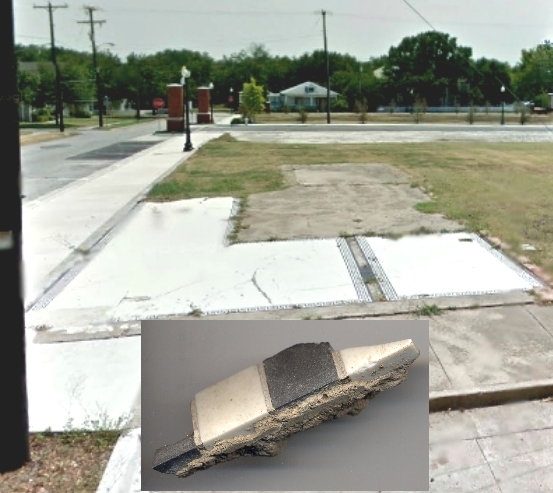 The Red Crown Tavern
Area where the Red Crown Tavern (Platte City, Mo.) once stood - courtesy of William Bruce McFadden's
YouTube Video. The photo below shows how much of the original land had been grated down - big time!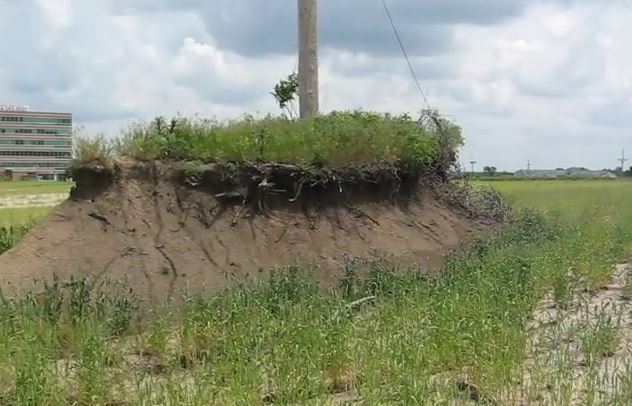 The Carlsbad, New Mexico home of Bonnie's aunt - Mrs. E. M. Stamps - during 2006 demolition.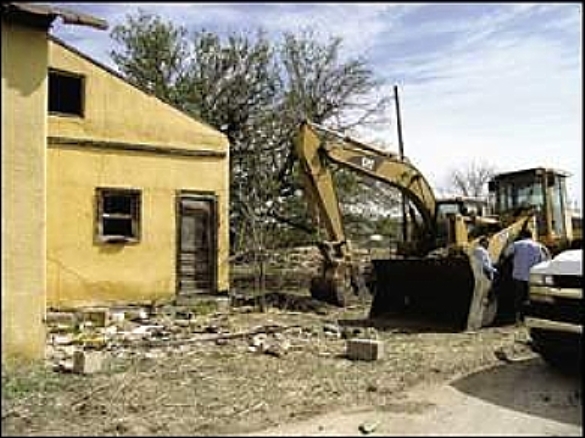 Back to Tattler