The "Tragedy in U.S. History Museum" Death Car
The Tragedy in U.S. History Museum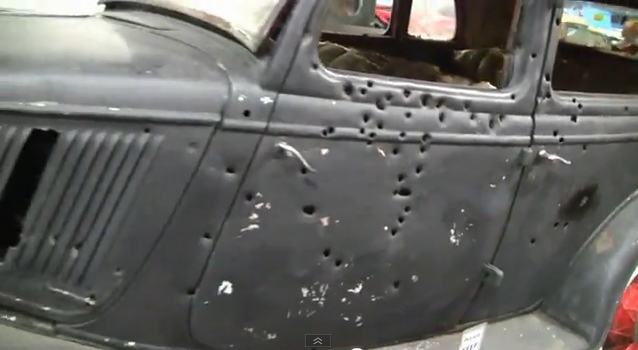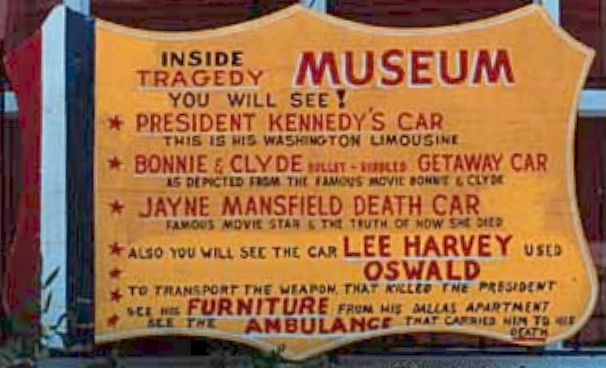 Same car - probably prepped to be re-painted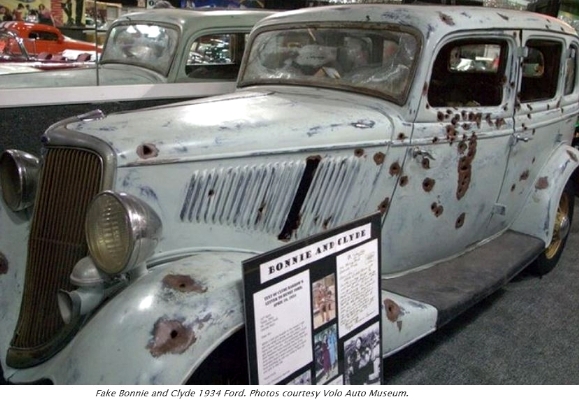 On display in the Volvo Auto Museum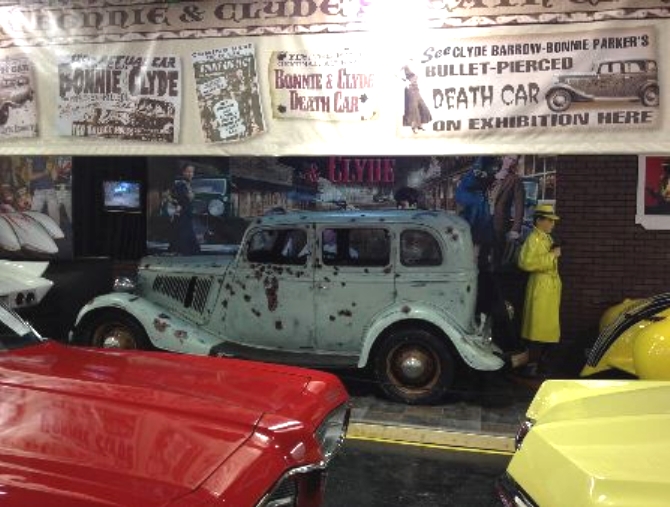 Bonnie and Clyde's Bullet-Riddled Getaway Car
"137 bullet holes! Crime does not pay! Support your local police!"
Adding - "Technically, this is the Death Car from Bonnie and Clyde - - The Movie"
At least that's what the claim has been! The museum had closed down and the bullet - riddled car had been auctioned off.
If in fact they had a side claim that this was the car used in the movie death scene, which I don't believe for one second,
I still see this as a car as having had at one point in time, been crafted to be pawned off as the authentic Barrow death car.
I've created a comparison image, showing the museum's death car (left) along side the real death car sitting in Nevada.
I've numbered various bullet holes which show that, while not "perfect", were strategically placed in order to replicate the
holes found in the real death car. This comparison done on the driver's door matches up closely, bullet hole by bullet hole.

---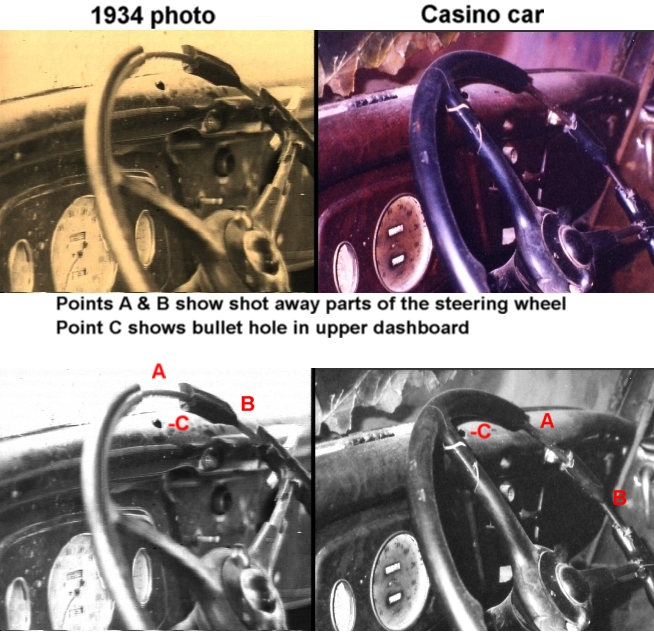 ---
While Warner Bros. special effects dept. did shoot up the movie car, the bullet holes were more random and not strategic.
Those bullet holes were more wide spread and evidentially created holes shot from a smaller caliber rifle, possibly a ,22 cal.
Scene from Bonnie and Clyde (left) The Ken Holmes movie death car today (right)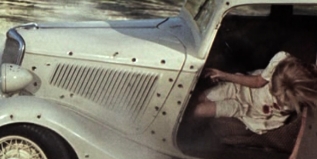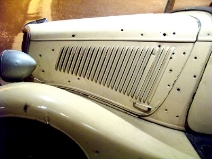 ---
MOVIE DEATH CAR - THEN & NOW
Movie death car following museum fire.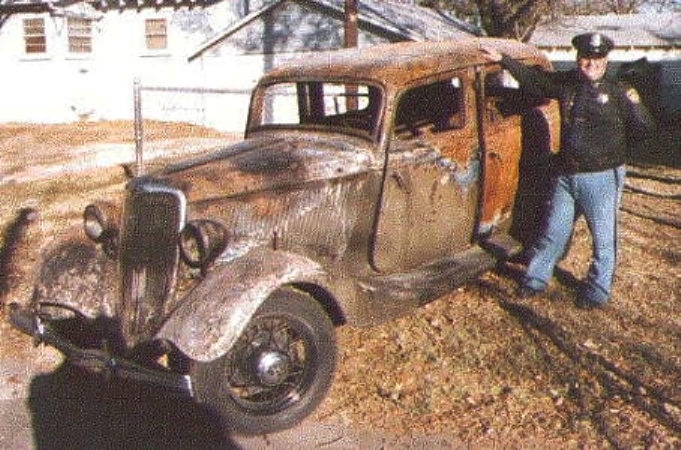 The Death Car from the movie Bonnie and Clyde displayed 1936 headlights on the 1934 Ford they used.
Although it has since been restored following the wax museum's fire, it still maintains
the same 1936 headlights from the day when Warren Beatty drove it into the ambush.
MOVIE DEATH CAR ON PARADE
Ken M. Holmes Jr. and Boots Hinton (right photo) who takes the movie death car on tour,
greeted the crowds at the Bonnie and Clyde Festival held in Gibsland, Louisiana.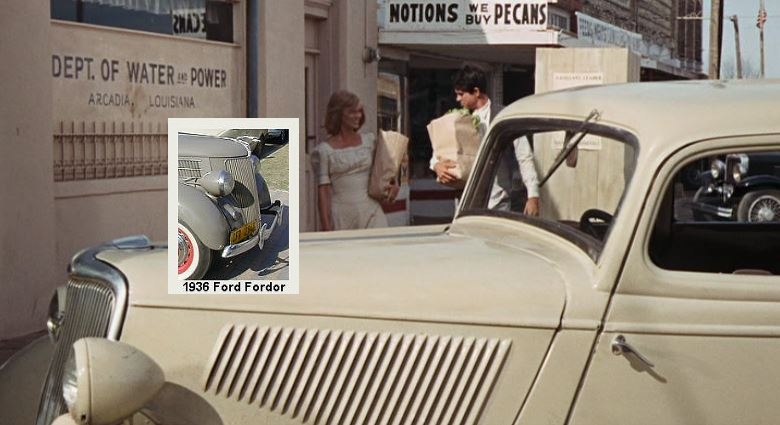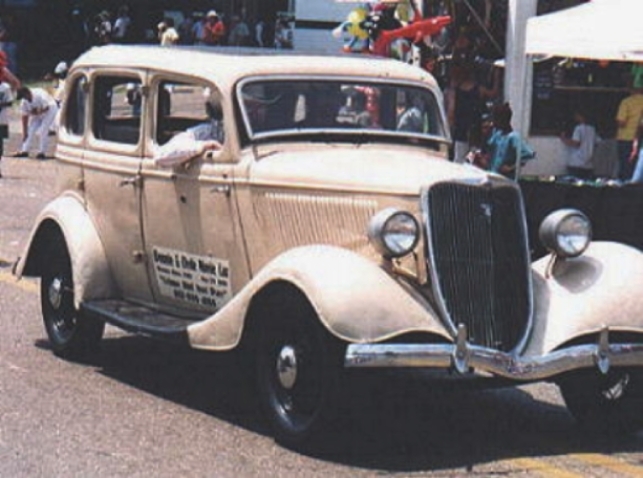 left photo Warner Bros. movie still
WAX MUSEUM FIRE PAGE HERE
---
BACK TO SHOWCAR PAGE