A "TOAST" TO THE CAMERA
By the Spring of 1934 Bonnie and Clyde sensed their time was about up.
The men took to wearing fancy light suits and white shoes and Bonnie began
wearing the more feminine style floral dresses. They "toasted" alcoholic
beverages to the camera, in effect saying their farewells to the world.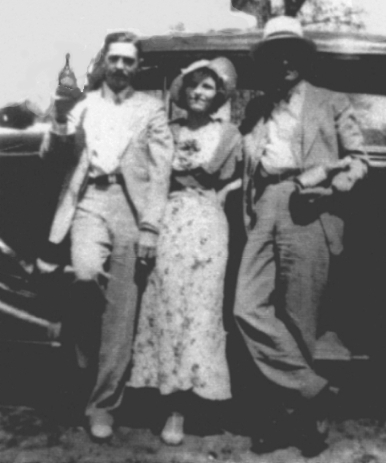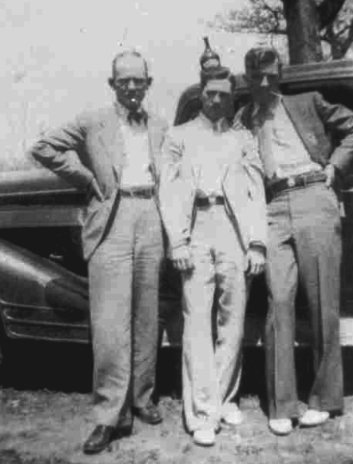 (left photo) Clyde, Bonnie and Joe Palmer - (right photo) Joe, Clyde and Henry Methvin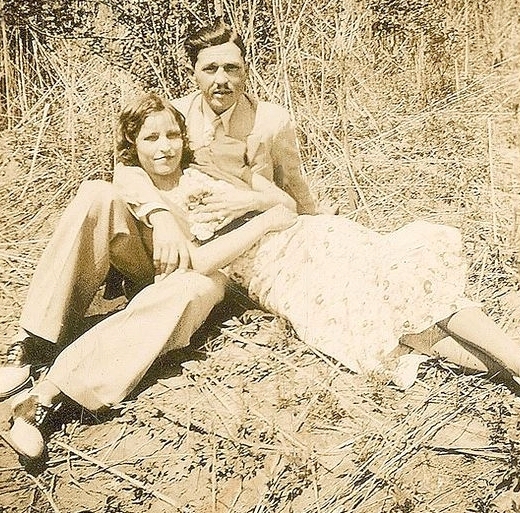 Bonnie and Clyde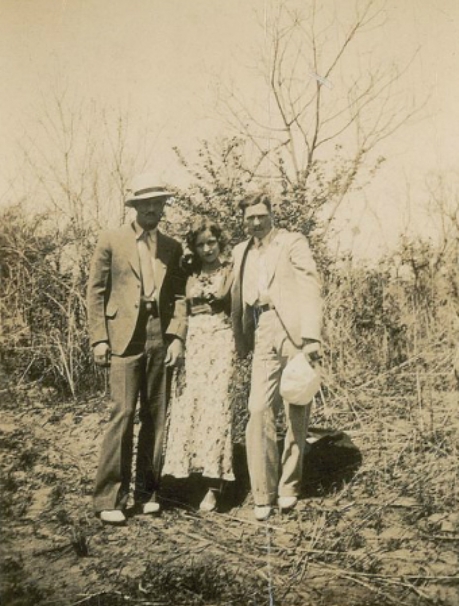 Joe Palmer, Bonnie and Clyde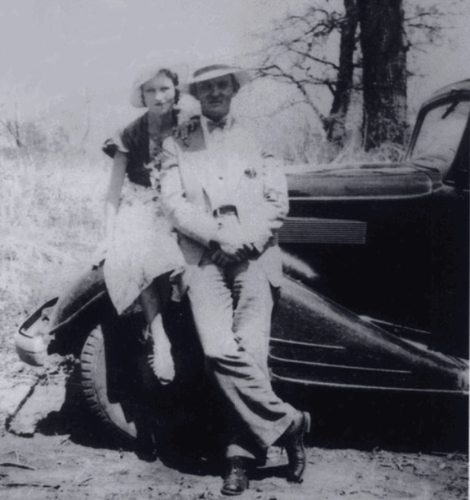 Bonnie and Joe Palmer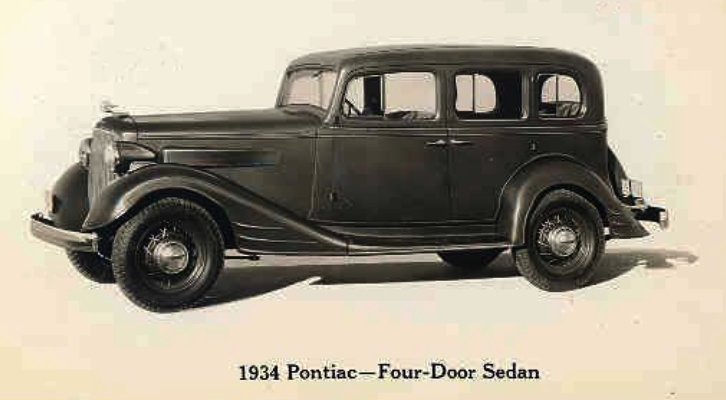 In the last known photos taken in 1934 shortly before their deaths, Bonnie and Clyde seemed to sense
that their time was running out. They would pose with bottles of cheer, often "toasting" the camera,
and Clyde, now sporting a mustache, would wear light colored suits and Bonnie, dainty floral dresses.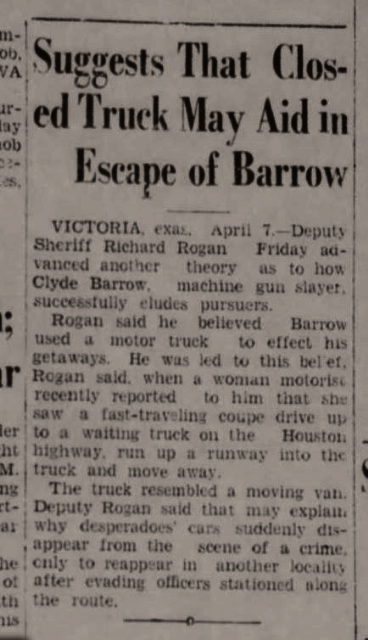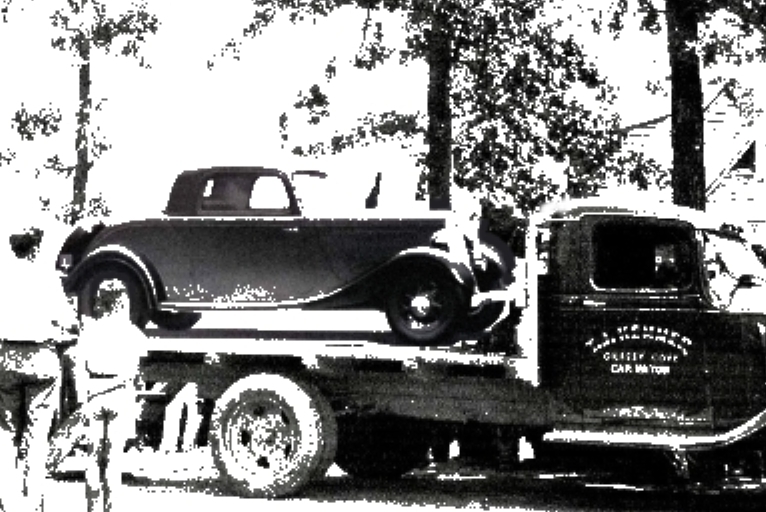 Let's consider the above mentioned article and it's possibilities. Clyde may have had the money or right connections to obtain use
of a hauler truck. Floyd Hamilton, who was a truck driver himself, and a harborer of Barrow's could have even been one to wait at
a pre-arranged location, in which to help carry out such a plan. A set-up such as in the above illustration could entail a flatbed
truck, equipped with a canvas canopy covering, would be waiting on the side of a rural road. Wood planks extending down from the
rear of the bed, to the surface of the road. Clyde would then simply drive up the temporary ramp onto the truck's bed. The canvas
covering would conceal the hidden cargo. The wood ramps would be unhooked and loaded onto the bed along with the car. The truck
would then go along it's merry way without a second thought. I doubt this whole story, but it's another cool addition to the B&C legend!
A MIX MESSAGE...
TO CLYDE BARROW!
While in Corsicana, Texas in January of 1934, veteran film actor and cowboy idol of millions of young Americans rolled into
town along with his wonder horse, to purchase the first ticket to the President's Ball. "Have you heard from Clyde Barrow
today?" was the first question Tom Mix had asked when he called at the Daily Sun. "Are you looking for him?" the reporter
queried. "Well, not exactly - but I have Barrow's picture clipped from a newspaper, pasted on the windshield of my car and
my Winchester where it can be easily reached and put into action - in fact I was discussing this Barrow boy's characteristics
with my old friend Capt. Tom Hickman only yesterday and we have our ideas about getting him," Tom said with a grim smile.
Tom Mix and Frank Hamer were also known to be friends.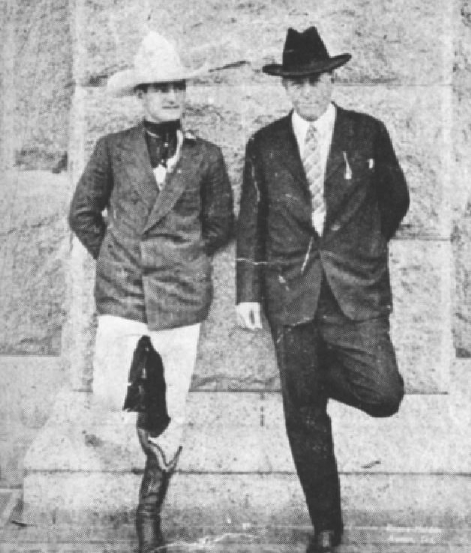 Tom Mix did however have one thing in common with this "Barrow boy!" Ford V8s, as this October 1934 news article would suggest.
And fast driving too! For it would be just six years later that the screen legend would die in a roll over. Tom loved fast cars and fast
driving. On October 12th 1940, while en route from Tucson to Florence, Arizona, Tom Mix died in a car crash as he raced his 1937
Cord 812 Super-charged Phaeton convertable along Highway 89. He had lost control at a construction detour and slammed into a
dry wash. Tom Mix had died when one of the metal suitcases that he had stacked on the back seat, shot forward and broke his neck.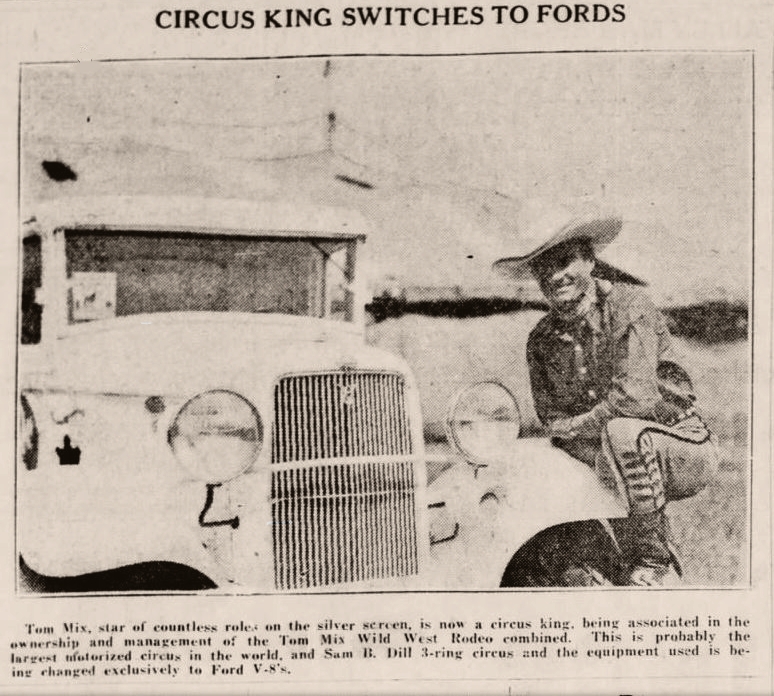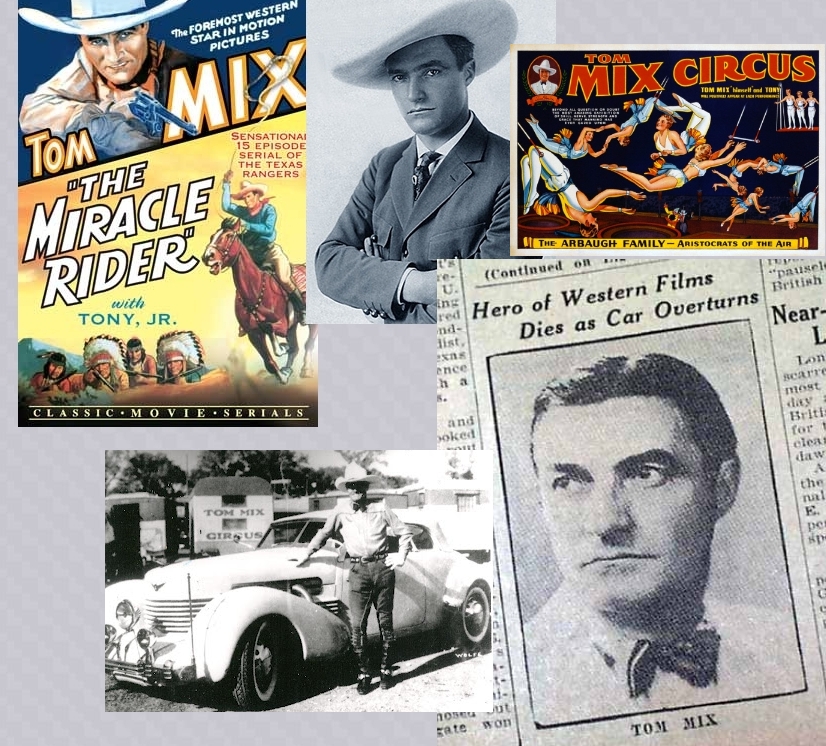 THE MIX DEATH CAR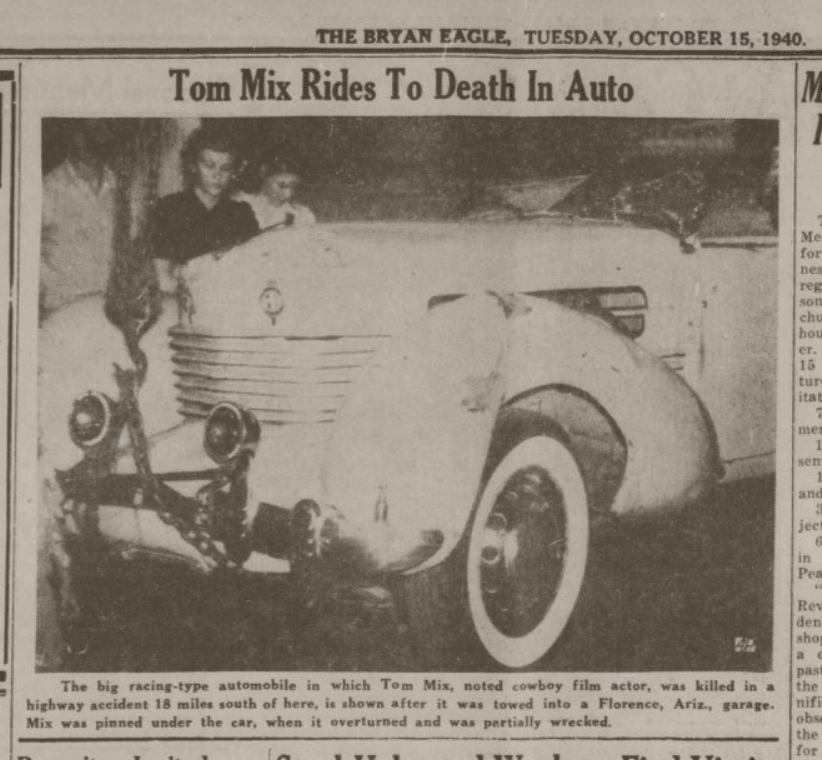 A RIDE WITH BONNIE AND CLYDE
Minden Memories
RETURN TO PREVIOUS PAGE