GIBSLAND AMBUSH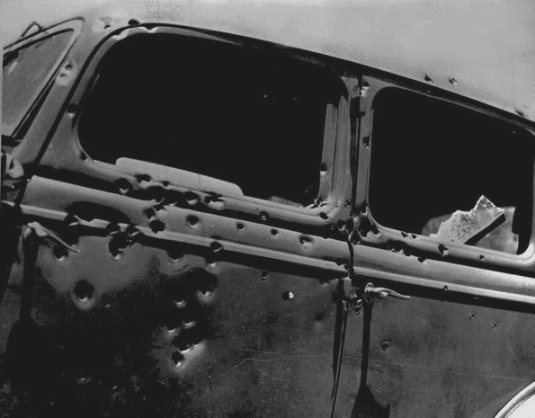 WAYLAID
WEDNESDAY - MAY 23, 1934
"The Last Day for Bonnie & Clyde"
one of several versions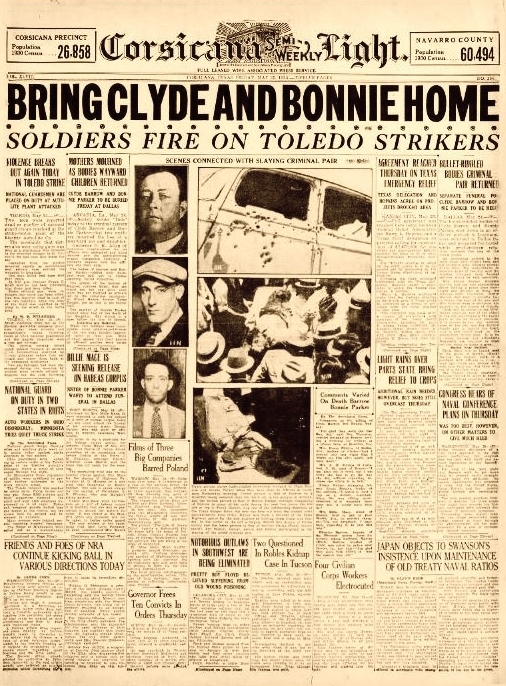 The secluded hideout was located southwest of Mount Lebanon. The posse team was expecting Bonnie and Clyde
to show up there in search of Henry. They selected a spot in the brush just off of the road leading up to it.
They were able to see any approaching cars from their vantage point, yet remain hidden from view. Ivy Methvin,
Henry's father, was traveling on that road in his old Model A Ford truck when he was stopped by the lawmen
standing in the middle of the road. They took him into the woods and handcuffed him to a tree and proceeded
to remove one of the truck's wheels so that it would appear to have broken down at that spot. The trap now set,
they took their positions in the thick underbrush. By dawn, after having spent the night in the woods, dirty,
tired and tormented by the ferocious insects and no sight of the desperados, they were ready to head back to
their motel rooms for a hot meal and a bath. However, they agreed to wait it out another thirty minutes before
"calling in the dogs." At about that time, the sound of a car could be heard in the distance traveling at a
high rate of speed. The lawmen then checked their weapons and readied their positions. As the grey Ford V8
came into view, it's occupants were now clearly visible. Frank Hamer said, "It's him"! then Bob Alcorn turned
and whispered to the others - "This is it, it's Clyde"! The car slowed down, upon seeing the familiar truck lying
on the side of the road disabled. It was now about twenty feet away from the lawmen. At Alcorn's command
to "HALT", Bonnie let out a scream! Barrow and Parker reached for their weapons, but never got to fire them.
The bullets found their targets! No less then 167 bullets were fired at the notorious outlaws, Bonnie and Clyde.
TWO LOCAL RESIDENT WITNESSES TO THE AMBUSH
Buddy Goldston (left) and Olin Jackson (right)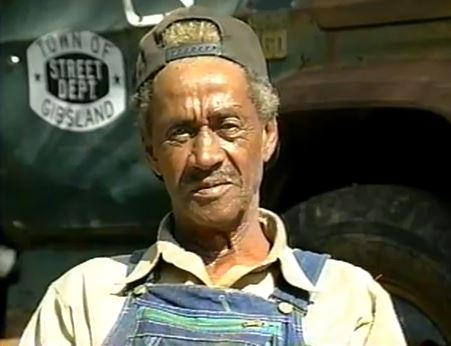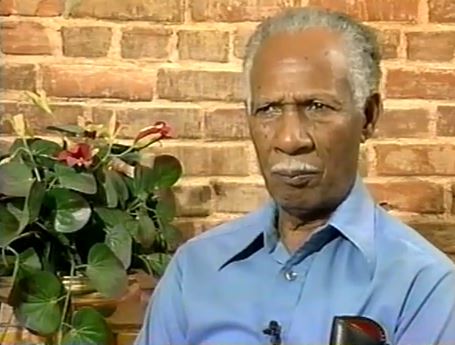 Both men claim that they heard only two shots fired that morning!
Barrow's Louisiana hideout destination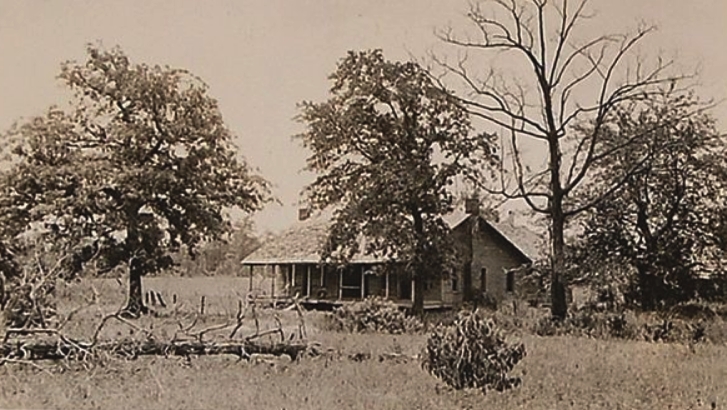 Inside was all the comforts of home!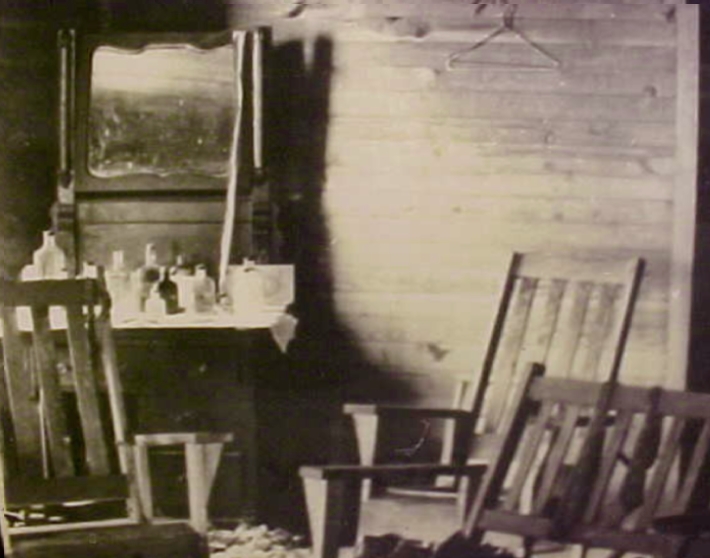 HIDEOUT ROAD?
This photo was amongst a group of other photos taken of the Sailes hideout
seen above. This is likely a photo of a car heading to the secluded farmhouse
just a short time after the ambush occurred. A turn off of Highway 154.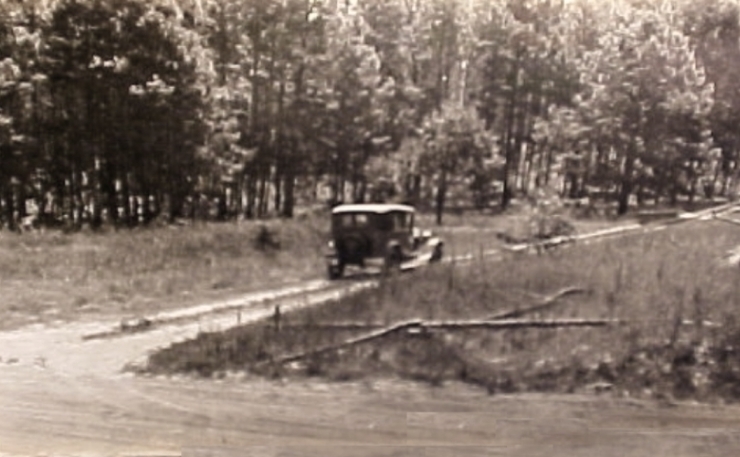 ---
Ambush site in 1934
photos below, shows the spot where the possemen
had lain in wait for Bonnie and Clyde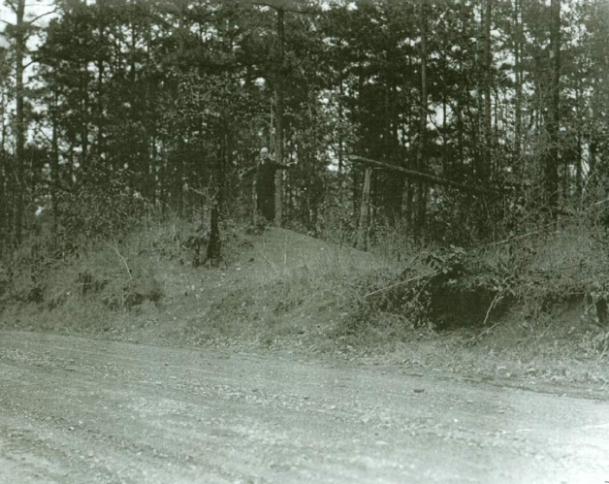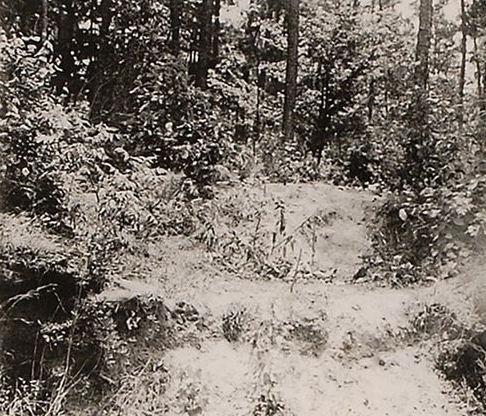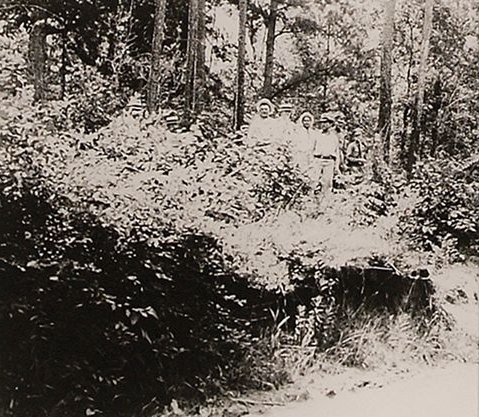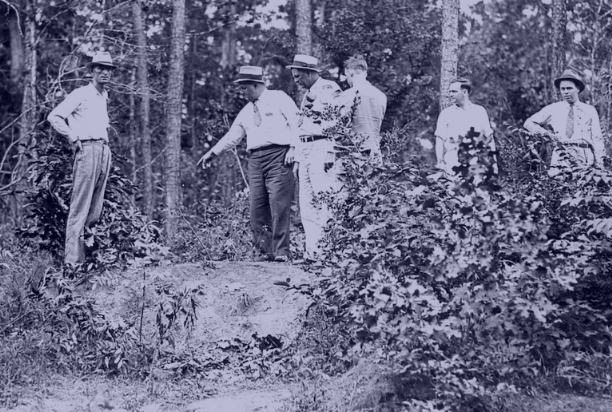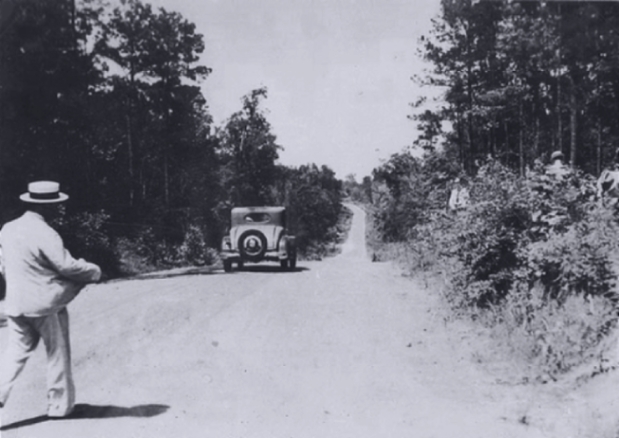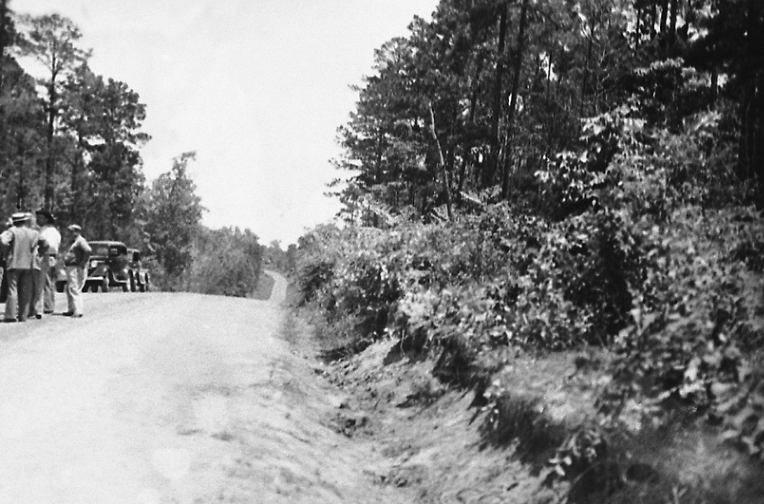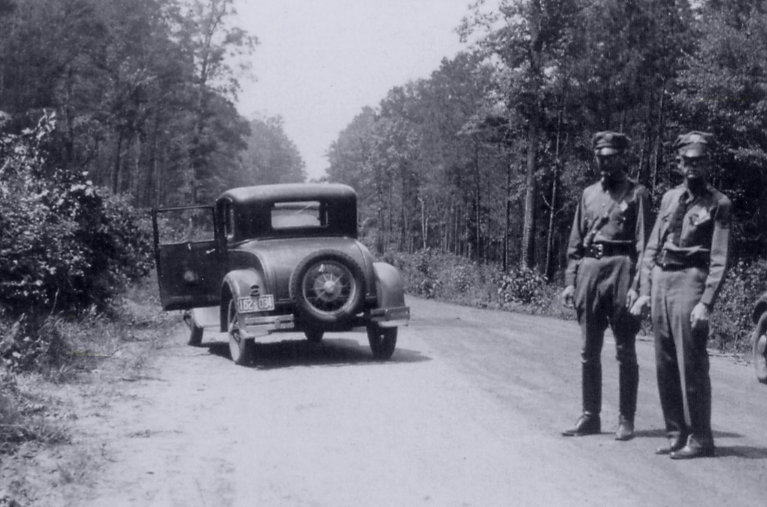 ---
STILLS FROM TED HINTON'S 16mm FILM
Bodies of Bonnie & Clyde seen still in car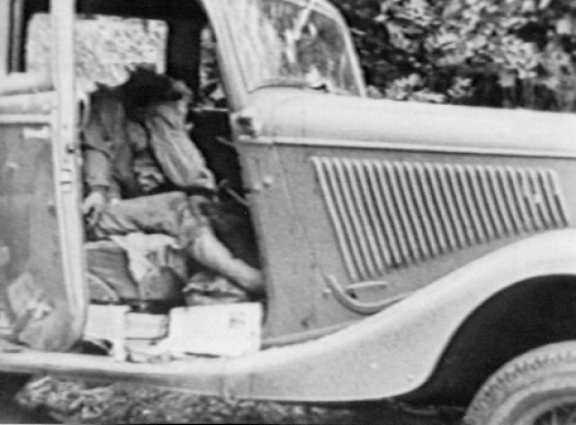 ---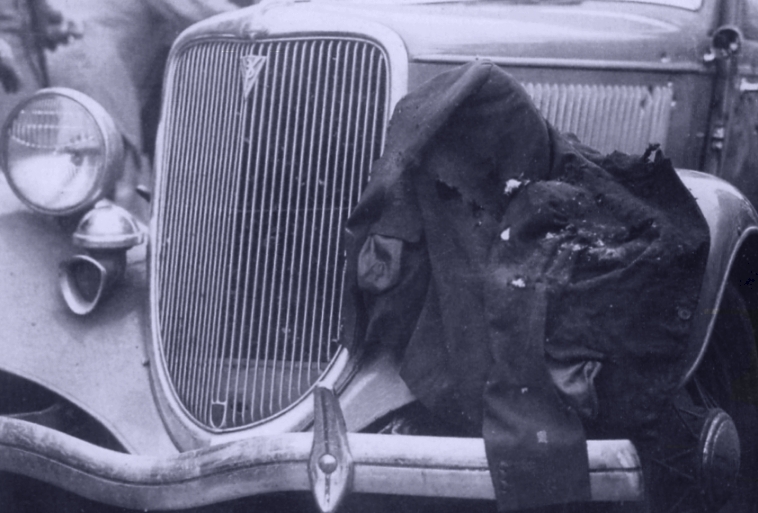 Photo above shows Clyde's bullet-riddled coat, draped over car's headlamp
---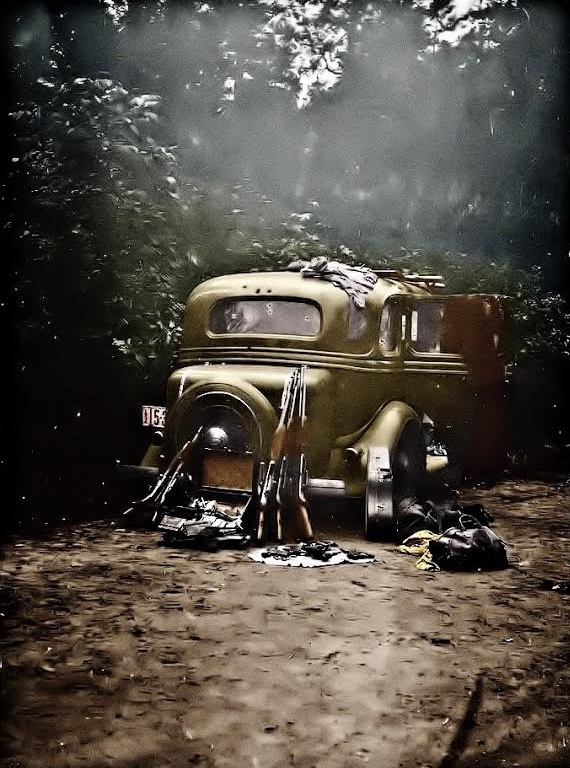 Great colorization by Chuck Flynn, which brings life to the scene. Very eerie and surreal for sure!
---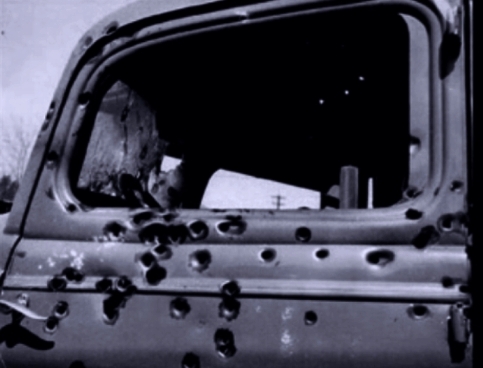 ---
Photo link below, shows bullet-riddled rear window
CLICK HERE
Photo link below, shows bullet-riddled driver's side door
CLICK HERE
Photo link below, showing the Arkansas license plate
CLICK HERE
---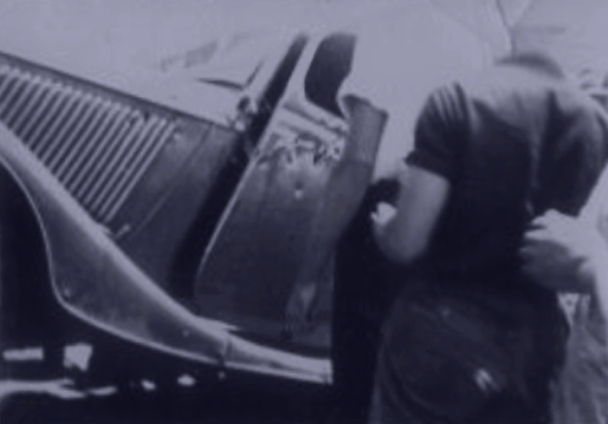 Gawkers mill around the death car in tow
---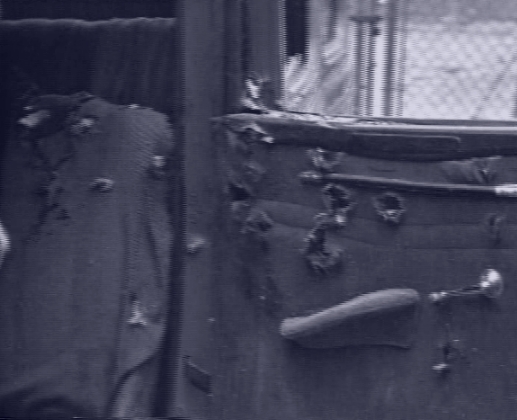 Photo above shows bullet-riddled interior of driver's side door
---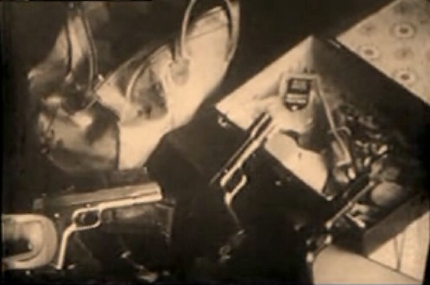 Photo above, shows items recovered from death car
---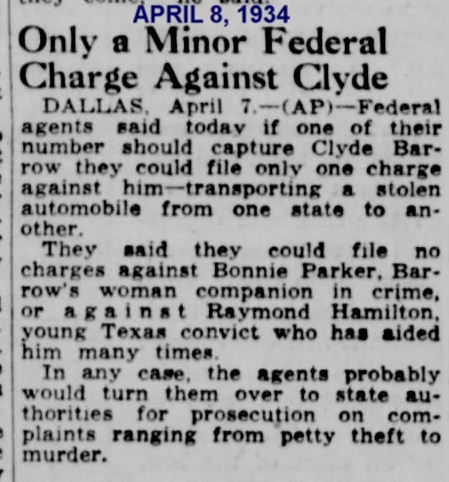 ---
WHERE BARROW AND HIS MOLL HAD DIED
CLICK HERE
Twelve Headlines
---
Paranormal Researchers
"Friends of Dusana"
contact the spirits
of
Bonnie and Clyde
The Spirits Of Highway 154
---
Photo below, shows Maney Gault with Chief Louis Graham Phares in front of "death car",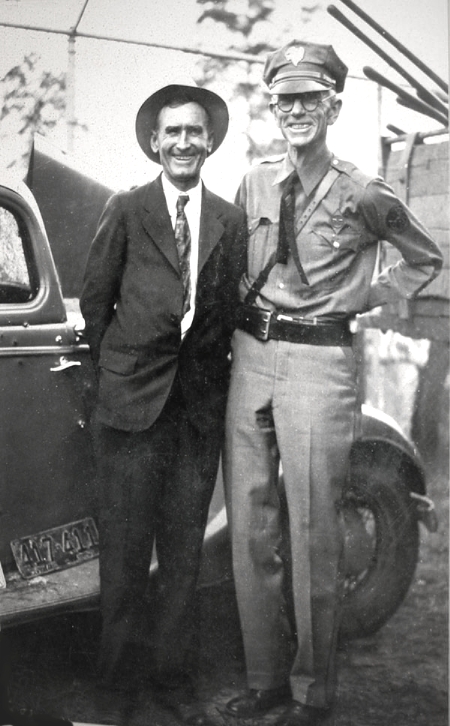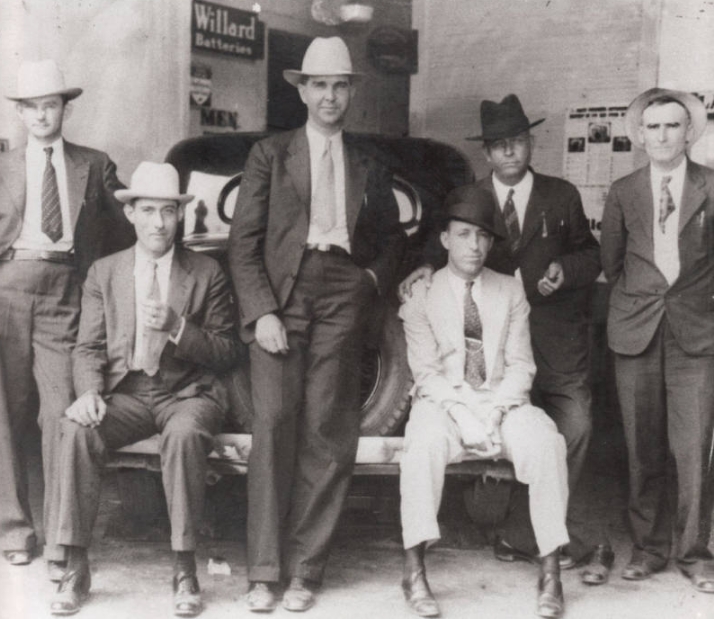 GIBSLAND CONTINUES

The Gibsland Seal is the offical seal of the town of Gibsland La.